GooPad Mini, the iPad mini knock-off will launch in November
by Shine Wong Oct 23, 2012 9:58 am78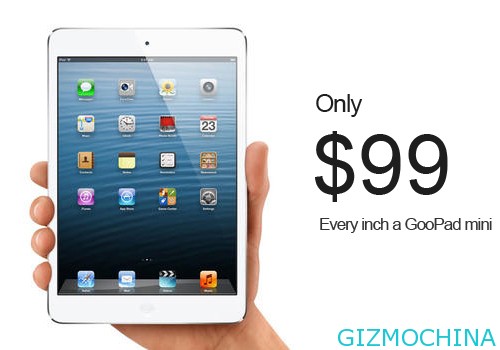 GooPad is the best iPad knock-off with 9.7 inch screen, it doesn't stop at this point, when Apple iPad mini is released today, the GooPad mini follow the step of Apple, unveiled with $99 unbelieveable cheap price. How about the GooPad mini, let's show you the key specs with the new knock-off.
Key Specification of GooPad mini:
– 8 inch screen, 1024*768 pixel display
– 1.4GHz dual-core processor, 1GB RAM, and 8GB storage
– 2MP rear camera + 0.3MP front camera
– Support WiFi
– Android 4.1 OS, with iLauch (iOS theme)
– Aluminium slim body
It is not so bad for a clone product, it even has same qulity screen, and similar processor. The most important, it only $99. Before you get the iPad mini, maybe you need think about this option to save your money on christmas gift.