Review of Rockchip RK3188 Quad-core chipset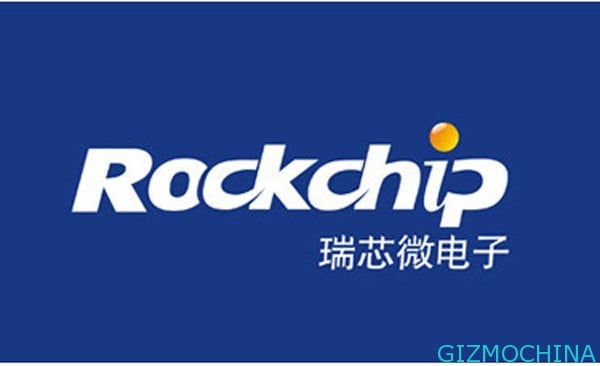 After the chipset manufacturer is become highlight for most of manufacturer, the Rockchip company is trying to set their posistion on the market, while the other big manufacturer has hold the business line through their product, Rockchip is making it's position from day-to-day.
Rockchip is a series of SoC (System on Chip) integrated circuits manufactured by Fuzhou Rockchip Electronics Company. These integrated circuits are mainly for embedded systems applications in mobile entertainment devices such smartphones, tablets, e-books, set-top boxes, media players, personal video and MP3 players.
Rockchip processor is an ARM licensee and uses the ARM architecture for the majority of its projects. It was first known for their RK 27xx series that was very efficient at MP3/MP4 decoding and was integrated in lots of low-cost MP3/MP4 products.
And now, Qoad-core chipset from Rockchip is finnaly arrive, they has been launch the confference irecently and unveiled their Rockchip Micro RK3188 (a Huawei Hass K3V2) this is the first column with a quad-core CPU, and is also the world's second paragraph after Qualcomm APQ8064 quad-core mobile chip that using 28nm process. Here we come to a simple parse while domestic quad-core chipset available on the market today.
(A) Chinsse first quad-core CPU using 28nm process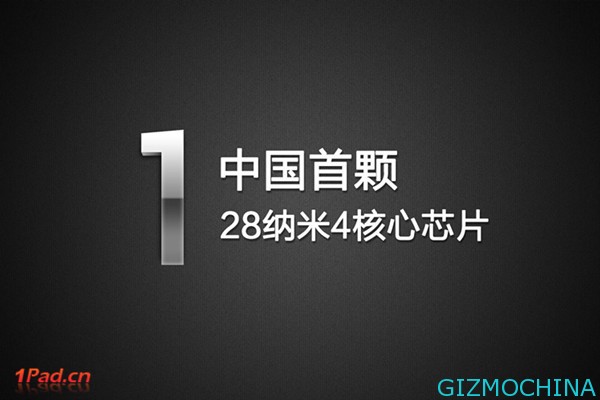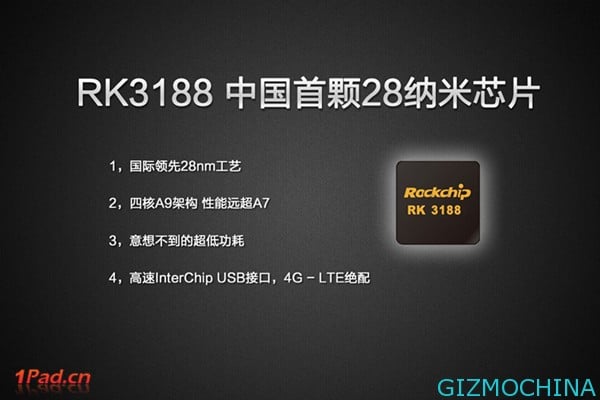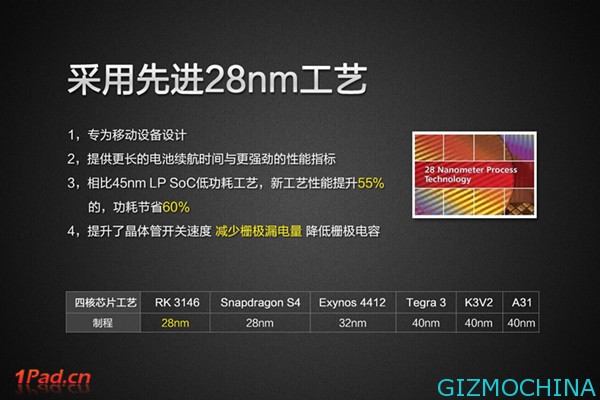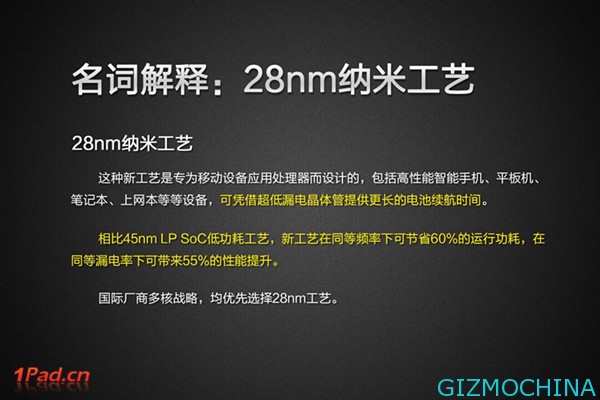 This is the domestic first quad-core chipset wich based on 28nm quad-core chipset, this process is specifically designed for mobile devices, the battery life has increased dramatically and more robust performance. Said that compared to 45nm LP SoC low-power technology, new process performance increase of 55%, 60% power saving in Rockchip RK3188 HKMG technology (FYI: Samsung Exynos 4412 is uses the same technology).
(B) A9 performance is stronger than A7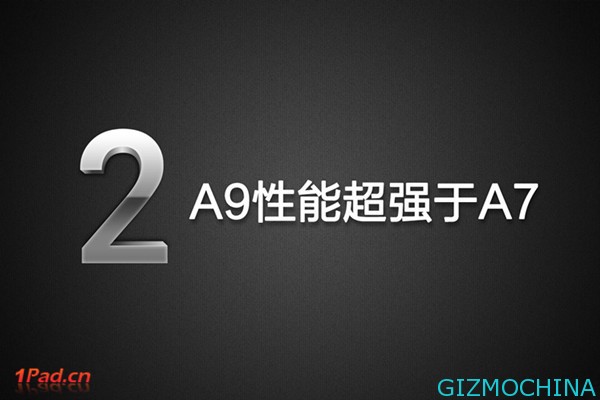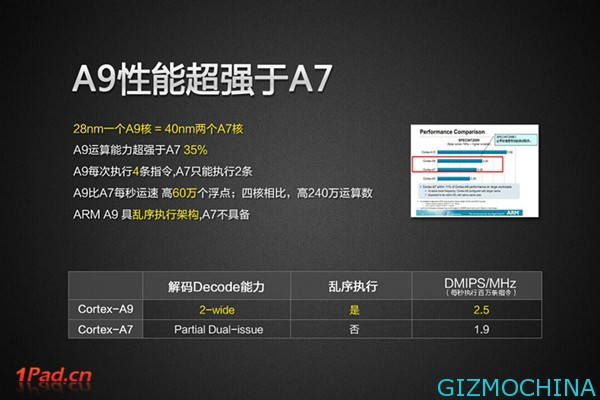 Quad-core phone and tablet is now using the Huawei Hass K3V2, nVidia Tegra 3, Samsung Exynos 4412 and nwadays famous quad-core chipset are based on the ARM Cortex-A9 architecture and equipped with more strong performance, the power control is good, the majority of consumers are recognized, but Rockchip RK3188 is the architecture based on the ARM Cortex-A9.
RK3188 quad-core A9 architecture chipset, are superior computing power and offers more speed and good performance, this one is also stronger than the A7,  but high performance is need more power consumption, in power consumption control the A9 chipset is better than A7 chipset. In addition, the ARM A9 pack with out-of-order execution architecture technology while the A7 does not have those technology.
The A9 performance stronger than A7 chipset. This is an indisputable fact, however the tablet manufacturers overwhelmed Rockchip cooperation and Its seems to bite the Allwinner A31 chipset is based on the performance of the Cortex-A7 chipset.
(C) The RK3188 chipset lead to the arrival of the 4G era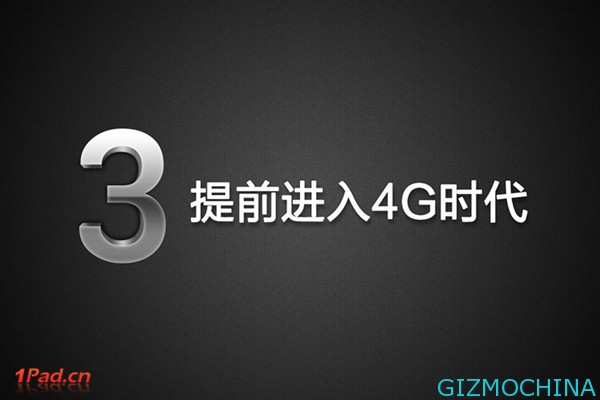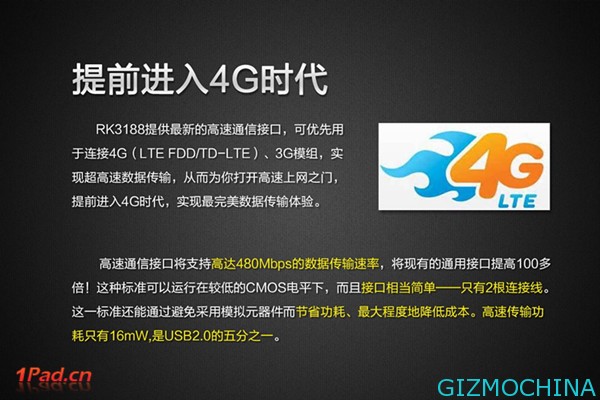 The terms of 'to lead the 4G era' refers to the domestic 4G. Closer to home, it is learned, RK3188 using the latest high-speed communication interface priority is used to connect 4G (LTE FDD / TD-LTE), 3G module, to improve Internet speed, say goodbye to 'snail' 2G Internet to achieve better data transfer experience ; In addition, the chip uses high-speed communication interface improved compared to the existing common interface, and this interface is more simple – only 2 cables (this standard can save power consumption, lower cost).
Tablet support 4G functionality such as; iPad mini, Original iPad, Samsung Galaxy Note 10.1 and other tablet has a 4G connectivity and now domestic tablet support 4G functionality too, it is worth looking forward for consumers. However, China's 4G network is now just starting shortly in the the national large area coverage is estimated to wait until next years, thats only few months to go.
(D) 40nm vs 28nm technology, more lower power consumption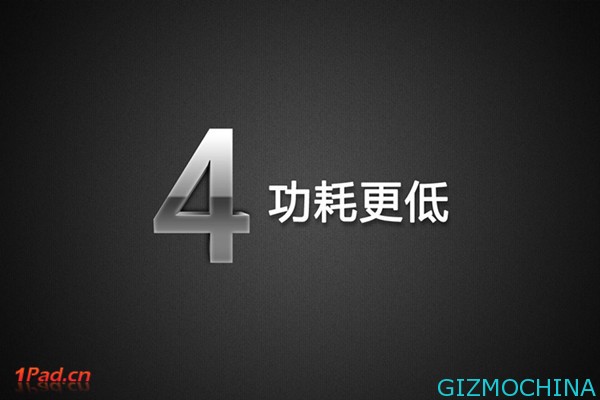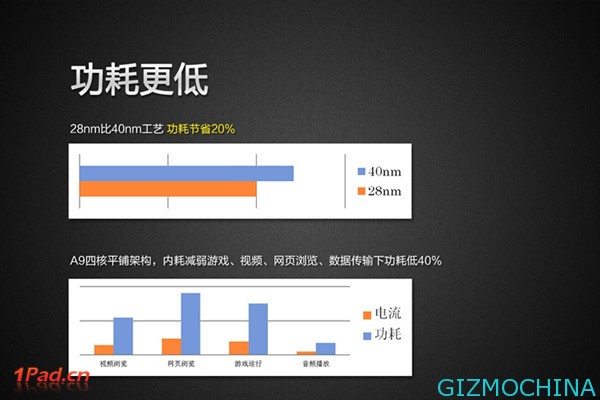 28nm chipset are smaller than 40nm chipset, the smaller chipset has more advanced technology, lower energy consumption and some savings in terms of power consumption, compared to the 40nm process power consumption savings of 20%. For Games, video, web browsing and data transfer, low power consumption by 40%. Of course, these are done in the same architecture, different techniques, comparison and lower power consumption between A7 and A9 architecture itself facing the entry-level mobile phones and tablet PCs.