OnePlus outs a teaser on Weibo: A New OnePlus One metal back cover?
OnePlus One is known for its high end specs at a very low price point. However, there are a lot of other features of the phone that's attractive. For example, the cyanogen mod OS that it comes with is one of the most popular custom ROMs in the market. Also, the Sandstone Black rear panel is one of its kind and offers a premium look to this affordable phone. Even this is swappable with a number of options like a Bamboo finish, wood finish and so on.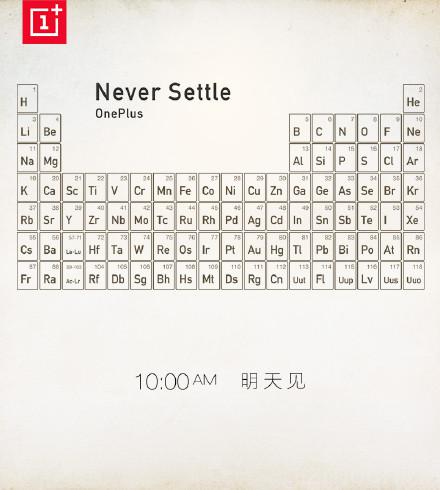 However, it looks like the company may have another back cover in the making for the OnePlus One. The official weibo page of the company today released a teaser image showing off a periodic table with the words, Never Settle written on top. The company has asked its fans to check back tomorrow at exact 10 a.m to know what this teaser means.
Ofcourse, fans and readers won't wait that long without making speculations. And the most logical conclusion is a new back cover from the company. Yes, it may announce a new OnePlus One metal back cover for its flagship device tomorrow. It could be a premium cover made from some of the materials in the periodic table which could be why the company featured it in the teaser.
However, we are not quite sure about anything at the moment, so lets wait and watch what OnePlus has in store for us tomorrow.
So, what do you think this teaser means? A new OnePlus One metal back cover or is it something else? Feel free to tell us what you think in the comments section below.