Xiaomi Mi Pad vs Mi Pad 2 Comparison: What's Changed?
Xiaomi finally unveiled the much awaited Mi Pad 2 today. The new tablet comes with various improvements over its predecessor, the Mi Pad tablet which was launched last year. The highlight of Mi Pad 2 is the Intel chip and variants based on Android and Windows OS. Let's see how the newly launched Mi Pad 2 holds against the Mi Pad.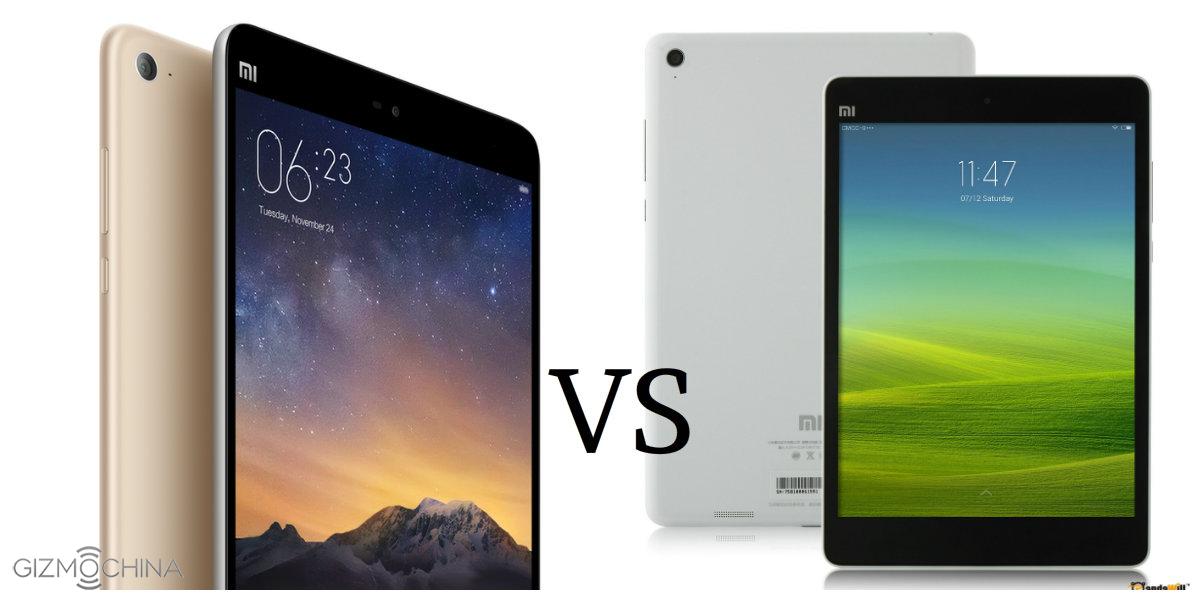 | Model | Mi Pad | Mi Pad 2 |
| --- | --- | --- |
| Display | 7.9 Inches (2048 x 1536 pixels) | 7.9 Inches (2048 x 1536 pixels) |
| Processor | 2.2 GHz Quad Core Nividia Tegra K1 | 2.24 GHz Quad Core Intel Atom X5-Z8500 |
| RAM | 2 GB | 2 GB |
| Internal Storage | 16 GB/ 64 GB | 16 GB/ 64 GB |
| Software | Android OS | Android OS/ Windows 10 |
| Camera | 8 MP/ 5 MP | 8 MP/ 5 MP |
| Battery | 6700 mAh | 6190 mAh |
| Weight | 360 grams | 322 grams |
Design on Mi Pad 2 has undergone a major overhaul by removing the plastic completely. Mi Pad 2 comes enclosed in a metal chassis lending a more premium feel and finish to the new tablet against shiny plastic of Mi Pad. Going against traditional standards the metallic Mi Pad 2 weighs just 322 grams is 38 grams lighter than all plastic Mi Pad weighing 360 grams.
The new tablet is 18% thinner measuring just 6.95 mm in comparison to it's predecessor which comes as a pleasant surprise. Mi Pad 2 is lot more easier to carry around than before. Mi Pad and Mi Pad 2 sport the same 7.9 inch display with same resolution of 2048 x 1536 pixels. So you cannot see much of a difference in the display department.
Most interesting feature of Mi Pad 2 that has taken the industry by storm is that packs an Intel Atom X5-Z8500 chipset under the hood while Mi Pad featured Nvidia Tegra K1 chipset. The possibility of an Intel chipset on the new tablet had been leaked much earlier. The Intel chipset has contributed to Mi Pad 2 running on Windows 10 OS with another variant with the same chipset running Android OS.
Instead of dual booting OS, Xiaomi brought forward an innovative approach of releasing two variants running different operating systems which is an added advantage for some who would like to try something new with Mi Pad 2. Mi Pad lacks this feature and runs only on Android OS.
However, we still don't know what all features will be supported by the Windows 10 version. We have heard that there might be some features lacking on the Windows version, but we still have to confirm them.
Mi Pad 2 comes equipped with Type-C USB for faster data transfer speeds as compared to Mi Pad which featured regular USB 2.0. While both the tablets come with same resolution cameras i.e. 8 MP and 5 MP but we can expect major improvements and some new features also in the camera interface on Mi Pad 2.
What really surprised us is that Mi Pad 2 has reduced the battery capacity to 6190 mAh from 6700 mAh on Mi Pad. But, new tablet comes with more power optimization and battery will last longer on Mi Pad 2, as far as the company claims. Standby time, music playback time and video streaming time has considerably improved on Mi Pad 2.
In short Mi Pad 2 is meticulously designed table and the presence of Intel chipset means much better performance than Mi Pad. Thinner and Lighter Mi Pad 2 is a bag full of surprises which we have to discover as time passes by. Let us know what do you feel about this newly launched Mi Pad 2.