Mi 4 And Mi Note First Among The Xiaomi Family To Get Marshmallow Upgrade
Xiaomi Mi 4, the flagship smartphone released way back in 2014 is still headlining the news. The news just came from MIUI operations manager that Mi 4 and Mi Note will be the first members from the Xiaomi family that will be updated to the latest version of Android 6.0 Marshmallow with the same MIUI7 version.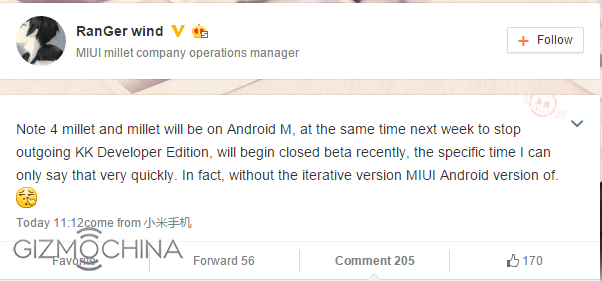 MIUI7 was released a couple of months back and received mixed reviews from smartphone fanatics and developers. It has been confirmed by the MIUI insiders that Mi 4 and Mi Note will be the first two devices that will get the Android Marshmallow upgrade on MIUI 7. Given that the version will remain the same, hopefully, the upgrade will be out in the next few weeks. MIUI operations manager confirms that the update will be rolled out very soon.
This comes in the wake of the announcement last week that select Mi 4 users will be able to download and install Windows 10 starting December 3. So it is a win-win situation for Mi 4 users as they will get the taste of latest Android version as well as Windows 10 operating system.