Meizu could unveil a new Metal Smartphone With Fingerprint Sensor later this month
Fingerprint sensors have become the latest fad and first choice of smartphone manufacturers. Details about a new smartphone from Chinese smartphone maker, Meizu has surfaced featuring a full metallic design and a fingerprint sensor. Since Meizu already announced the M1 Metal in October, we are wondering which new smartphone could be revealed this month. As of now there are no details about any event whatsoever.
An analyst on the Micro blogging website, Weibo has revealed that there could be press conference in the days to follow where Meizu will lift the wraps off a new smartphone fully clad in metal with fingerprint identification support.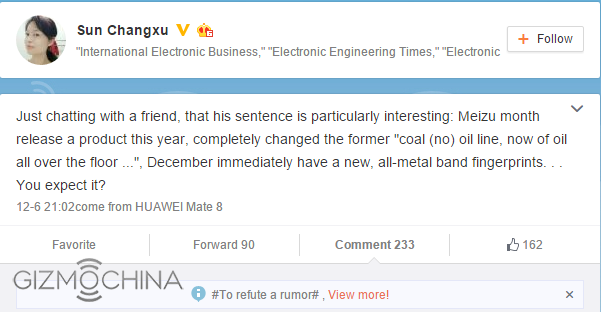 Looking at the Meizu's current lineup of smartphones the new phone, it is expected to be a variant of Meizu MX5 or Meizu Pro or could it be Meizu Pro Mini? Nothing can be said about the pricing details as many budget smartphones as well as flagship smartphones are coming with metal design and fingerprint sensor. As of now there is no official word confirming or denying anything. But things are expected to get more clear in the upcoming days and we will keep you updated. Stay tuned!