Xiaomi To Launch A 70-inch Version Of Mi TV 3 Priced At 9999 Yuan
If you are looking for an affordable large screen TV in China, you must take a look at the new Mi TV3 from Xiaomi.
Adding another product to its cap, Xiaomi will reportedly launch a much larger and grander version of Mi TV 3 measuring 70-inches in size which is 36% more than the previously launched 60 inches Mi TV 3.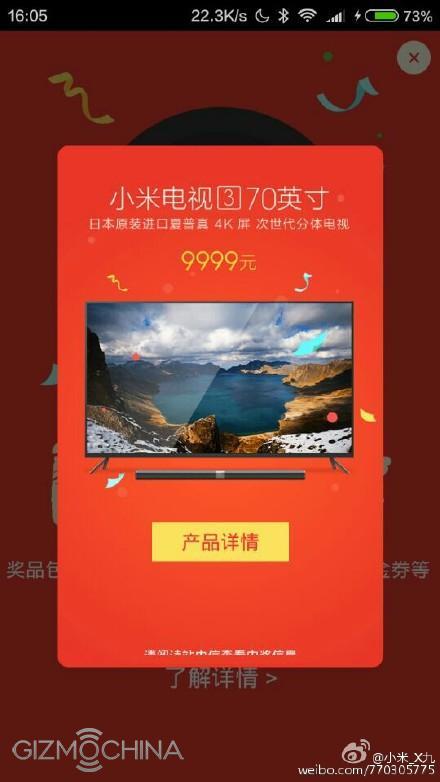 Mi TV 3 will feature an ultra-sharp 4K display fitted into an ultra-thin metallic frame of Mi TV 3. This TV comes equipped with quad-core MStar 6A928 processor based on Cortex A-17 architecture with Mali T760 GPU. It will come with 2GB of internal storage and supports expandable storage up to 8GB.
Mi TV 3 is said to come with connectivity options like Wi-Fi 802.11ac and Bluetooth 4.1. This TV will reportedly carry a price tag of 9999 Yuan ($1540 approx.).
Unfortunately, we don't think we will meet this device internationally anytime soon.
Can't imagine how good movies will look on this giant screen!
So, what do you think? Impressed?
The company is said to reveal the device sometime later today. Stay tuned for more details.