Just Over 1% Active Devices Running Android 6.0 Marshmallow Reports Google
Google, the tech giant has released its Google Play distribution data which ended on February 1 this year and shows that just over 1% of active devices are now running on Android 6.0 Marshmallow.
Speaking specifically in January, about 0.7% of active devices were running on the latest Android OS and in February the figure has shot up to 1.2% thereby a rise of 0.5%. These figures indicate the number of devices being updated or running Android's latest flavor out of the box.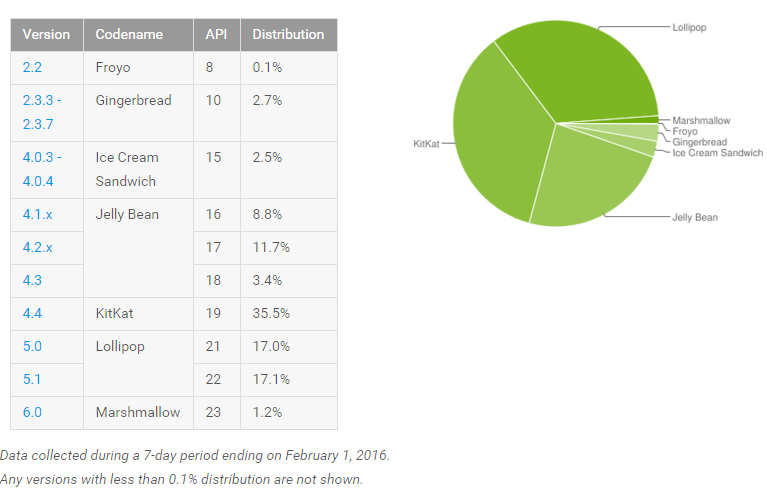 Google also shared the distribution data related to previous android versions as well. Android 5.0 Lollipop is running on 17% of active devices and Android 5.1 Lollipop is running on 17.1% of active devices.
Following a decreasing pattern, Android 4.4.X's share is gradually diminishing with only 35.5% of devices running it in February as compared to 35.6% running it in the month of January.
As far as Android Jellybean is concerned the percentage of devices using it are dwindling at a very fast rate. In January around 24.7% of devices were using Jellybean whereas in the month of February only 23.9% of active devices were running Jellybean.
OpenGL 2.0 dominated OpenGL with over 53.2%, with OpenGL 3.0 climbing up to 39.7%.
In the coming months, the number of devices running Android Marshmallow will be rising at a rapid rate as many device makers are due to release Marshmallow upgrade to their devices which are now running Android Lollipop or lower versions. Another factor contributing to this rising numbers is most of the newly launched devices run Android 6.0 Marshmallow out of the box.