Xiaomi Mi 4S vs Xiaomi Mi 4 Comparison: Upgrades
Back in 2014, Xiaomi, just a start up then, launched their flagship device that was known to the world as Mi 4 and this smartphone alone took the smartphone industry by storm for its out-worldly specifications and features it offered for the price. Fast forward to 2016, Xiaomi has launched an upgraded version of Mi 4 that goes by the name Mi 4S and in true sense is the successor of Mi 4. So now let's compare these two device and see what how much water each of them holds.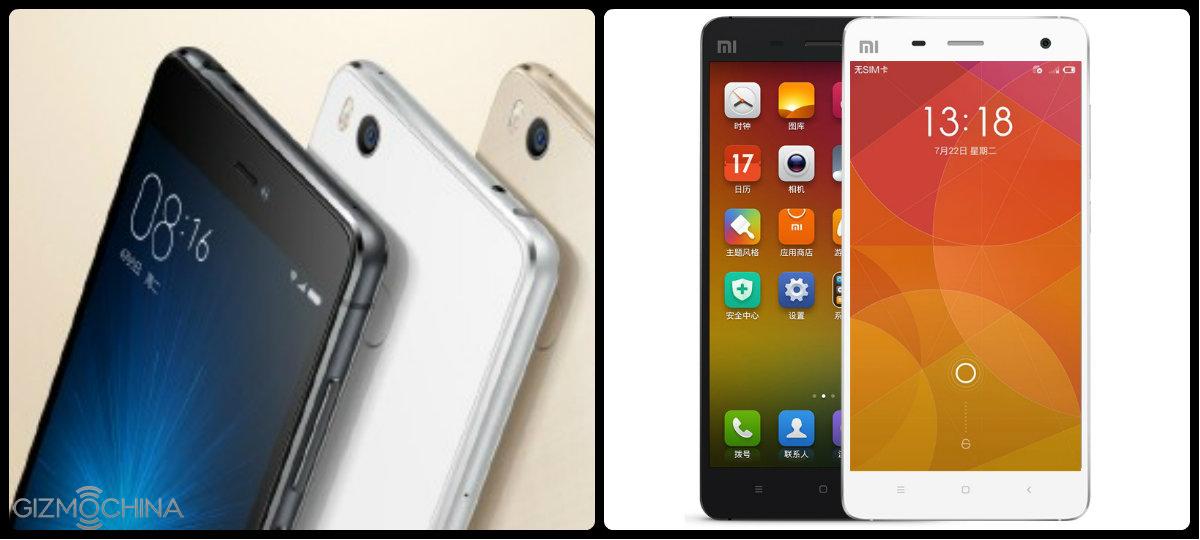 Design
Mi 4 was a beautiful looking smartphone with metallic frame and plastic back panel. You can experience the enriching premium feel it offered just by the look at it.
Continuing on the same lines Mi 4S features a metallic frame with plastic back being replaced by a glass back which makes it a premium looking smartphone. Mi 4S will be available in Black, Gold and Lavender color tones.
Display
Mi 4 featured a 5 inch JDI OGS display with 1080p resolution while Mi 4S comes with a similar 5 inch Fully laminated IPS display with 1080p resolution. So there is not much of a difference between the displays of these two smartphones.
Processor and RAM
Mi 4 packed a powerful quad-core Snapdragon 801 processor clocking 2.5GHz coupled with 3GB of RAM.
Mi 4S on the other side comes with an upgraded Hexa core Snapdragon 808 chipset coupled with 3GB of RAM. So we can expect the performance on the Mi 4S to be buttery smooth, lag free and much better than its predecessor.
Fingerprint Sensor and Other Connectivity Features
Newly launched Mi 4S has huge advantage over Mi 4 which comes in the form of Fingerprint sensor. Mi 4 lacked fingerprint sensor and changing times and tastes lead to the immense rise in popularity of smartphones with fingerprint sensor.
Mi 4S comes with NFC and USB Type-C support which was absent in Mi 4. So in terms of connectivity Mi 4S easily dominates its predecessor.
User Interface
Xiaomi has been pushing various firmware updates to Mi 4 to keep it updated and in league with other smartphones of today. Mi 4 runs on MIUI7 based on Marshmallow as of now and there is Windows 10 operating system available as well for some selected Mi 4 users in addition to a large number of custom roms also available.
Mi 4S runs on Android 6.0 based MIUI7, so interface wise both smartphones are same but Mi 4 takes a lead here as you can have a taste of many other Operating Systems and custom roms as well.
Battery
Mi 4 packed a 3080mAh lithium polymer battery under its shell for providing long hours of talk time and web browsing as well as other smartphone functions. Mi 4S comes with a slightly bumped up 3260mAh battery for longer operating times.
Mi 4S takes a lead over Mi 4 with the presence of Qualcomm's Quick Charge 2.0 technology which speeds up the charging process which was absent on Mi 4. So in terms of providing power Mi 4S is better than Mi 4.
Camera
Mi 4 came equipped with 13MP rear shooter with 6 element lens with blueglass IR filter and 4K UHD video shooting modes. On the front there is an 8MP front facing camera for video chats and selfies.
Mi 4S features a 13MP rear shooter with Phase Detection Auto Focus and dual tone LED flash. There is a 5MP front-facing camera for selfies. So the front camera on Mi 4S has been downgraded a little bit but the real world performance might differ.
Price 
Mi 4 is priced at $220 (approximately) right now, where as the newly launched Mi 4S is launched carrying a price tag of 1699 Yuan ($260). So more or less both smartphones are at a similar price point. Taking the price into account Mi 4S is the better option to choose with added functionality of fingerprint sensor, bumped up battery and better looking smartphone with a glass back.
Which one would you pick?