Mediatek Helio X30: New Leak Reveals Powerful Deca-Core Setup With PowerVR GPU
by Dimitris Economou Mar 29, 2016 7:56 am4
Mediatek goes further down the road in multi–core SoCs with a deca-core chip, but currently most Android apps aren't optimized for multi-core processing. Many mobile phone manufacturers use multi-core processing as a means of advertising, as specs have always been a way to impress buyers. But abandoning the spec war is not an easy task for Mediatek, especially since other domestic chip manufacturers have aggressive price strategy.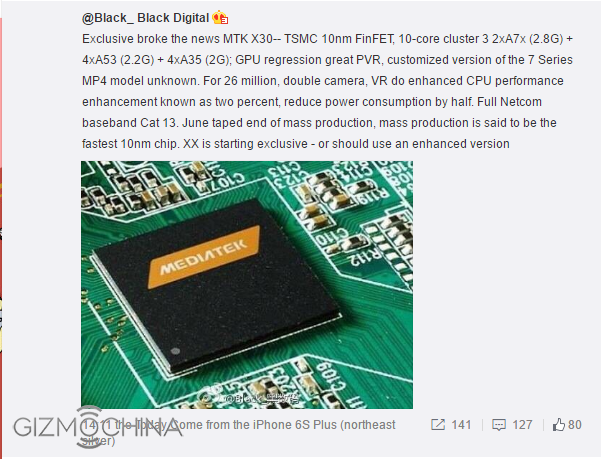 So, after the announcement of Helio X25 and the exclusivity of the SoC by Meizu Pro 6, Mediatek hits the road again this time with Helio X30 SoC. New leak claims that X30 SoC will be manufactured by TSMC using 10nm FinFET technology. The chip will keep the deca-core architecture of the X20/X25 SoCs which will consist of a dual-core 2.8GHz A7x, 4 x A53(2.2GHz) cores + 4 x A35 (2GHz) cores. The GPU will be a PowerVR 7xxx, quad-core. The SoC is said that will support up to 26MP camera sensors, dual cameras, 2% upgraded performance as well as 50% decrease in power consumption, Cat 13 LTE support, being one of the fastest mass-production SoCs.
The source also claimed that X30, as is X25, is also going to be an exclusive SoC for a company for some time, with Meizu and Lenovo rumored to be candidates for the exclusivity, among other big manufacturers of China.