HTC 10 Announced: A Balanced Phone, but will it be Enough?
by Dimitris Economou Apr 12, 2016 11:02 am9
HTC has always been different from other Android manufacturers in terms of design language and build quality. Even when Android and iOS hadn't been introduced, HTC was using Microsoft's WM. Today, the company announced its latest flagship device, the successor of HTC One M9, the HTC 10. Yes, "One" and "M" are not there anymore, the name is HTC 10.
HTC 10 Specs
This year, HTC has finally jumped on the QHD wagon, introducing a 5.2″ display with 2,560×1,440 resolution from an IPS LCD 5 display panel with -according to HTC- 30% more color than last year's device and is protected by 2.5D GorillaGlass that blends into the metal frame. In advance, HTC claims to have increased touch sensitivity by 50% than its predecessor.
The device is -of course- powered by Snapdragon 820 with 4GB RAM, 32GB of internal storage that can be expanded via a MicroSD card slot. The device is powered by 3.000mAh battery that according to HTC can give you 2 days of use combining hardware and software optimizations. We guess that Android's 6.0 Doze feature has something to do with it.
Now, let's see what the new model lacks in comparison to HTC One M9. First of all, it lacks the BoomSound speakers that were a trademark of the One Series since M7. Instead of that, the 10 has one speaker at the bottom of its machine crafted aluminum body. Also absent, is the HTC logo on the front as well as the onscreen buttons. HTC chose to equip the device with two capacitive buttons in addition to a hardware home key which incorporates a fingerprint sensor, also a new entry to HTC's flagship, taken from the HTC A9 that was introduced last year.
HTC 10 Camera
After three generations of mediocre camera performance, it seems that this year HTC has learned its lesson, adding a 12MP f/1.8 sensor with OIS on the back, along with dual-LED flash and 2nd-gen laser autofocus. The camera is capable of shooting 4K video with 24-bit high resolution audio. In theory, the camera must be very good in low light conditions. We'll wait for the review.
The front camera also has OIS and f/1.8 for its 5MP sensor which would make a good low-light selfie shooter.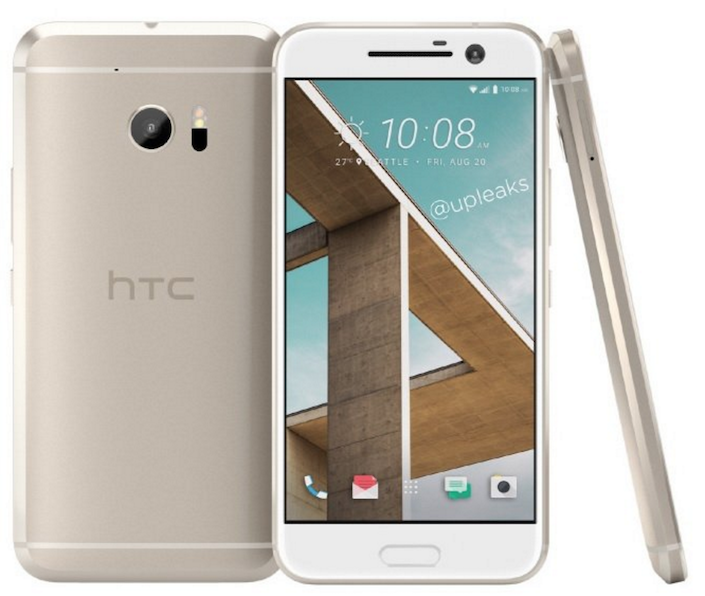 New Stuff
So, is that all that HTC had for us this year? Nope. HTC 10 comes with an advanced high resolution audio system with a headphone amp that can output twice as much power as other smartphones. HTC 10 can upscale audio to 24bit and HTC has built a customizable audio profile feature that tunes the sound specifically for your ears. Another surprise is that the included Hi-Res-certified  headphones that were designed in partnership with JBL, are powered by the USB-C port of the device. Don't be scared though, the 10 still has a 3.5mm jack to plug your good old conventional headphones you already own.
Software
On the software side, HTC has made a big turn, bringing the Sense launcher closer to stock Android, by adopting many of Google's apps for default instead of its own, apps like Calendar, Photos and Music. Of course, HTC's Email, Messaging and Camera apps are right there waiting for you, redesigned to implement the Material Design guidelines. Let's hope that when carriers get their hands on the device, they won't stuff it with a lot of bloatware.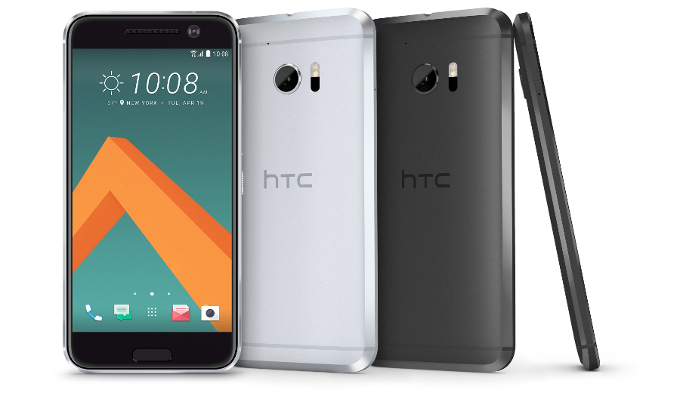 HTC 10 Pricing
HTC 10 comes to market next month at $699 and only one storage option, 32GB. US residents will get to choose between Black and Silver editions, while other markets will have Gold as well and Japan will get a special Red Edition. HTC accepts preorders starting today for an unlocked version of the device while it will be available from Verizon, T-Mobile, and Sprint (but not AT&T), as well.
Conclusion
HTC seems to have learned from its mistakes and has come up with a device that seems extremely balanced in every aspect. Design is an evolution of the company's known design language, it has done away with flaws of the past like the mediocre camera and has added some bells and whistles like fingerprint sensor and Hi-Res audio.