Ever since Intel decided to enter the mobile CPU market, not only smartphones and tablets but also mini pcs have taken advantage of the new CPUs and more and more of them appeared through the years. Some budget friendly but also high-end are on sale from Geekbuying. These mini PCs (or TV Box) prices vary from $119 to $289 for an Intel i5 machine. The devices are the following:
Cenovo MINI PC 2 4GB/64GB Intel Cherry Trail Z8300, Windows 10
The Cenovo Mini PC comes with Windows 10 inbuilt, which means you get Microsoft's personal assistant, Cortana as well. This box is powered by the quad-core Intel Atom X5 Z8300 clocked at 1.4GHz with 4GB RAM & 64GB eMMC storage, which is good enough for your regular use. It comes with a number of ports to connect your display (HDMI 2.0), ear phones, internet cable (RJ45) or even SD cards.  Click the link below to purchase Cenovo Mini PC for $119.99
VOYO V3 Intel Cherry Trail X7-Z8700, 4G/128GB, Windows 10
If you looking for a powerful yet efficient CPU, look no further than the VOYO V3. This particular Mini PC comes with the Intel Atom x7-Z8700 clocked at 2.4GHz (Max Frequency) and is part of the Intel's energy efficient Cherry Trail family, being built on the low power consuming 14nm process. The GPU supports DirectX 11.2. Further, inside, you get 4GB RAM and 128GB of internal storage which is further expandable up to 128GB via MicroSD. Other features include Windows 10 inbuilt and Bluetooth 4.0 connectivity. The box looks well built and is pretty thin to carry around. It is currently available for $199.87.
Vorke V1 Intel Braswell Celeron J3160 4G RAM 64GB,Windows 10
The Vorke V1 is powered by the Intel Celeron J3160 Braswell series processor which is a quad-core chip clocked at 2.4GHz. There will be 4GB RAM and 64GB of storage on board along with the possibility of upgrading with a 2.5″ SSD or 1 TB HDD. It comes with Windows 10 inbuilt but supports Win 8.1 / 7, Linux OS and even Chrome OS. With this config, you can play games, install softwares like skype, yahoo, photoshop and even connect dual monitors as well (there's VGA + HDMI ports).
The Vorke V1 is available for $199.99. You can check it out from below.
Hystou FMP03B i5-4258U 8GB/128GB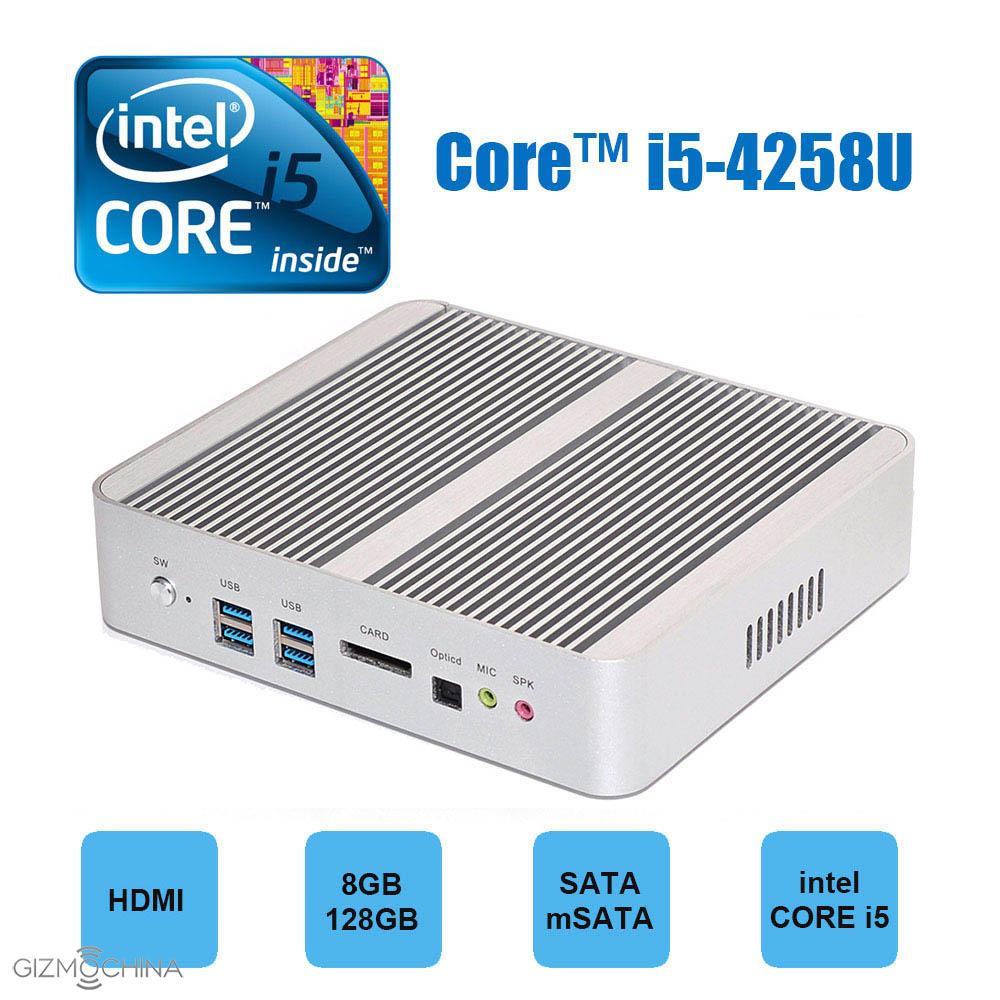 If you think Mini PCs are not really powerful for your needs, take a look at the new Hystou FMP03B. This particular compact PC box is powered by the Intel i5 processor clocked at 2.4GHz and comes with Intel Iris Graphics 5100, 8GB of RAM and 128GB SSD. That's more powerful than my Macbook Air! Further, you can expand this RAM to 16GB and SSD to 256GB (contact Geekbuying customer care for customizations).
You can purchase the Hystou FMP03B Mini PC from the link below at $289.99
The first three mini PCs come preloaded with Windows 10 OS that runs like a breeze on these little devils. The last and more powerful of all, comes without OS and you can install whatever you want as it supports Windows 7, 8, 10 and all kind Linux OS! Of course, they may be called TV Boxes most of the times but they are perfectly good PCs you can use as you would with any other computer.