Corning's Gorilla Glass 5 Aims To Protect Your Smartphone From Higher Drops
We all are aware of the name Corning, as Corning's toughened Gorilla Glasses have been protecting the displays on our smartphones for many years. Now the glassmaker has unveiled the next version of its famous toughened glass that which is called Gorilla Glass 5 by the brand. The previous version i.e. Corning Gorilla Glass 4 was unveiled back in 2014 and now after a gap of 2 years, Gorilla Glass 5 is officially launched.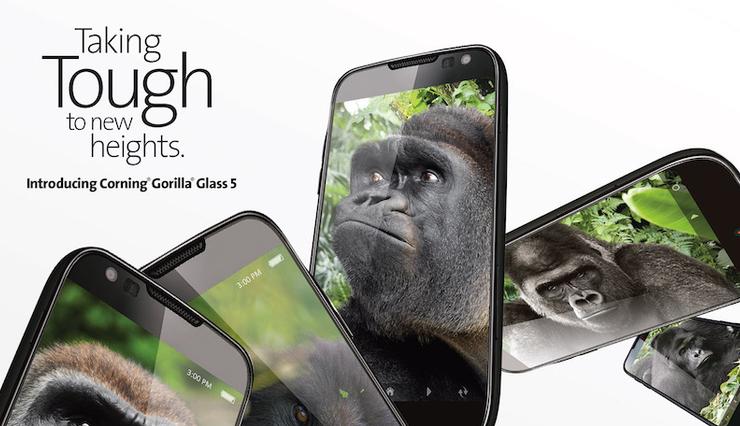 Gorilla Glass 5 is a chemically strengthened super glass that a large number of manufacturers will be using on their smartphones in the coming months. The main purpose of Gorilla Glass 5 is to improve the drop performance of the device which Gorilla Glass 4 somewhat lacked. Gorilla Glass 5 is formulated to protect the devices falling onto rough surfaces from certain heights. Corning claims that Gorilla Glass 5 survived 80 % of the times when dropped from a height of 1.6 meters which is around shoulder height.
A point which stands in contrast to all the strengths of Gorilla Glass 5 is what will happen to the display if the device falls on its corners. There are conflicting opinions on whether Gorilla Glass 5 will be able to protect the display or not when it falls with corners hitting the rough surface first.
Read More: Bluboo XTouch Survives A Blow From The Hammer, Thanks To Gorilla Glass 3
The research team at Corning found out that Gorilla Glass 4 was quite tough and effectively protected the display from breaking when it was dropped from a height less than or equal to 1 meter but when the height was more than 1 meter then it was not so durable and dependable. So to protect the displays from breaking when they are dropped on rough surfaces with height more than 1.6 meters, Gorilla Glass 5 was made. We will be seeing this new version of Corning Gorilla Glass on devices in future.