Nexus Marlin appears on Antutu, sports 2K Display & Android N
by Dimitris Economou Aug 17, 2016 11:20 am0
The Nexus Marlin – the upcoming Nexus device (that's the bigger 5.5″ model) has made its appearance, after Sailfish, over at AnTuTu. The earlier rumored specs are confirmed by the benchmark and basically shows that both Nexus phones will be built on the same platform.
And by same platform, we mean Snapdragon 820 SoC with 4GB RAM and 32GB of internal storage (a 128GB option is likely to exist unlike the 64GB middle step was that is ruled out). The same cameras are used too, a 13MP shooter on the back and an 8MP on the front without further technical details known for the time being.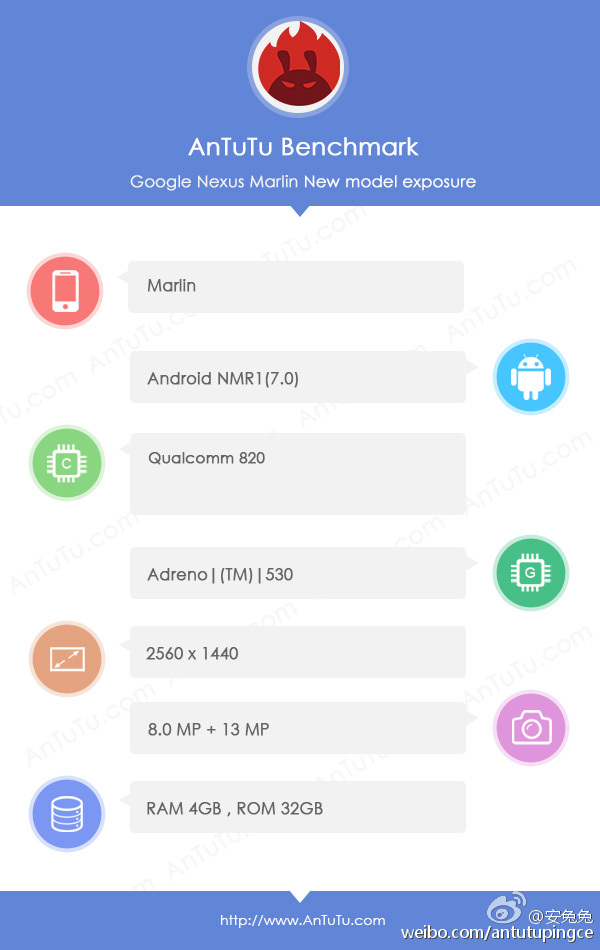 The major difference between the two devices is the display as the Marlin features a 5.5″ with QHD resolution (up from 1080p) to compensate for the increase in diagonal. Rumors also talk about AMOLED panel but this is something the Antutu cannot detect.
The details in the photo are the only known specs for the device right now as we have seen only a photo of the Marlin showing the "About" menu where Android 7.0 Nougat is displayed. More info will be made available as we approach the announcement date.