UMi Max Start to Be Shipped Today! Limited $139.99 Snap Deal
Umi Max is a big display device from Chinese brand Umi and the brand has gone an extra mile to promote this smartphone and to get the attention of the buyers. You all are aware of the features and specifications of this smartphone and as a recap you can go to this link. Umi has put every effort to make this an ideal phone fro people belonging to all walks of life. And at $139.99 (933 Yuan), it's cheap as well!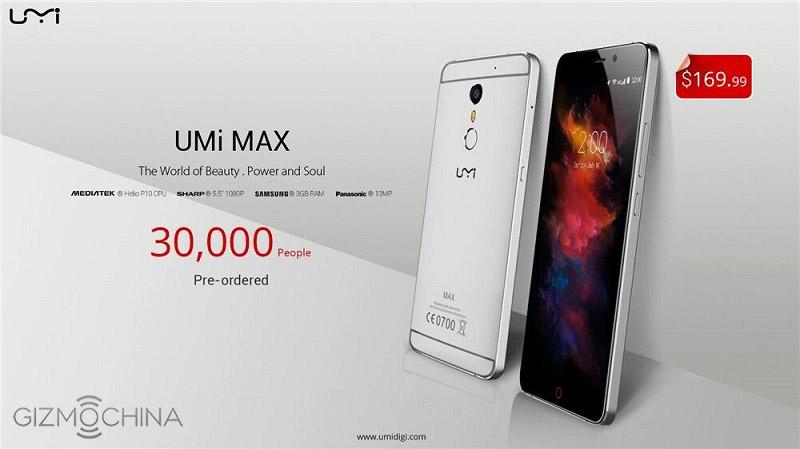 Since the time this smartphone first showed up, Umi is comparing this budget Android smartphone to Apple's iPhone 6S and they have revealed the similarities between the two smartphones as well. According to Umi, the major issue with iPhones is that the battery backup of these devices are not that good and you have to charge your phone once in a while. Keeping in mind this shortcoming of iPhones, Umi has equipped Umi Max with a large 4000mAh battery. This much battery will keep this smartphone running for long, providing longer operating times even on high usage making this an ideal device for gamers and heavy users.
Read More: Umi Max can help you when you run out of memory (video)
Umi says that Umi Max is very similar to iPhone 6 in design and looks but the battery on Umi Max is being touted as the highlight feature of this smartphone. Umi calls this learning from the mistakes of iPhone. Recently, Umi released a video comparing the battery life of Umi Max with iPhone 6S and you can watch that video here.
Umi is giving away Umi Max smartphone and to know more about this offer, please follow this link. You can pre-order this smartphone from Banggood.com and Gearbest.com for just $139.99.