Xiaomi Mi 5S Official Launch Date Teased for September 27
Xiaomi has officially announced it would be holding a news conference on September 27. The company dubbed the "Apple of China" has released a posted today which announced the conference date and the poster contained one major clue which points to the likely release of the Mi 5S on that date.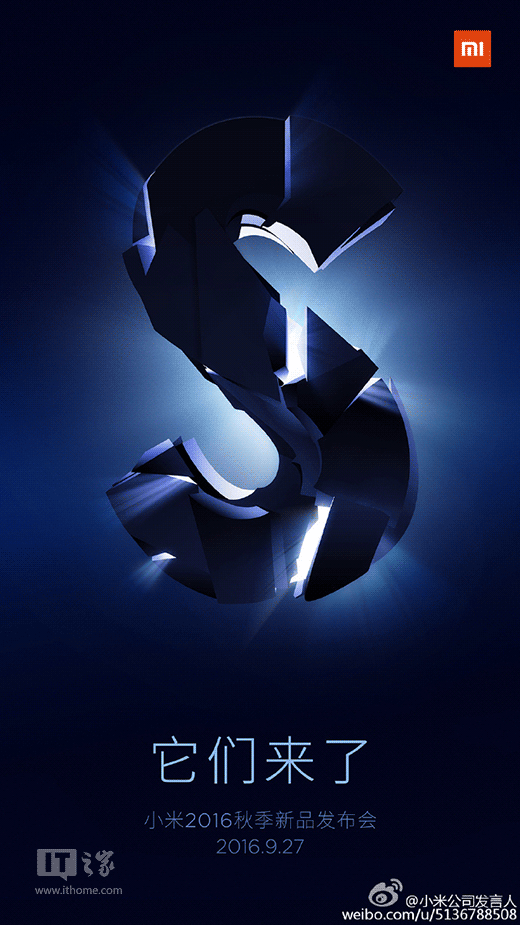 The poster contained a huge letter "S" which is an indication that the much touted, rumored and leaked Xiaomi Mi 5S would be the main highlight of the said date. Xiaomi is very well known for not coming out in clear terms to reveal a device's launch date but rather the dates are usually announced by way of teasers. It is likely that other devices will be unveiled on that day alongside the Mi 5S.

The Mi 5S promises to usher in a new phase in mobile phone technology with the inclusion of the world's first "Under Glass" ultrasonic fingerprint sensor technology pioneered by Qualcomm. The expected device will also feature a large improvement in other aspects over its Mi 5 predecessor.
Related: Xiaomi Mi 5s Plus Emerges, Specs Include Snapdragon 821
Furthermore, the Mi 5s is expected to feature a double curved screen design with a 5.15-inch display capable of 3D Touch functions. A Snapdragon 821 chipset clocked at 2.4GHz is likely to call the shots, along with a 6GB RAM and a top most storage option of 256GB. On the camera end, the smartphone is expected with a 16MP rear camera with f/1.8 aperture, PDAF, four-axis optical image stabilization and LED flash. The device will also come equipped with a 3410/3,490mAh battery with Quick Charge 3.0, USB Type-C interface , dual-SIM slots, and most importantly, NFC.
Lets not forget there are rumors of a Mi 5S Plus model said to be in the works. September 27 would possibly give us the answers to that.