Elephone is selling smartphones at $12.12 today! 
by Dimitris Economou Dec 9, 2016 5:56 am0
No, your eyes aren't playing tricks on you nor did we mix up the 11.11 Carnival day. Elephone is really going to hold an event on 12.12 and devices will be available for $12.12! Quantities are going to be limited of course, but the offer is real.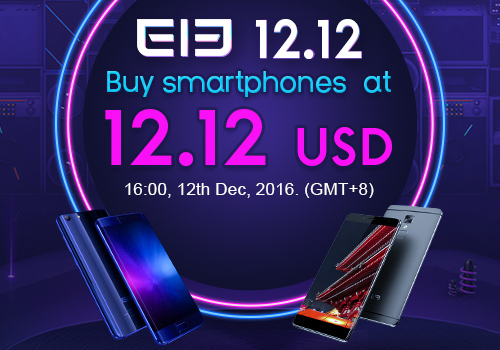 So, still regret the day that you missed the big 11.11 shopping carnival? Don't worry, you still have one final opportunity to grab the last big event for 2016. On 12.12, Elephone is holding a big discount event. The promotion is a time-limited flash sale and is divided in 3 parts (all times are GMT+8):
Part 1 Items for $12.12 will be available at exactly 16:00. Stay tuned on the promotion page to grab your chance.
Part 2 Items for $24.24 will be available at 17:00. If you missed the above flash sale, try your luck in this one for half as cheap.
Part 3 Items for $88.88 will be available at 18:00. Lastly, if you missed both the above, one final offer is there for you.
Also, the discount on Elephone S3 and Elephone P9000 will be very exciting! It doesn't matter if you miss one part, but it does matter to miss the whole sale!
In addition, Elephone has also prepared coupons and $24.24 vouchers for you. In the very evening of 12.12 these coupons and vouchers will be sent out by their beautiful anchor in Facebook Livestream.
For more details, check the official page here.