Xiaomi Portable Car Air Purifier Launching Soon
The use of face masks and air purifiers is witnessing a surge this season due to the hazy conditions which means the air is unsafe to be inhaled, filled with dust and impurities. Recently, a photo of a man traveling in a high-speed rail and using the Xiaomi Mi Air Purifier emerged. The image generated lots of response as the air purifier is too bulky to be carried all around. Even fXiaomi's CEO, Lei Jun also weighed in, suggesting that the company will work on a portable air purifier which can be used while in transit.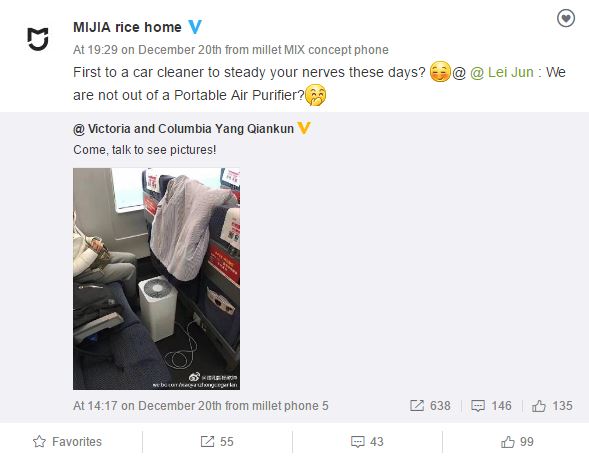 Already, Xiaomi has  three different versions of its Air purifier in its kitty which includes the Xiaomi Air Purifier, Xiaomi Air Purifier 2 and Xiaomi Air Purifier Pro, but they are all mean't for indoor use. Now due to the strong haze, there is a need for an anti-haze equipment while outside the house, and this seem to have prompted Xiaomi to do a portable car air purifier.
According to a post on the official Mijia Weibo page, the air purifier is coming soon and a Xiaomi exec even took it further by revealing it would be launched as early as next week. Further details also shared by anothe Xiaomi official reveals the possibility of the M Air purifier coming with a large CADR ratio (clean air output ratio) which is likely higher than those of other brands in the market presently.
Read More: Xiaomi Launches Mi Air Purifier Pro with OLED Display for ¥1499 ($221)
It must be noted that there are several car air purifiers in the market presently but they are not cheap, but we expect the Xiaomi air purifier to change that by adopting a cheap price tag which is one of Xiaomi's hallmark.