LG G6 Will Feature Unusual Display Resolution, Heat Piping, and AI Assistant
LG has already sent out invites for its press conference at the 2017 Mobile World Congress next month and along with the invites the company also teased several details about its upcoming flagship smartphone in a press release.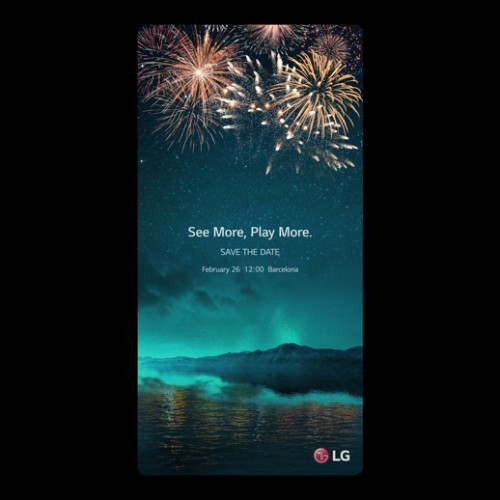 It was previously rumored that the G6 could feature a display with an unorthodox screen resolution and aspect ratio, and today's press release confirms that as it states that the G6 will feature a screen with a display resolution of 1440 x 2880 pixels at 564ppi, giving it an aspect ratio of 2:1 instead of the more common 16:9.
LG has stated that the using the 2:1 aspect ratio will mean more elements will be able to fit in the frame. The company showed this off with the graphic it used for its invites, which featured an image displayed in the new aspect ratio, stating that the fireworks in the image would not have been seen if the image was following the older 16:9 standard.
LG's decision to use the 2:1 aspect ratio is also in line with the currently proposed Univisium universal film format which aims to form a new and singular video aspect ratio standard. Some previously released shows such as 2013's House of Cards and 2016's Stranger Things, both of which were produced by Netflix, featured the new 2:1 aspect ratio, indicating that the new standard is gaining traction.
LG also unveiled that the G6 will feature heat dissipating piping inside which will hopefully improve the phone's temperature both in idle and in use drastically. While the company isn't blatantly saying it, it seems the decision to improve the heat performance of the G6 and put the new device through rigorous quality tests is in response to Samsung's Note 7 mishap last year.
RELATED: LG G6 Invitation Reads February 26 Launch at MWC
Lastly, the company also announced that it is planning to introduce a new and enhanced AI assistant with the G6. While not much information on the AI assistant was announced, it is a feature that's to be expected from the company as enhanced AI assistants are currently the latest trend in consumer tech and smartphone development.
The LG G6 is set to be officially unveiled and launched on February 26, 2017, in Barcelona, and will be released globally soon after.