Geotel Note is the best-priced 3GB RAM device in the market
by Dimitris Economou Mar 17, 2017 4:27 pm4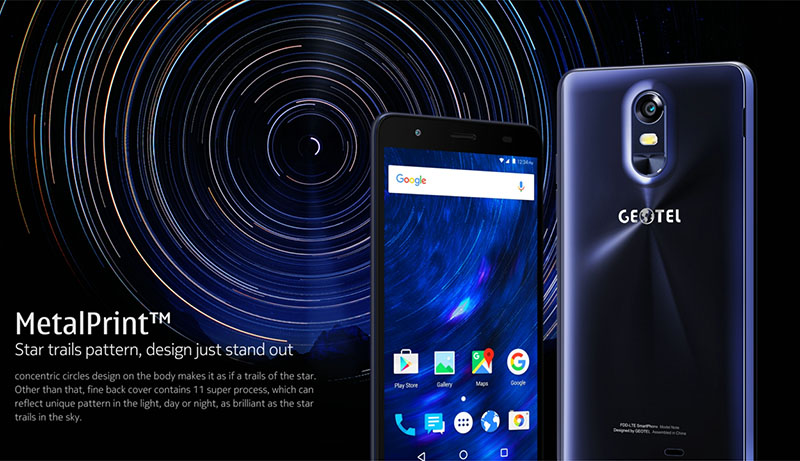 Finally, time for Geotel has come to unveil their first smartphone with their new brand identity, Geotel Note that aims to hit the mid-range segment. As a new device, the Note comes with a Mediatek 64bit Quad-core SoC, 3GB RAM and 16GB of internal storage at the reasonable price of $89.99. The best price among 4G LTE 3GB smartphone at the market right now. Hopefully, the software will be optimized well to allow for multiple apps running in the background.Its Antutu score ranks this handset as just slightly slower than a Samsung Galaxy S4. An old device but with enough power.
In the design department, it features a new material finishing, that GEOTEL calls as MetalPrint, which makes the phone look quite premium from the back side. MetalPrint is created through 11 manufacturing processes to allow the back surface reflect light. In addition, the 5.5″ display sports 21% more color gamut and 50% more contrast than conventional panels. This improvement is due to the fact that Geotel replaced the white LED with a blue one that gives out better results.
As for the rest specs of the device, the main camera is a 13MP one with f/2.0 aperture. Up front is an 8MP selfie shooter with 84° wide angle lens, that allows you shoot more friends around in just one picture. The battery is removable with a 3200mAh capacity that should take you through one whole day's usage. Lastly, ti supports 4G-LTE networks for faster browsing as well as 802.11ac WiFi. Google Play is pre-installed and there is full access to all of Google's apps including Gmail, YouTube, Google Keyboard etc.
That's it for our first look at the Geotel Note. For more details on what to expect from the phone, check the company's official website . It is already available from March 13. You can buy it here.