Huawei and Linaro Releasing HiKey 960 Computer Board in US, Europe, and Japan
Chinese smartphone giant Huawei and ARM hardware developer Linaro previously released the HiKey 960 in China, a Raspberry Pi-like computer board that is capable of running Android, and the companies have now announced that the device will be officially released in the US, Europe, and Japan.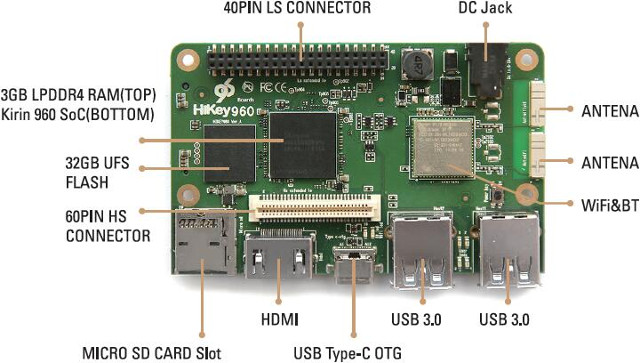 The device gives developers a way to test software and drivers as well as be used in the production of Android-based devices. It features an octa-core Kirin 960 processor from Huawei coupled with a Mali-G71 graphics chip, 3GB of LPDDR4 RAM, and 32GB of storage. It also features two USB 3.0 Type-A ports, one USB 2.0 Type-C port, a microSD slot, and a PCe M.2 slot for additional storage.
Other connectivity options include dual-band 802.11ac Wi-Fi, Bluetooth 4.1, an HDMI 1.2a port, 40-pin and 60-pin connectors, and several other connectors and headers.
RELATED: New Hikey 960 Development Board is Based on Huawei Kirin 960
The HiKey 960 will launch in the US, Europe, and Japan sometime in early May for a price of $239. The companies also plan to release the device in other territories eventually as well as develop support for Linux for the device. The device is already listed on Amazon.
(via)