Isun LTP4.0 Low Temperature 3D Printing Pen Announced
Isun has officially announced its next-generation 3D printing pen, called the LTP4.0, featuring a smaller and more ergonomic design. Most importantly, the LTP4.0 is able to operate at a lower temperature, making it safer to use than other 3D printing pens.
Here are the key features of the new LTP4.0:
Security: Draw in low temperature, warm pen point, safer to use; Available with mobile power, keep away the danger of alternating current.
Convenience: Compatible with android phone cable and power adapter. The design of USB interface is available with mobile power, which makes creation possible anytime and anywhere.
Worry-saving: One-click operation, easy to learn, reduce incorrect operation, easy to dismounting, less after-sales issues.
Much more fun: Matched with middle-school textbooks, over 100 exquisite paper mould, imported plastics-absorption mould, silicone rubber mould, electronic accessories, you can make plane doodle, three-dimensional painting, and creative handcraft as you like.
RELATED: eSUN opens its official 3D printing e-store
The LTP4.0 is available in five color options including white, black, red, yellow, and blue. The Isun LTP4.0 can be purchased as a stand-alone pen as well as in bundles that include filament and accessories. There's no word yet on available or pricing for the LTP4.0 but it should be available through online retailers soon.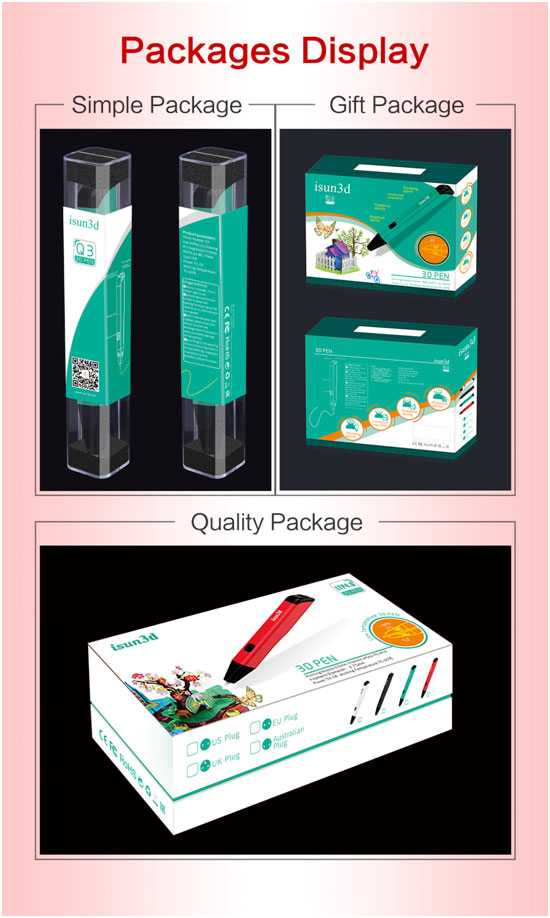 Shenzhen eSun Industrial Co., Ltd entered 3D printing industry in 2007, and is the first to launch PLA 3D printing filaments globally. This brings 3D printing machine to the time without high temperature injury, promotes the simplification of consumer-grade 3D printing technology and lowers cost as well.
In 2014, Shenzhen eSun Industrial Co., Ltd launched 3D printing filaments(eMate), and applied for a patent for low temperature 3D printing pen, which reduces the risk of high temperature and promotes the popularization of 3D printing pen. Since then, 3D printing pen enters the time of low temperature.