Sharp Aquos S2 Leak Suggest 4K Bezel-less Display, In-Display Fingerprint, Will Launch on August 8
New leaks seen on Chinese social media site Weibo has revealed what looks like a new flagship smartphone from Sharp called the Aquos S2 (105 Limited Edition).
According to the first leak, the Sharp Aquos S2, which we get a good look of through the leak, will feature a 5.5-inch 4K display with practically no bezels, something that is slowly becoming a trend in the smartphone market. The leak also shows that the Aquos S2 will also feature a dual rear camera system as well as an in-display fingerprint sensor which means that the scanner is placed beneath the display.
Another leak has revealed that the Aquos S2 will feature either a Qualcomm Snapdragon 660 or a Snapdragon 630 processor, either 4GB or 64GB of RAM, and 64GB of internal storage. The leak also claims that the new device will be priced at 2699 Yuan and 3499 Yuan for the two variants, respectively, and will be launched on August 8, 2017.
RELATED: New Image of SHARP Bezel-less Phone Leaks, Doesn't Look Like The Essential & Comes With Snapdragon 630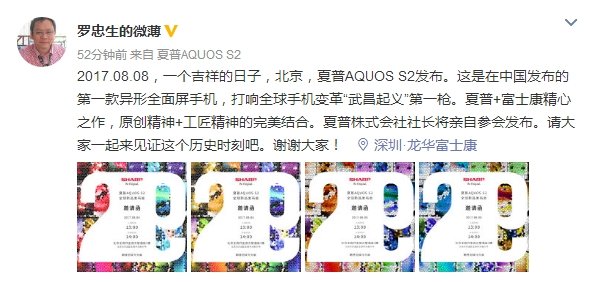 Earlier today, the company confirmed the launch event of the Aquos S2 in Beijing on August 8. So, we only have to wait a few weeks to get a complete look at the Sharp Aquos S2.