Ulefone Power 3 goes againsts the Xiaomi Redmi 5 Plus in this Fast Charging comparison
by Dimitris Economou ago0
You may not notice the benefit of fast charge when charging a smartphone with a smaller battery, but when it comes to a big battery device, it can take hours to reach 100% if quick charging isn't supported. Ulefone Power 3 does support quick charging and you can see it go head to head with the recently released Xiaomi Redmi 5 Plus and learn how different types of charging technology works.
The Ulefone Power 3 with the huge 6080mAh battery features new 5V/3A fast charging technology while the Redmi 5 Plus fueled by a 4000mAh battery supports 5V/2A fast charge. As shown in the video, the test starts with both phones on 50% charge. After 5 minutes of charging, the batteries of the two phones both reach 55%, 15 minutes later, both batteries climbs to 65%; and half an hour later, the battery of the Power 3 jumps up to 81% while the battery of the Redmi 5 Plus reaches only 74%. In 45 minutes later, the Power 3 is fully charged while the battery of the Redmi 5 Plus reaches merely 81%. Given the gaps of battery capacity, we can conclude that 5V/3A technology help evolve charging at a much faster rate. It's also worth mentioning that compared to the 5V/2A charging solution, the 5V/3A fast charge that relies on larger electric current instead of larger voltage is much safer and could prevent the phone from getting hot when charging.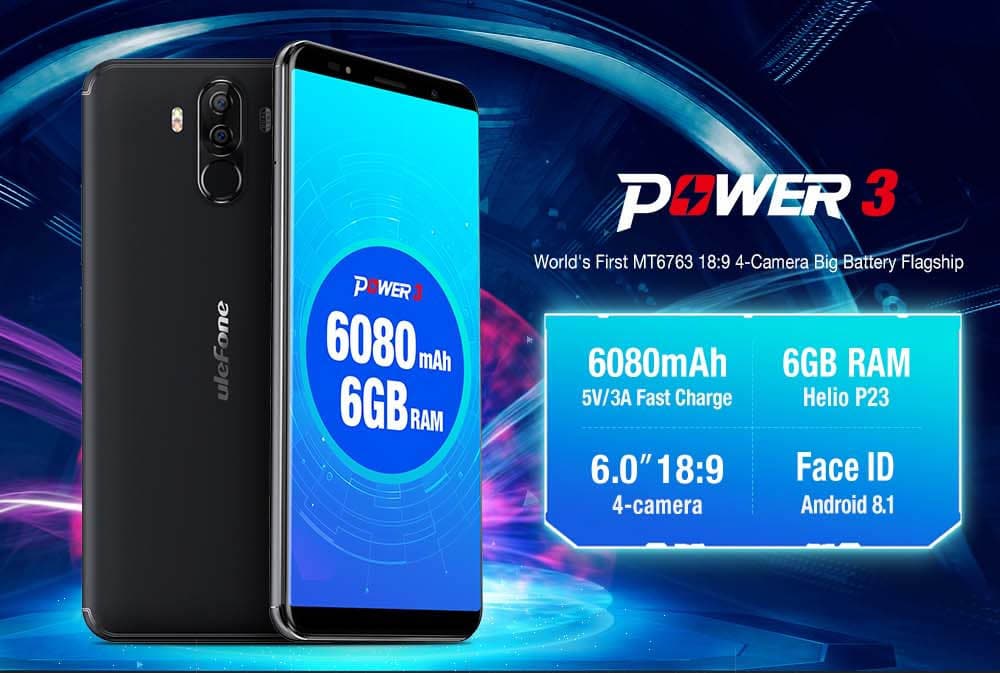 Aside from big battery and 5V/3A fast charge, the Ulefone Power 3 also offer some solid high-end hardware for its price range. There is a 6″ FHD+ 18:9 all-screen display, the latest Helio P23 octa- core SoC paired with massive 6GB of RAM and 64GB of internal storage, Samsung 21MP/5MP dual rear camera setup, 13MP/5MP dual front camera setup, advanced Face ID recognition system, traditional fingerprint scanner on the back, independent audio chipset, and the latest Android 8.1 Oreo.
To learn more details about the phone you can check out Ulefone's official website. Currently the Power 3 is available for a special price of $229.99, if interested, you can grab one on Aliexpress.