Nokia Sends Invitation To MWC 2018 Launch On February 25, Nokia 9 & Others Expected
HMD Global has released a poster which is an invitation to the Nokia unveiling event scheduled to hold on February 25, 2018, just before the Mobile World Congress (MWC) 2018 commences. The event would take place between 4 pm and 5 pm at the Barcelona Museum of Contemporary Arts. The invitation also includes a link for those who are interested to attend the event to register for seat reservation.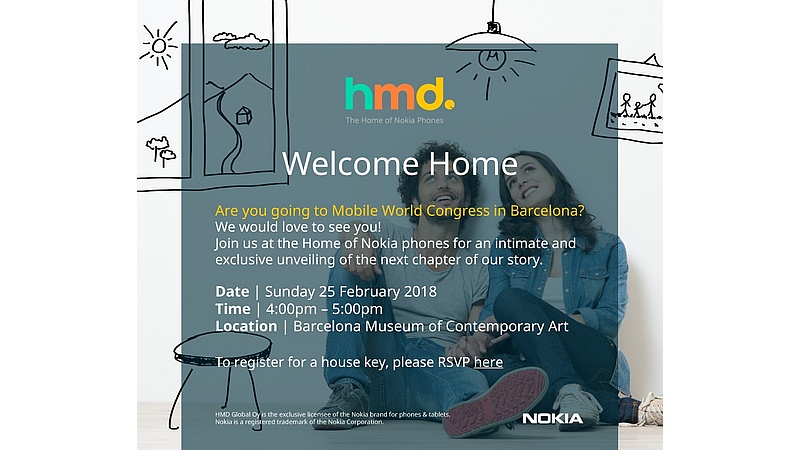 HMD Global did not reveal the product that would be launched on that day in the poster, but the poster indicated that the event was for an intimate and exclusive unveiling of the next chapter of Nokia phone's story. What we can grab from this is that we may likely see the launch of Nokia's next flagship phone- the Nokia 9 among others. Earlier on Thursday, HMD Global's Chief Product Officer Juho Sarvikas hinted that the company had something major planned for MWC 2018.
Sorry for radio silence. Been super busy planning #MWC2018 . Please expect it to be awesome 😎

— Juho Sarvikas (@sarvikas) January 18, 2018
Related: Nokia Announces Its Under-The-Bed Sleep Tracking Accessory — Nokia Sleep, Costs $99
Apart from the flagship Nokia 9, HMD Global could also take the wraps off Nokia 1 as well as the Nokia 6 (2018) for the global market, Nokia 3310 4G and perhaps, the Nokia 7 which has only been launched in China. It would be recalled that last year's MWC saw a flurry of smartphone launch by the tech giant including the Nokia 3, Nokia 5, Nokia 6 and the redesigned Nokia 3310 feature phone. Apart from smartphones, the poster seems to suggest Nokia will launch a smart home product at the event. We are not so sure about that anyway, so we'll wait until the event to find out.