Ulefone Power 3 getting ready to receive an update to Android 8.1 soon (video)
by Dimitris Economou ago0
Fragmentation can be described as the plague of the Android ecosystem since updates aren't controlled by Google but by manufacturers and network carriers. Also, sometimes SoC manufacturers delay releasing updated drivers to support the new version or don't release them at all. Some years ago, this phenomenon was even more intense in small manufacturers with few resources. But times have changed as now, most of them are using pure Android without any modifications and Google helped towards that direction with Project Treble introduced in Android 8 Oreo that will make the update progress easier and faster.
So, staying committed to its promise for constant and long after sales support, Ulefone is ready to release the Android 8.1 Oreo update for the Ulefone Power 3, its previous gen big battery phone. As a matter of fact, the update is ready but they are waiting for GMS certification from Google to release it. Meanwhile, you can download the latest version without GMS certification, however, this version isn't very steady so I'd wait a little bit longer if I were you. More information is available on their blog. The update to Oreo, besides all the new features, should also bring more fluid performance as well as better power management but that remains to be seen as soon as it comes out.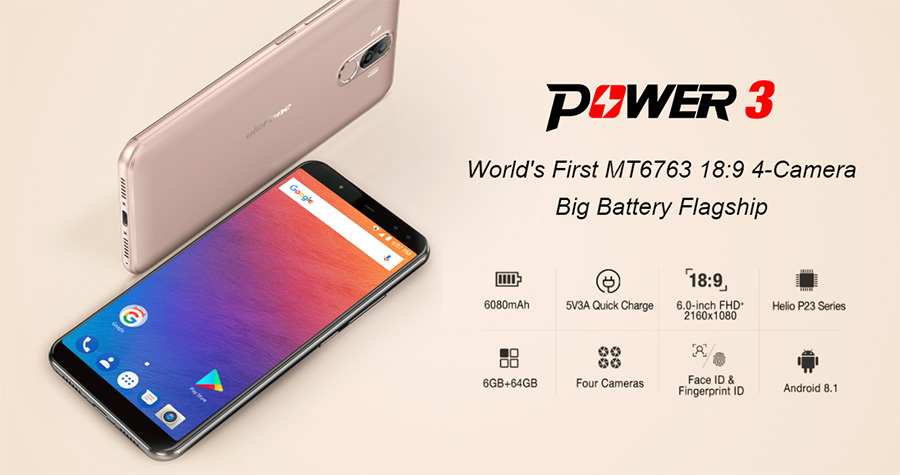 Just as a reminder. the Ulefone Power 3 comes with a 6080mAh battery while featuring a modern 6″ 18:9 all-screen FHD+ display, 6GB of RAM and 64GB of internal storage. To learn more about it, visit the company's official website here or just grab one from Aliexpress. And if you are looking something even bigger in terms of battery capacity, take a look at the newly released Power 5 with 13000mAh battery on Banggood.