eSun brings three new photosensitive resins to the 3D Printing market
by Dimitris Economou ago0
The 3D printing industry is in a thriving development, and the types of equipment and materials for 3D printing are also improving lightning-fast. According to the different forming technologies, the major categories can be divided into FDM, DLP, SLA, SLS and etc.
The FDM modelling technology is the most popular nowadays but for those who want to improve the accuracy of printed products, it has still yet to reach the ideal result. On the other hand, light cure technique is faster and has higher molding accuracy and very fast molding speeds. What's more, the surface of printed products are smoother and don't need polishing. For that reason, eSun developed a bio-based environmental-friendly photosensitive resin, eResin-PLA, that has perfectly solved the past weaknesses of the resin. It is the world's first bio-based, safe and environmentally friendly and offers high precision printing, and good hardness, scratch resistance, hydrophobicity, and dry surface. The eResin is ideal for craftsmanship, model/mold manufacturing, functional original parts production, etc.
Continuous creation, researching and developing three special photosensitive resin
Apart from eResin-PLA, the company also independently develops three different types of photosensitive resins, named Jewelry casting photosensitive resin, Dental casting photosensitive resin, and Non-casting general photosensitive resin.
Jewelry casting photosensitive resin
The production of jewelry models requires a very high level of detail so the plastics cannot meet the surface requirements. For that use, the LCD/DLP technology is an excellent choice in conjunction with the new material is perfect. eSUN's jewel-casting photosensitive resin is suitable for making jewelry models.
Dental casting photosensitive resin
Usually, dentists use light-curing techniques to make products such as dental models, and the determining on their quality is rely on the chosen material—photosensitive resin. eSUN's dental casting photosensitive resin is specially developed for the dental field use as it features high precision, high hardness, and impact resistance.
Non-casting general photosensitive resin
Lastly, the non-casting universal photosensitive resin produced by eSUN is specially developed for part prototypes requiring precision. It has a hardness rating of 88D. It is very tough, has good impact resistance and strength, and is among the best choices for manufacturing snap-fit joint prototypes and other products. Not only that, but the product also features DLP with fast print speed, low shrinkage, and a high degree of compatibility with LED UV light sources, and can be customized for any color.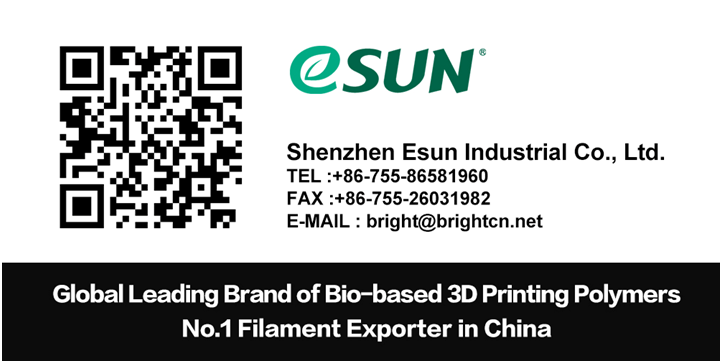 To see more details about eSun and its 3D Printing materials, you can check out their official website.