Thinking of buying the UMIDIGI Z2? Here are 5 reasons you should
by Dimitris Economou ago0
UMIDIGI Z2, the first of the flagships the company released recently, is a perfect example of how a company goes up a level in terms of build quality and specs. With a very attractive design, high-end specs, and all-screen display, it has hit the market with great expectations. But is it worth buying after all? The competition is vicious so let's see how it does, compared to other flagships.
It's all about the display
In Z2, the Chinese manufacturer chose an iPhone X-like display meaning that it has a 19:9 aspect ratio with a notch on top. UMIDIGI decided to walk the extra mile and equip the Z2 with a good panel that delivers a superior color gamut, although the resolution sticks to FHD+, avoiding the power-hungry 4K resolution.
Gradient Twilight color
Following Huawei, UMIDIGI comes with a gradient color back cover. Since competition is tough, every differentiation from other competitors is welcome. Being a part of the design, color is a primary factor that determines whether a user will keep being interested in a device at first sight or not. And the Gradient Twilight color is pretty impressive.
Better photos
Smartphones coming from China, traditionally sport cameras with great on-paper specs but the final result is below average. Even Xiaomi can't reach the top flagships right now, so, improving the camera is a difficult task to start with. The 16MP/8MP dual rear camera of the Z2 brings more than 200% of improvement over previous UMIDIGI devices. Also, it supports 4K video recording. Of course, reaching the top is hard and UMIDIGI isn't there yet but the result is pretty good especially if you consider the price tag.
Fast Charging and Global Bands
Batteries may not have improved at all the last 5 years but their charging has. So, with a 9V/2A charger, the Z2 can be fully recharged in just 80 minutes. In addition, it supports 7 network modes and 36 global bands together with dual VoLTE and although including all these bands is more costly for the company, it hasn't increased the price much.
Affordable pricing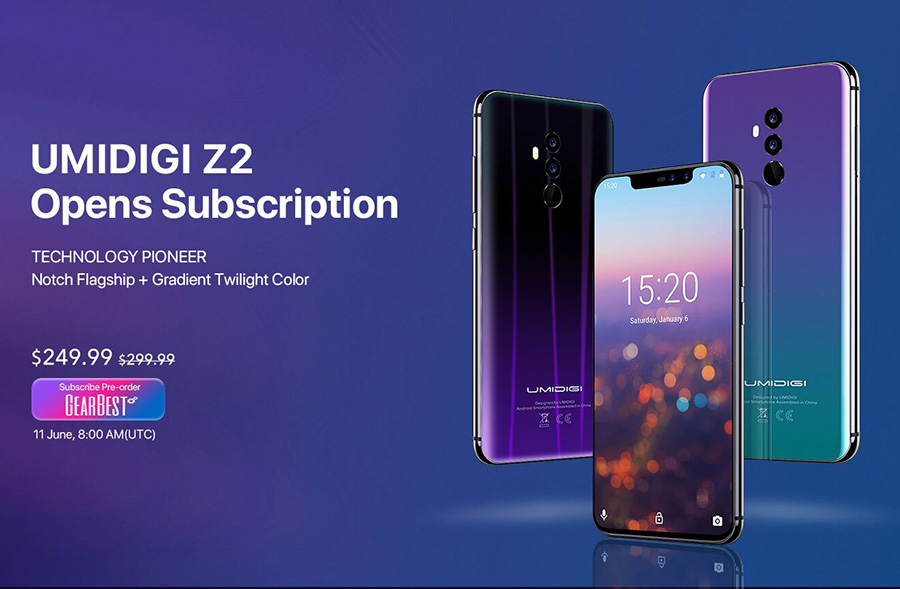 The UMIDIGI Z2 will officially start its presale period on June 11th on Gearbest with a great offer. Instead of the official price of $299.99, you'll have the opportunity to get it with a $50 off discount at just $249.99. Definitely a great price for a flagship-grade device that adopts all the latest features of modern flagships, besides wireless charging. Visit the official promotion page to learn more about it.