eMeet OfficeCore M2 conference speaker starts off well, more to come in the series
by Dimitris Economou ago0
It has been almost one month since eMeet OfficeCore M2 launched and during this time the startup company is receiving both good and not so good feedback. Although the excitement is high for their 2nd-gen speakerphone, they try to listen to customers and try to improve features on the current and future devices to come in the series.
So, the eMeet OfficeCore M2 currently available on Amazon is the basic model. According to information from eMeet, there would be two more variants: OfficeCore M2ce and OfficeCore M2 Record which would be launched out gradually based on market's reaction to OfficeCore M2. According to the reviews of OfficeCore M2, some users said they love the sleek design and the LED AI-positioning function, some said they enjoy the crystal and loud sound when they are having a phone call, while some others are really looking forward to an updated app that would allow for multiparty conference calls and complain that why OfficeCore M2 isn't equipped with this function. It seems that there is some confusion about the features, so let's see what each model features.
eMeet M1 and M2 have the same loudspeaker as the Jabra 710 which tops out at 83dB however neither support multiparty conference calls and translation. The new M2 model also offers:
• VoiceAI Algorithm, based on artificial intelligence technology DNN(Deep Neural Network),
• Long pickup-sound distance, matching with high sensitive MEMS digital Microphone Array can support up to 5-8 people
• 4 Microphone Array, AI Positioning With 4 high sensitive MEMS digital microphones, so M2 can pick up sound from any angles
• Compatible with Multi-Platforms like Skype, Avaya, Gizmo Project, Wechat, Google Gtalk, GoToMeeting, Line and many more, and is compatible with most digital assistants (Siri, Cortana or Google Now)
• Bluetooth Chip: Qualcomm CSR 8670
• Digital Signal Processing Chip: XMOS
• MEMS Microphone: ST
• Up to 12 hours talk time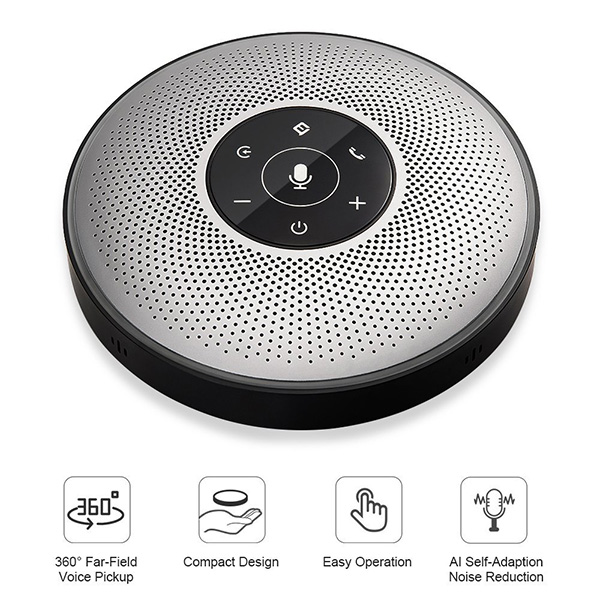 What will the eMeet OfficeCore M2ce that will be launched out at the end of 2018 offer more? The Infinity expandability function can link more M2 units to make more space. Also, multiparty conference calls can be realized with the eMeet app which will only be available on OfficeCore M2ce. So if these features are essential to you, you should check out some other brands or wait until the M2ce comes out at the end of the year.