Review of ZTE Nubia Z5 smartphone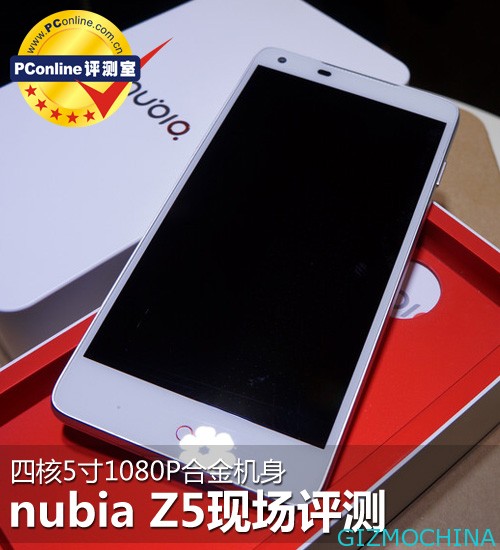 ZTE Nubia Z5 has been launch on December 26th, this phone is become the most interesting product from ZTE since enthusiast people waiting for launching this ZTE Nubia Z5 Android smartphone.

The Z5 packs with 5-inch 1080P screen and sports with 13 megapixel camera, in the official release this also sports with 32GB version and offers with price of 3456 yuan, the price of titanium metal body version of 7890 yuan, the price can be described is not vague.
In this article, we want to show you the new ZTE nubia Z5 Android smartphone, the luxury and high-end smartphone came from one of domestic smartphone manufacturer, ZTE.
In Latin and part of the language, Nubia term is mean of "Gold" semantics, a symbol of the beautiful. The hardware on this machine can be described as the high-end parts with Qualcomm Snap Dragon APQ8064 Quad-core processor, running at 1.5GHz clock speed; sports with 2GB of RAM and 32 GB of ROM; packs with 13 megapixel camera; 5 inch 1080P screen. The special thing on this phone is the software is embeded with motion gesture control, this is very nice and intuitive aspect.
Specs of Nubia Z5 smartphone:
CPU SnapdragonAPQ8064 quad-core 1.5GHz CPU
RAM 2GB / ROM 32GB
Screen 5 inch Sharp of CGS technologies 1080P screen, 443PPI
Camera 13 megapixels of F/2.2 blue glass composite IR filter, sapphire lens
Operating system Android 4.1.2
Type of SIM card Micro-SIM card
Weight     126g (aluminum version)
Battery 2300mAh (not removable)
Features Support MHL (HDMI), wifi Display, NFC, scene label, number somatosensory function
Network standard GSM / CDMA / WCDMA / EVDO / LTE full Netcom
Selling price 3456 yuan (aluminum) 7890 yuan (titanium version)
Designs
Let's take a look at the appearance. According to official said the Nubia Z5 design made by Italian designer Stefano Giovanni Noni. He believes that "emotions and memories of the life of the product," good design is a poem about life and bring people into deep thinking situations. "Mobile phone is not just a communications products, is a work of art , an emotion and personality of the design work, able to express an attitude toward life.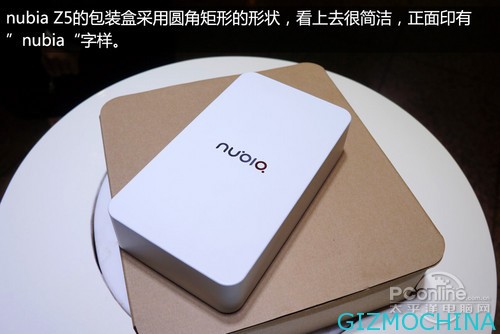 Box with white design looks very simple.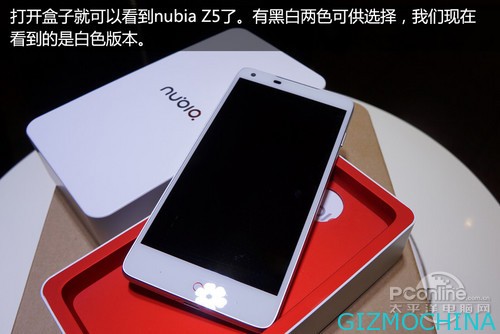 Nubia Z5 is equipped with 5.0 inches Sharp CGS custom of NM2 display resolution 1080p, display the accuracy of 443PPI, single glass full lamination technology (OGS).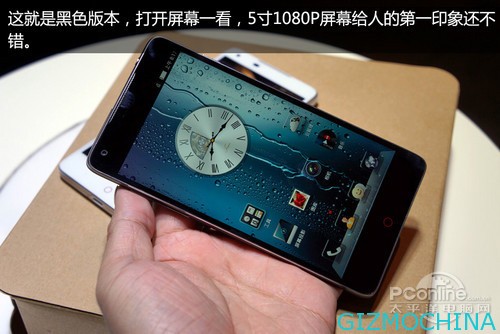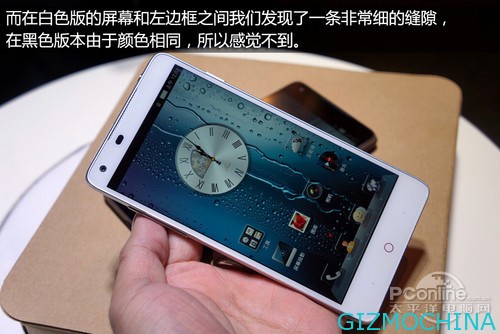 The the nubia Z5 will launch the two-color version of the black and white.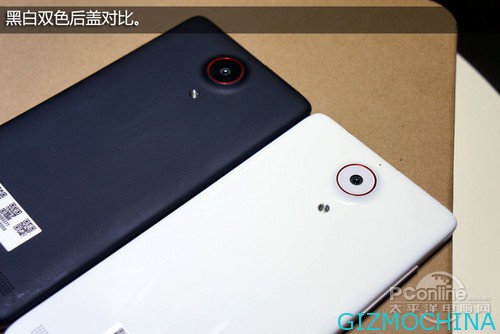 The material on the back cover, the black and white version is also different. The white version of the back cover with a light surface, relatively easy to dip fingerprints. The black version is matte on the back, soft matte process, the ability of anti-fingerprint slightly better.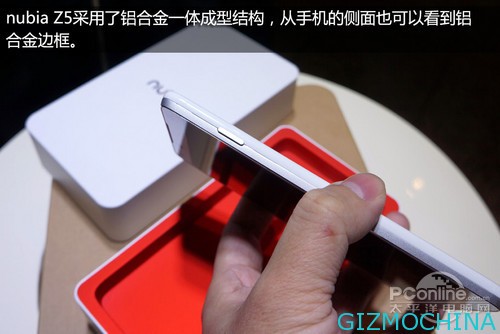 The Nubia Z5 uses aluminum unibody structure, we can also see the aluminum frame.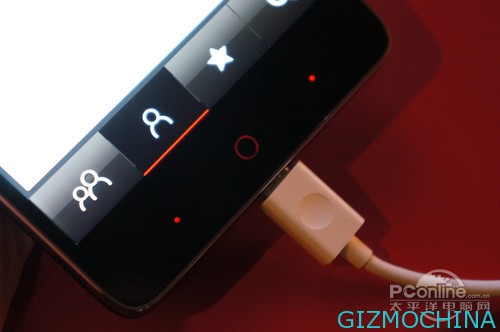 The bottom front of the home key position the circle feels very familiar.
The nubia Z5 camera before and after use f/2.2 constant aperture, the main camera with a 13 million pixel, Sony CMOS chip sensors, five optical lens combinations, blue glass composite IR filter, with high strength metal lens ring as well as the iPhone 5 sapphire scratch-resistant lenses.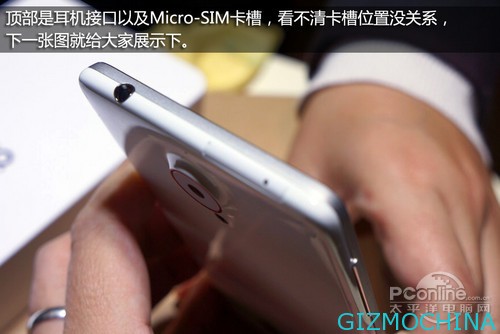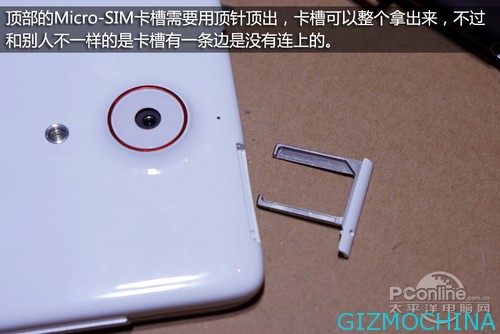 The top of the side body is a headphone jack port and a Micro-SIM card slot. The card slot is open thimble, can the whole extracted.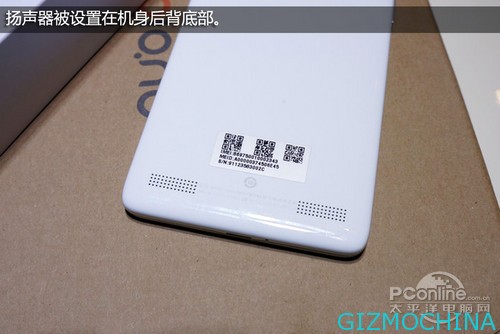 The speaker is placed in the bottom of the back of the fuselage.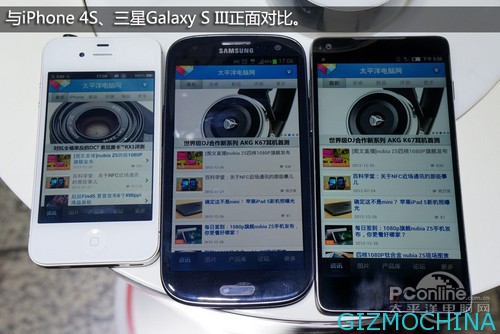 We are comparing the nubia Z5 with iPhone 4S and Samsung Galaxy S III, and you can see the different between those phones.
Next we are comparing the thickness of three mobile phones, Z5 to iPhone 4S  and galaxy S III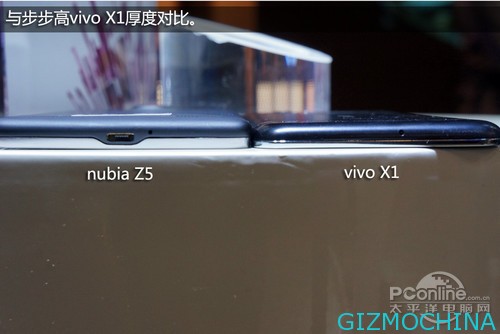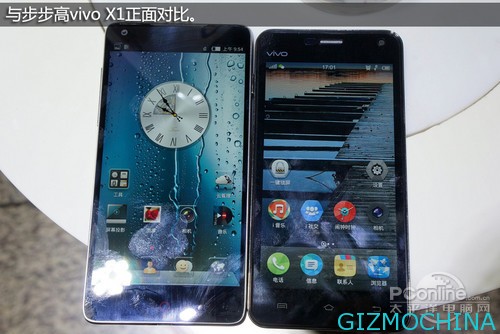 The sound quality is more difficult to compare with anything, but the thickness of the contrast is not the right Vivo X1 is the world's thinnest smartphone. Nubia Z5 next to it does not seem very thick.
5 inch 1080P screen
nubia Z5 is a 5 inch sharp screen size of CGS technologies 1080P, 443PPI, almost same with HTC Butterfly. High resolution, so the degree of detail is very good.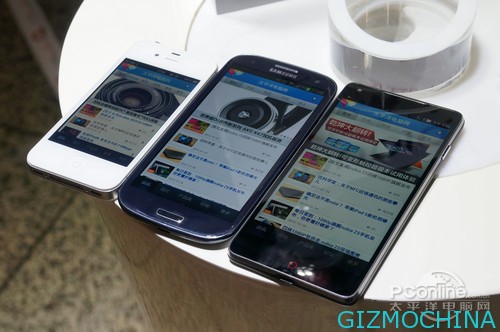 From the above comparison, 4S and the the nubia Z5 screen are biased in favor of warm colors, Samsung's AMOLED HD or so of ice, but after all, is also personal habits. However the the nubia Z5 screen touch layer on some of the more obvious dot matrix, just like the original the Xiaomi generation appear.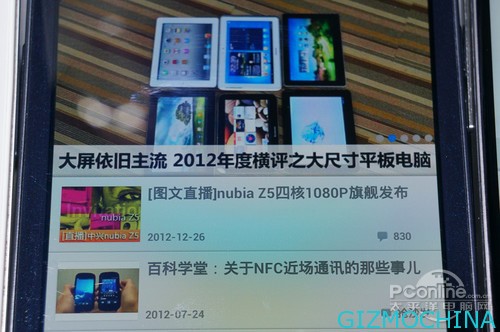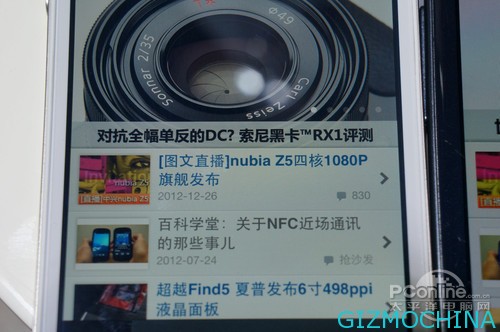 System Performance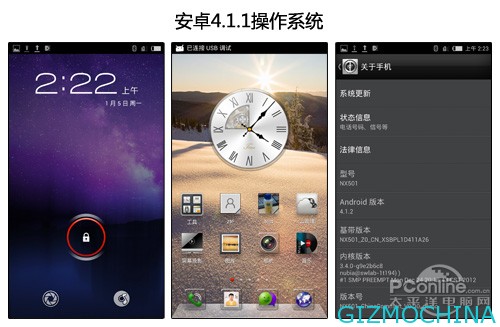 Nubia Z5 is running Android 4.1.1 operating system and has been the custom user interface. Can handle the multitasking, a very user frinedly function. The drop-down menu also has the advantage of Android 4.1, capable of operating some more applicarions.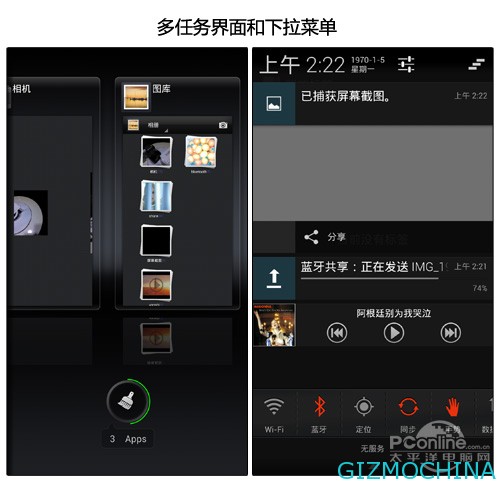 Gestures and movements are also a feature of this highlights, while Nubia Z5 supports a lot of quick operation, these features help enhance the experience for mobile phone user, it is very large. Hottest selling Samsung Galaxy SIII when in addition to the powerful hardware highlights is the machine's built-in user-friendly features. Phone experience more and more important, the nubia also spent great efforts.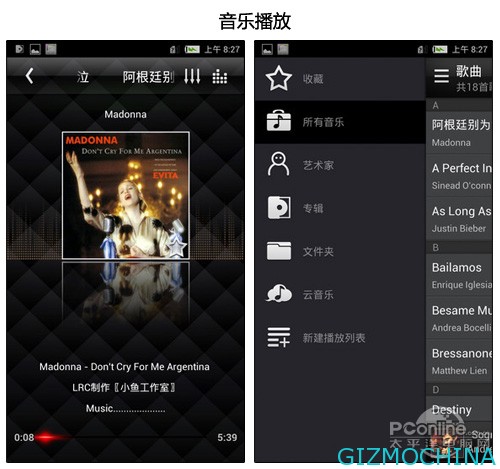 The nubia Z5 music powered by  YAMAHA music chip AAC integrated sound chamber structure using Dolby (Dolby) 5.1 decoding and surround sound audio technology. Dolby Digital Plus Dolby 5.1 decoder core technology, of 5.1 independent channel surround, support 5.1 audio track playback of high-definition video, support for mobile devices interconnected (to support DRM / MHL / HDMI and DLNA ) content on mobile devices to spread to other devices playback (TV, AVR, SoundBar, etc.), you can experience true 5.1 surround audio and video on mobile devices. Nubia Z5 operation indeed, as the press conference said one-handed operation can be better, lock-screen can also support fast control, it is is convenient.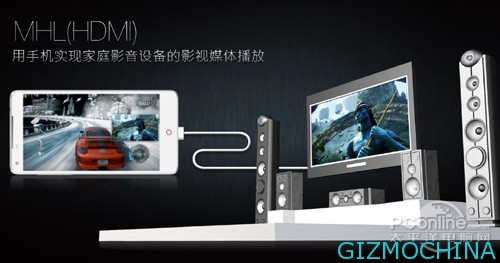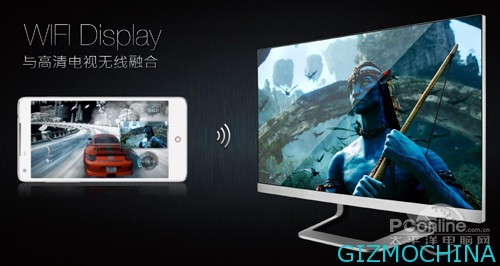 Another the nubia Z5 support MHL output via MHL can achieve the level of high-definition television end 1080P video playback. Except MHL output, nubia Z5 to support Wifi display and support Dolby 5.1 audio coaxial output.
Hardware
The hardware aspects nubia Z5 quasi flagship configured Snap Dragon clocked at 1.5GHz APQ8064 quad-core processor is also the leader of the quad-core processor inside. 2GB RAM support for multitasking to ensure smooth running, 32GB ROM also completely does not feel cramped.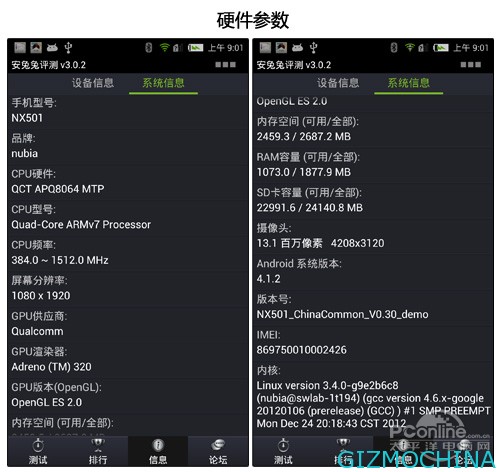 The author site experience, the machine is very smooth (Of course, for a quad-core phone, the system smooth minimum requirements), ran sub speaking sake of engineering machine does not have much representation here not to publish the test results. We will wait for this phone more hardware performance testing.
Photograph
The Nubia Z5 camera use F2.2 constant aperture, a 13 megapixel main camera with Konica – Minolta lens, Sony CMOS chip sensors, five optical lens combinations, blue glass composite IR filter, especially using high-strength metal lens ring, sapphire scratch-resistant lenses. In addition, LED and focus motor is also a selection of superior raw material suppliers, there is a certain degree of quality assurance.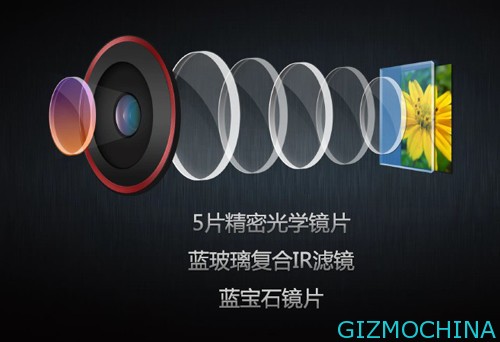 The Nubia Z5 meet rich operating needs, the camera with three modes Auto, Pro, and fun, on-site evaluation of machine.
Evaluation Summary:
Most of the domestic mobile phone in has low price range betwen less than 2000 yuan while the Nubia Z5 pricing given to the "high price" of about 3500 yuan but they very confident since its own the good performance, further validation of its ambitions to do domestic brand.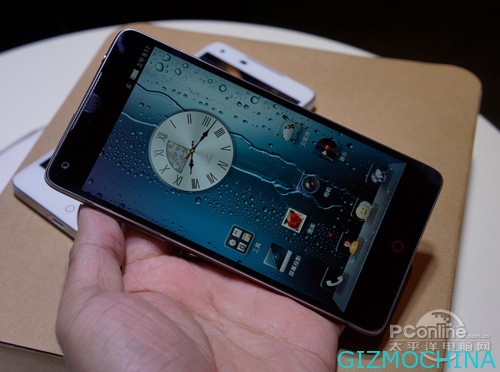 Android phones getting smaller and smaller differences, not only in hardware, but also the software. Not enough to be able to attract users of the highlights, as well as their own unique advantages, will easily be forgotten, after all while there are so many many brands out there. But ZTE nubia Z5is the nice and good phones whic came from domestic market.