Beidou M1, 4,5 inch Android smartphone with Qualcomm MSA8225Q chipset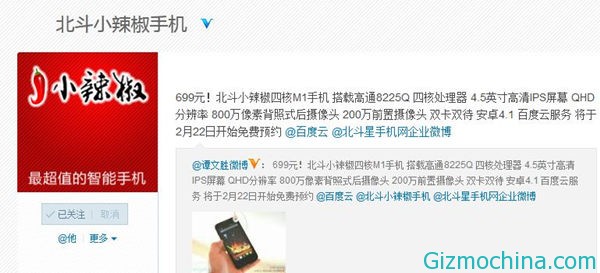 The Android smartphone products from China always popular as the cheapest smartphone as the preferred alternative at a bargain price. And, the brand has not changed in the year 2013.

In fact, according to a newspaper, one of the Chinese manufacturers of Android phones, the Beidou rumored to launch their cheap quad core smartphone which use the  Qualcomm chipset.
The mobile phone is the Beidou M1. According to news developing in public, this phone will come with a quad core processor Qualcomm MSA8225Q. Still no word on the speed of the smartphone. Unfortunately, this phone will likely only offer 512MB of RAM.
Furthermore, this phone will come with a screen measuring 4.5 inches which has a resolution of 960 x 540 pixels. At the back, there will be an 8 megapixel camera and a 2 megapixel front-facing camera. Meanwhile, this phone will running Android 4.1 Jelly Bean operating system.
In recent years, Beidou has launched a cheap Android phone called Beidou Little Pepper is sold at a price of around 112 USD. Then, will Beidou M1 also be sold at the same price? Let's wait and see.