Goophone is ready to make RedMi Note clone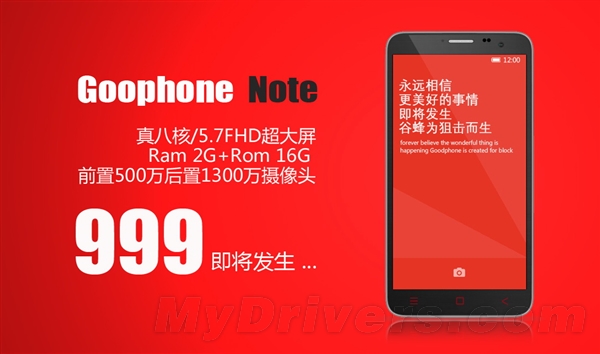 Xiaomi RedMi Note is the one of flagship smartphone that came from Chinese manufacturer, this phone is becoming the hype sice they offers nice phone with very affordable price.

Is now Goophone want to built the same design phone and ready to makeing Goophone Note as the RedMi Note clone, while the original RedMi Note has a 5,5 inch screen size with 720 screen resolution, and the Xiaomi RedMI Note is available in two model based on different processor.
The high-end version is packs with MediaTek MT6592 1.7GHz processor, with 2GB of RAM, and 16GB of storage, and the low-end version is sports with MediTek MT6592M 1.4GHz processor, and 1GB RAM with 8GB storage. Both model will sports with 13 megapixel rear facing camera and 5 megapixel front facing camera.
And yestreday we;ve got the final price for the high-end version of Xiaomi Note with only 1199 yuan or around $193 USD price tag per unit.
And now Goophone is also ready to maeking the clone with the 5,7 inch screen size 1080p Full HD resolution, 2GB of RAM, 16GB of storage, coupled with 5 megapixel front facing camera and 13 megapixel rear-facing camera, this Goophone version is more higher than RedMi Note high-end version and this phone will offers with 999 yuan or around 160 $USD price tag.