OnePlus 3 vs ZUK Z2 Pro vs Le Max 2 vs Xiaomi Mi5: Ultimate Flagship Comparison!
OnePlus 3 is official, and the company, like always, has given us yet another affordable powerful flagship. The pricing for the 6GB RAM version is just $399, which is amazing, especially considering that this is the final price you have to pay, unlike other Chinese 6GB RAM smartphones which most of you will have to buy via third party resellers.
Chinese companies have given us a few affordable 6GB RAM smartphones but OnePlus 3 is probably going to be the phone which makes 6GB RAM mainstream among smartphone users. The phone is already available for purchase internationally, and despite its Loop VR launch, which I personally didn't enjoy much, the phone on paper is a beast! And since the company has promised immediate sale, it looks like OnePlus has made plenty of right decisions for the new OnePlus 3.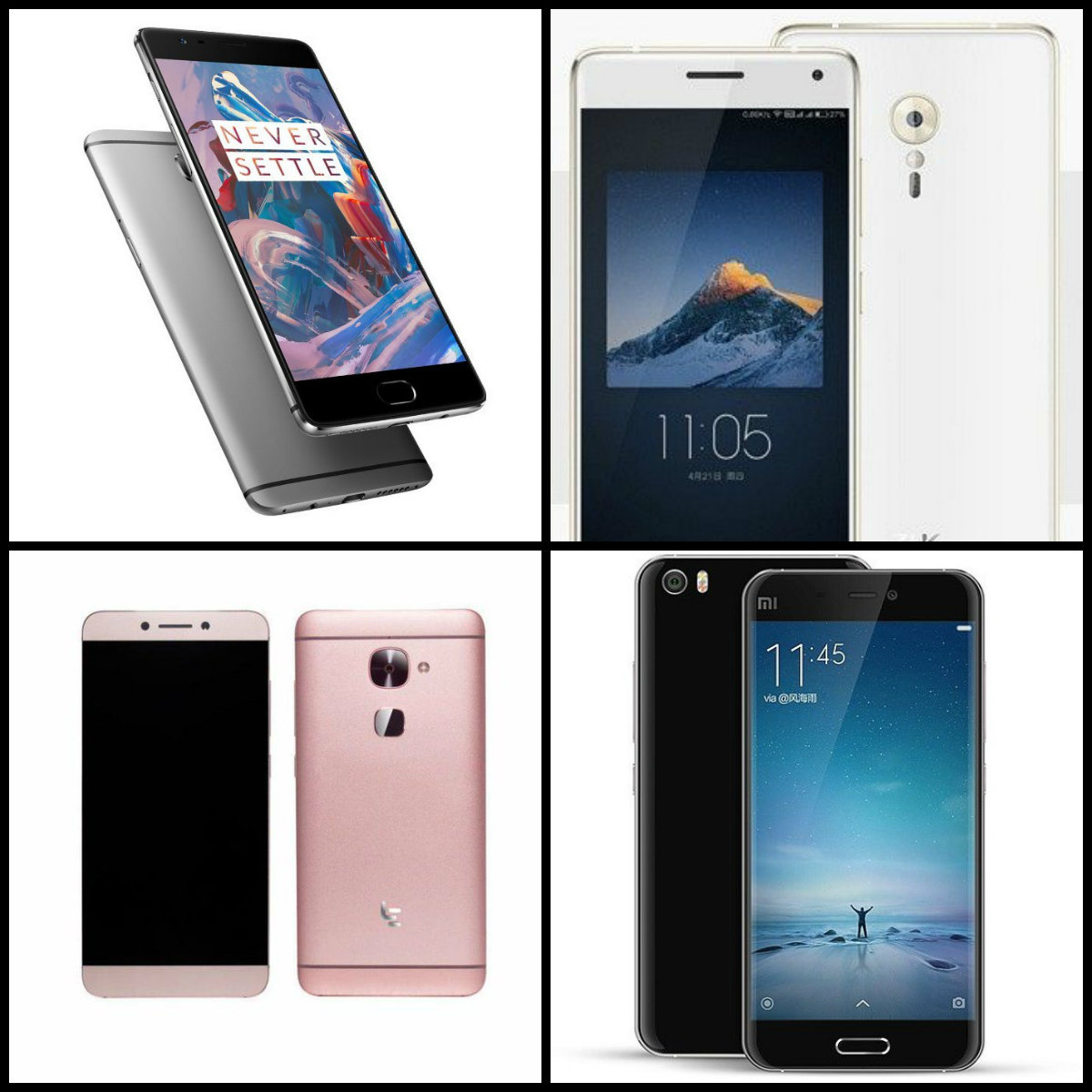 Anyway, as mentioned above, there are a few affordable 6GB RAM phones announced recently, so let's take a look at how OnePlus 3 stands in comparison with the other phones in the market. Let's take a look at the OnePlus 3 vs ZUK Z2 Pro vs Le Max 2 vs Xiaomi Mi5 comparison. Now, you would argue that Mi5 doesn't have the 6GB RAM version, but which comparison is complete without this affordable flagship device? So, we decided to bring this phone into our comparison.
So, without wasting any more time, let's take a look at the comparison between these devices.
MEASUREMENTS & WEIGHT & BODY MATERIAL:
OnePlus 3: 152.7 x 74.7 x 7.35 mm   158 grams   METAL
ZUK Z2 Pro: 145.4 x 70.5 x 7.5 mm   145 grams   GLASS
Le Max 2: 156.8 × 77.6 × 8 mm   185 grams   METAL
Xiaomi Mi5: 144.6 x 69.2 x 7.3 mm   139 grams   Glass / Ceramic
OnePlus 3 vs ZUK Z2 Pro vs Le Max 2 vs Xiaomi Mi5: Display
These four flagship smartphones pretty much cover all the ideal screen sizes for a smartphone user. If you want something compact, you have the ZUK Z2 Pro and the Xiaomi Mi5 with its 5.2-inch and 5.15-inch displays respectively, and if you are looking for a phone with a slighter larger screen, there's the OnePlus 3 with its ideal 5.5-inch Optic AMOLED panel. All three phones sport 1080p resolution. On the other hand, if you want something that touches the phablet category, you have the Le Max 2 which features a 5.7-inch 2K display. While ZUK comes with a Super AMOLED panel, the Mi5 and Le Max 2 feature IPS LCD displays. Also, apart from Le Max 2, all three phones are confirmed to have Gorilla Glass protection.
OnePlus 3 vs ZUK Z2 Pro vs Le Max 2 vs Xiaomi Mi5: Specs
All the four smartphones, unsurprisingly, feature Snapdragon 820 chipsets under the hood. The OnePlus 3's clock speed can be increased to up to 2.2GHz, while the other three models feature a 2.15GHz chipset. All four have Adreno 530 GPU inside, which is one of the best in the market today.
Since they are the top flagships in the market right now, they get the top specs as well. Apart from the Xiaomi Mi5, all the three smartphones have 6GB of RAM in the top-end variant. Then there's 64GB of storage on OnePlus 3 and Le Max 2 and 128GB ROM inside Xiaomi Mi5 and ZUK Z2 Pro. What's really the highlight here is that all four feature UFS 2.0 storage standard. And guess what, with this much storage, all three models don't feature a MicroSD card slot.
Moving on to the camera department, the OnePlus 3 comes with a Sony IMX298 16MP rear camera with f/2.0 aperture, PDAF, OIS and EIS with manual controls. On the other hand, the ZUK Z2 Pro features a Samsung ISOCELL 13MP shooter at the back with f/1.8 aperture with once again OIS and EIS along with PDAF. As for the Xiaomi Mi5, it comes with a 16MP f/2.0 lens at the back with 4-axis OIS and PDAF. Finally, the Le Max 2 comes with a 21MP sensor at the back with f/2.0 aperture, PDAF and OIS. As you can see, all four have dual tone flash, PDAF and OIS for fast focus and blur free images. Further, all the four models can capture 4K videos at 30 fps and slo-mo videos at 120fps. Well, ZUK Z2 Pro can do a bit more in the slo-motion video recording, capturing at 960fps. Coming to the front, all phones, except for Mi5 have 8MP shooters at the back. As for the Xiaomi Mi5, it comes with a 4MP Ultrapixel shooter.
The OnePlus 3 and Xiaomi Mi5 come with 3000mAh batteries, while the Le Max 2 and ZUK Z2 Pro have a slightly larger 3100mAh battery. All phones except for OnePlus 3 feature Qualcomm's Quick Charge 3.0. As for the OP3, it comes with the company's new Dash charge which is reportedly cooler than competition, charging to 60% in 30 minutes. In case you are wondering, QC 3.0 charges up to 83% in 30 minutes.
The Xiaomi Mi5, OnePlus 3 and the ZUK Z2 Pro feature front facing physical home buttons with fingerprint sensors. The Le Max 2 is a bit different because it features an ultrasonic sensor located at the back. Another interesting thing is that the Z2 Pro's sensor also works with wet hands.
As for connectivity, all models except for ZUK Z2 Pro feature NFC connectivity with fingerpint payments. Other features are standard on all devices like Wi-Fi, Bluetooth, dual SIM dual standby, 4G LTE support, and USB Type-C. The Le Max 2 and the Xiaomi Mi5 have an additional infrared port as well.
Now coming to some model specific features. The ZUK Z2 Pro comes with over 10 different professional sensors including a blood oxygen sensor, UV sensor etc to set it apart from the other devices listed here. In fact, if you want to check out all the unique features of the Z2 Pro, check it out from here. Another thing to note is that the Le Max 2 does not come with a traditional 3.5mm headphone jack and instead uses the USB Type-C based CDLA standard for audio output.
OnePlus 3 vs ZUK Z2 Pro vs Le Max 2 vs Xiaomi Mi5: Pricing & Availability
Since these phones are made by top Chinese companies, their pricing are quite aggressive. For example, the OnePlus 3 is available to buy internationally for $399. On the other hand, the ZUK Z2 Pro's price comes to around $416, but its limited to China. The Xiaomi Mi5 is also priced the same for the 4GB RAM model i.e. $416. The Le Max 2's 6GB RAM model is actually the cheapest, costing around $386.
However, if you want to purchase these phones (except OP3), you will have to shell out a premium, which takes their prices to a much higher level. So, at this moment, the OnePlus 3 with 6GB RAM on board is really what most would pick among these four devices.
What are your thoughts? Which one would you pick?