Chuwi HiBook Review – A Decent Budget Dual OS Tablet
Chuwi has been known for their good yet affordable tablets and the HiBook is one of their latest offerings. This tablet is well-built, it runs on both Android and Windows and it offers a great value for the price. Learn more in our full review.
Thanks to Chuwi Official for sending Chuwi HiBook for a review.
Chuwi HiBook Review: VIDEO REVIEW
Chuwi HiBook Review: UNBOXING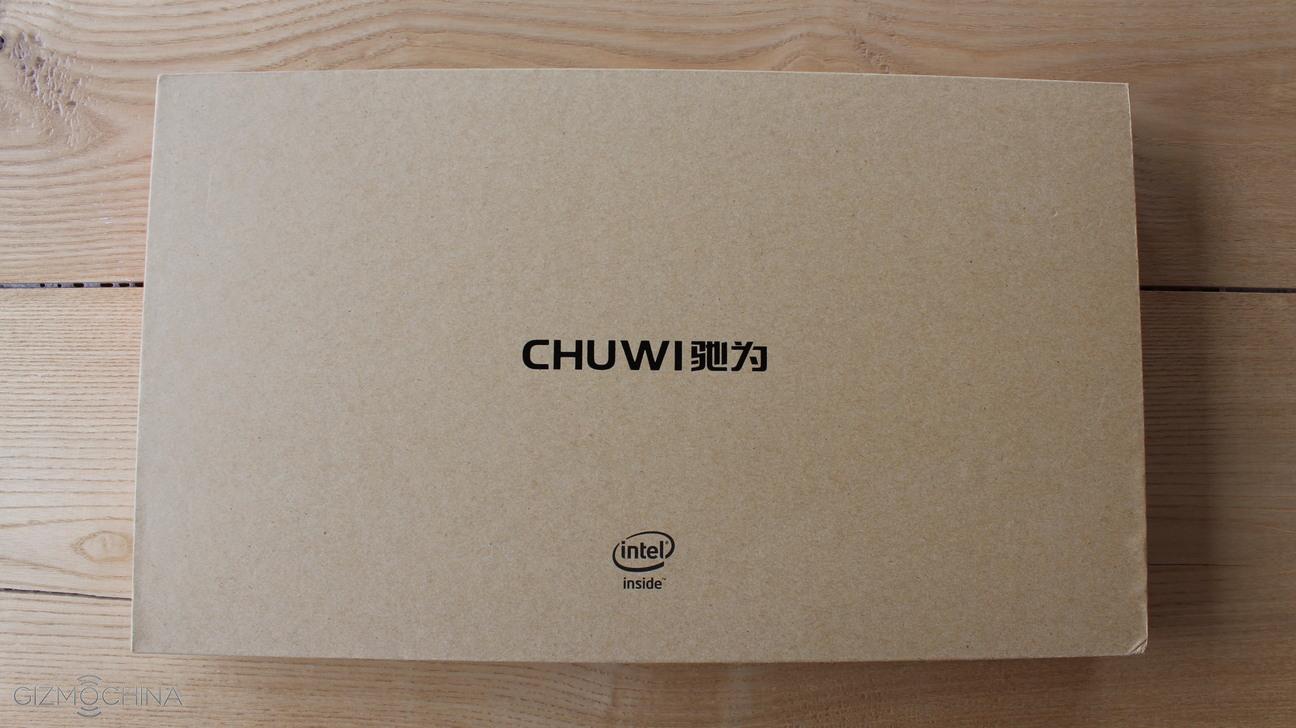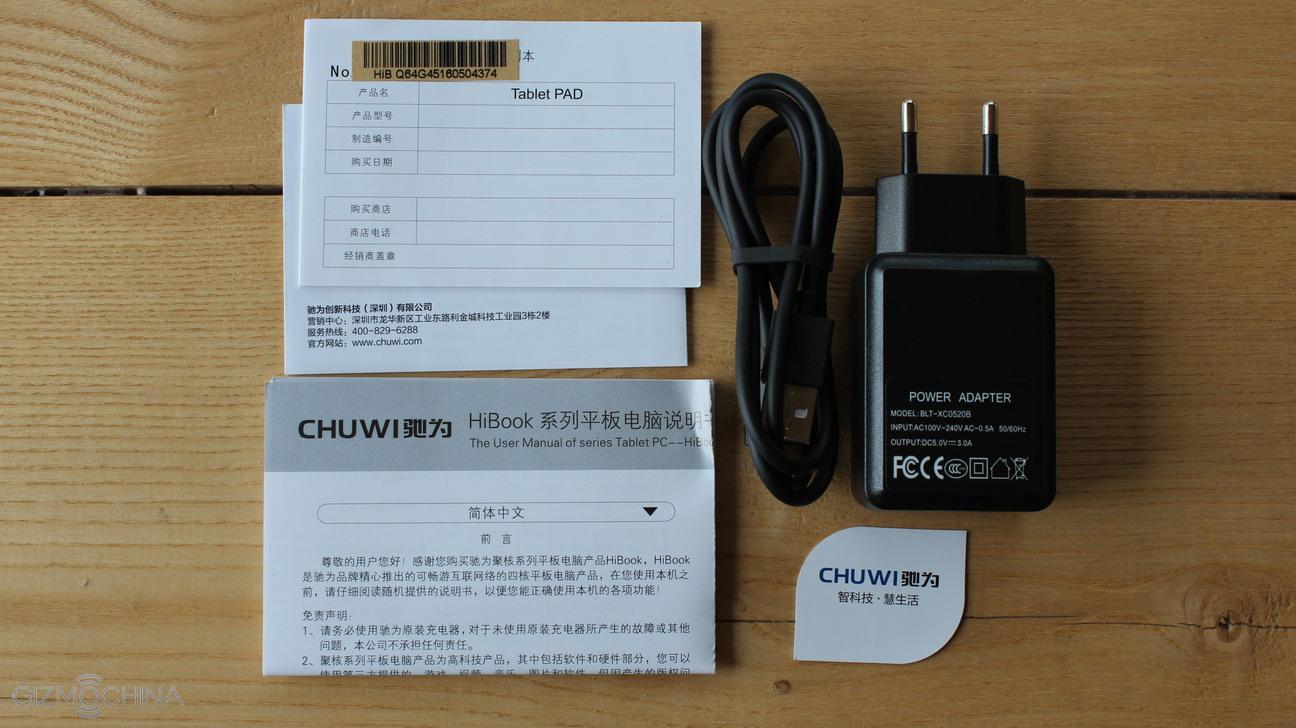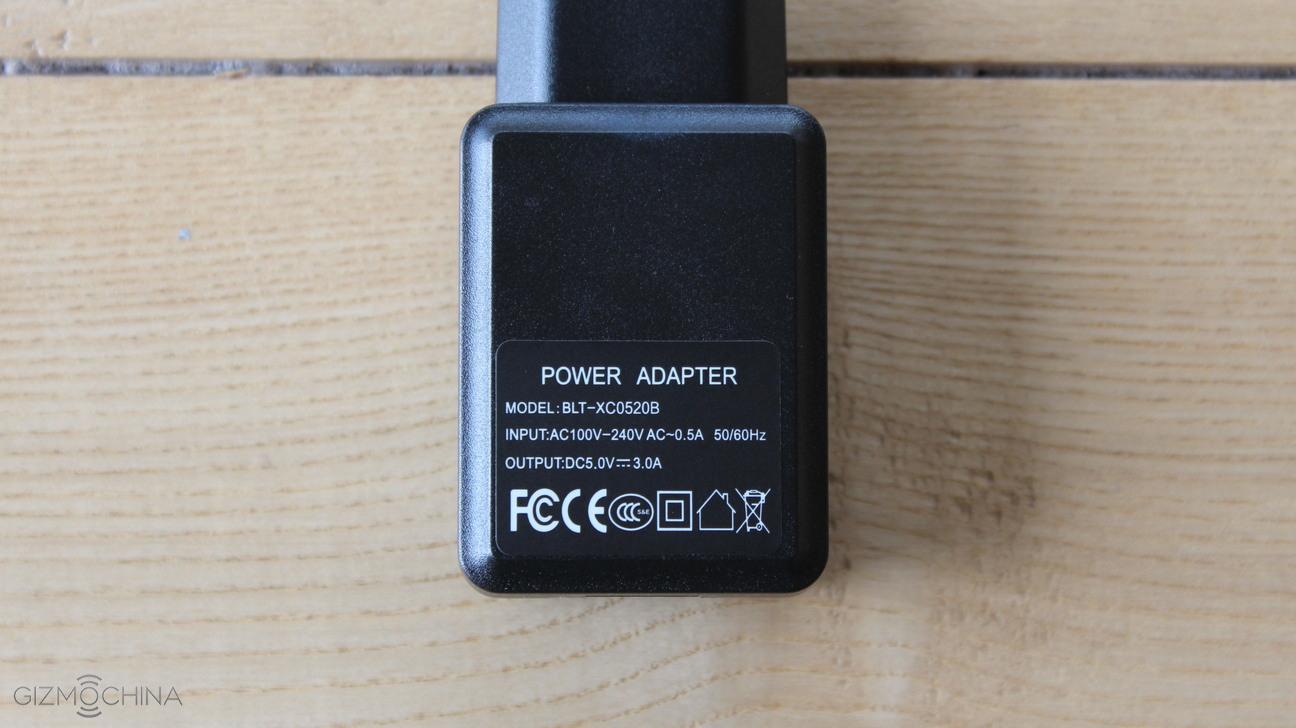 The tablet comes with the USB C cable, a power plug that is capable of fully charging the tablet in around 3 hours and some paperwork.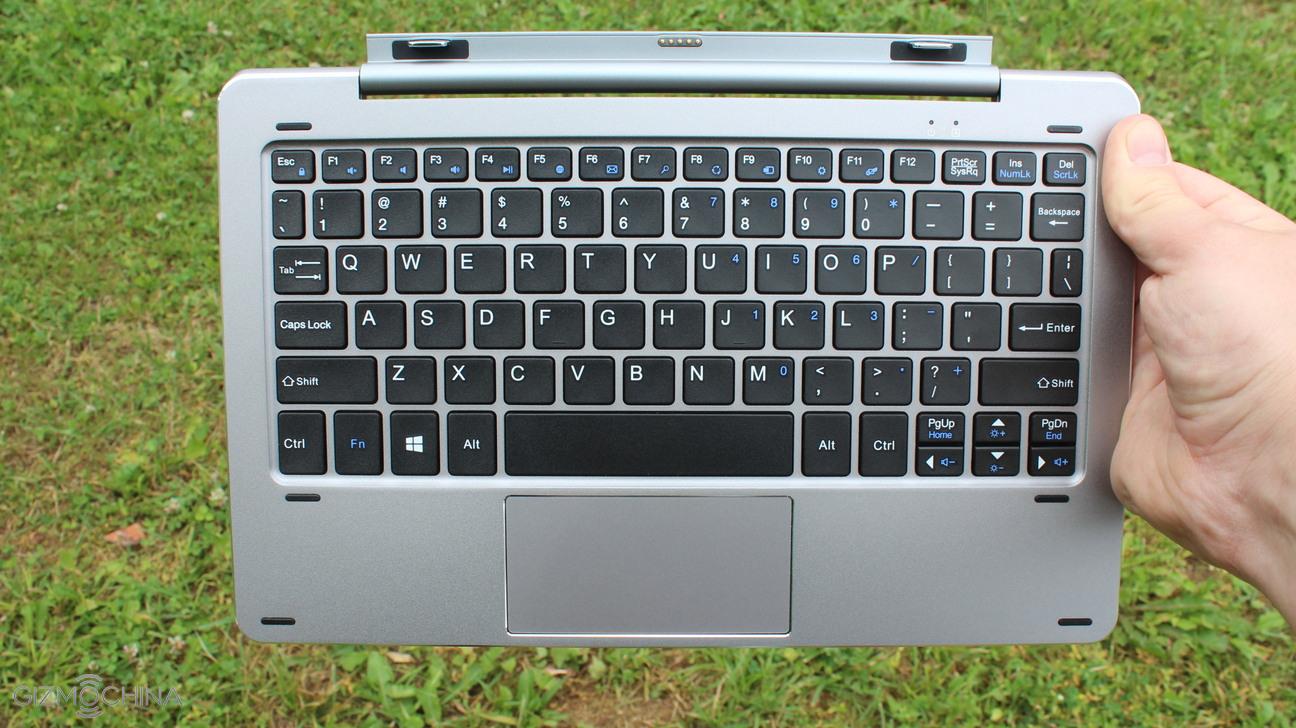 I also have an optional keyboard, which is a great addition to have but more on that later on.
Chuwi HiBook Review: SPECS
| | |
| --- | --- |
| Display | 10.1″ 1080p (Full-HD) |
| Processor | Quad-core 64-bit Intel Cherry Trail Z8300 CPU (1.44GHz) |
| RAM | 4GB |
| Camera | 2MP Front/5MP Back |
| Connectivity | Bluetooth, WIFI |
| Battery | 6.600 mAh (non-removable) |
| Dimensions | 26.20 x 16.75 x 0.85 cm / 550g |
| OS | Android 5.1 / Windows 10 (dual-boot) |
| Storage | 64GB (expandable via microSD card slot up to 256GB) |
Chuwi HiBook Review: DISPLAY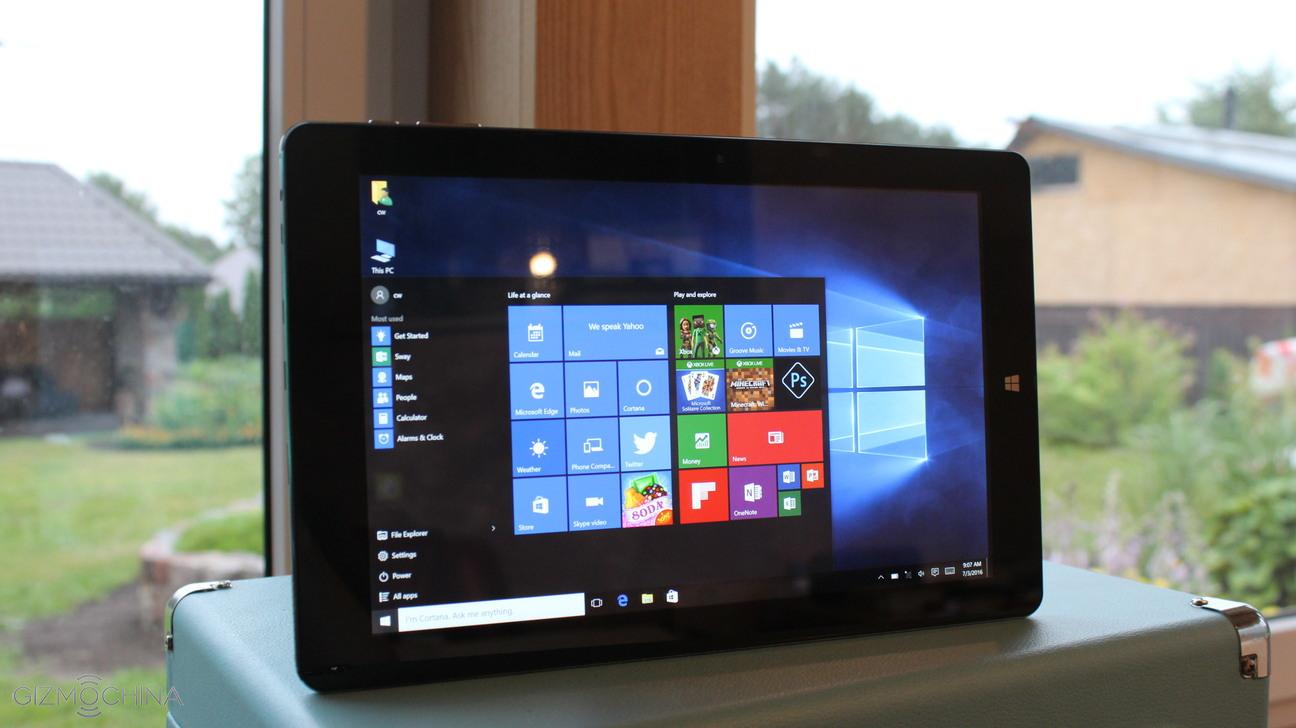 When it comes to the display, we have a 10.1" 1080p LCD panel. It is a pretty good and sharp display with a bit colder looking colors. It is a good panel if you use the tablet in low light environment or indoors.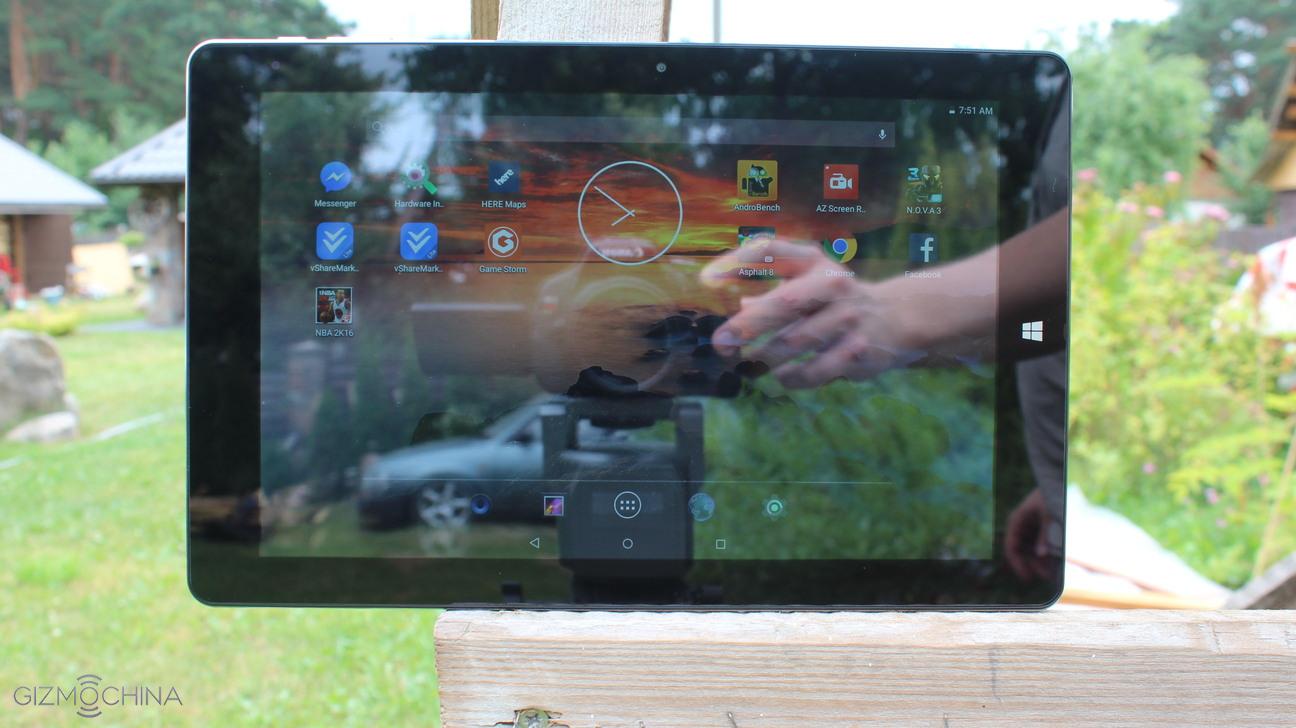 However, the screen is very reflective and it acts as a mirror almost all the time in better-lit environments (e.g. bright rooms). In addition, it has a poor sunlight legibility if you use it outdoors.
Keep in mind that removing the pre-installed screen protector may reduce the reflection but the display does not have any protective materials like Gorilla Glass.
Chuwi HiBook Review: DESIGN and FEATURES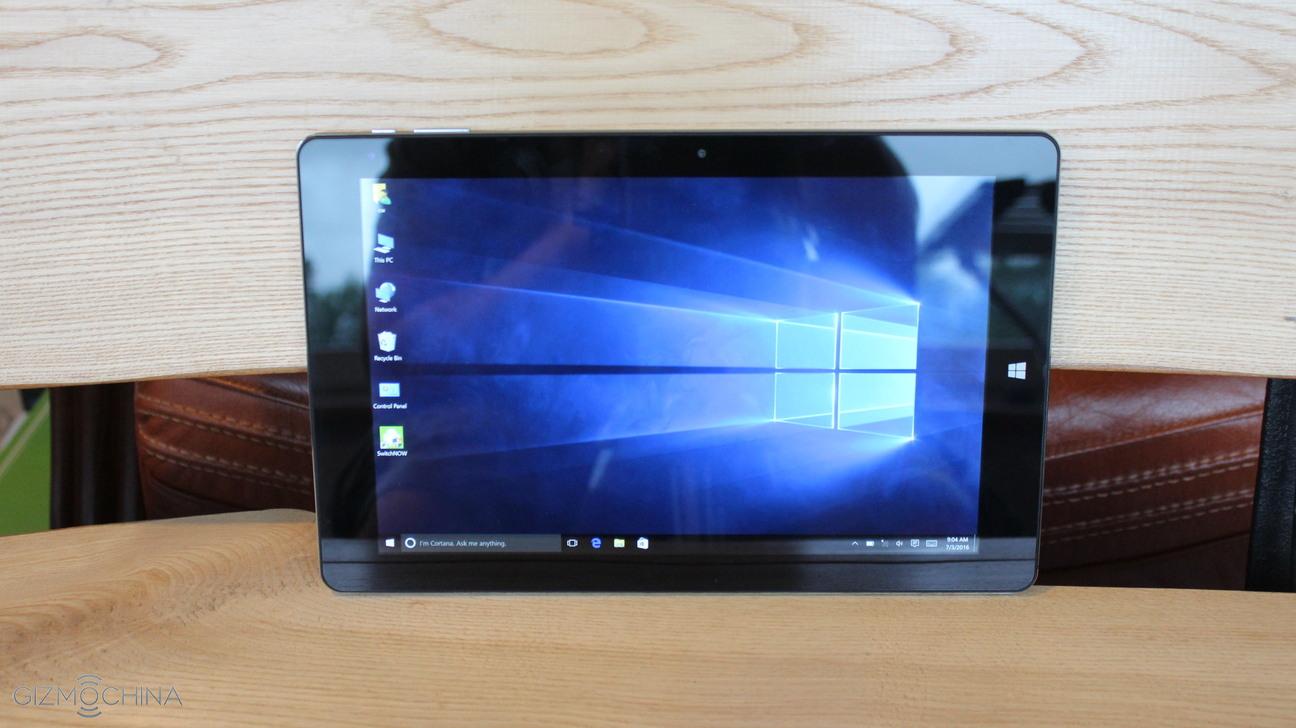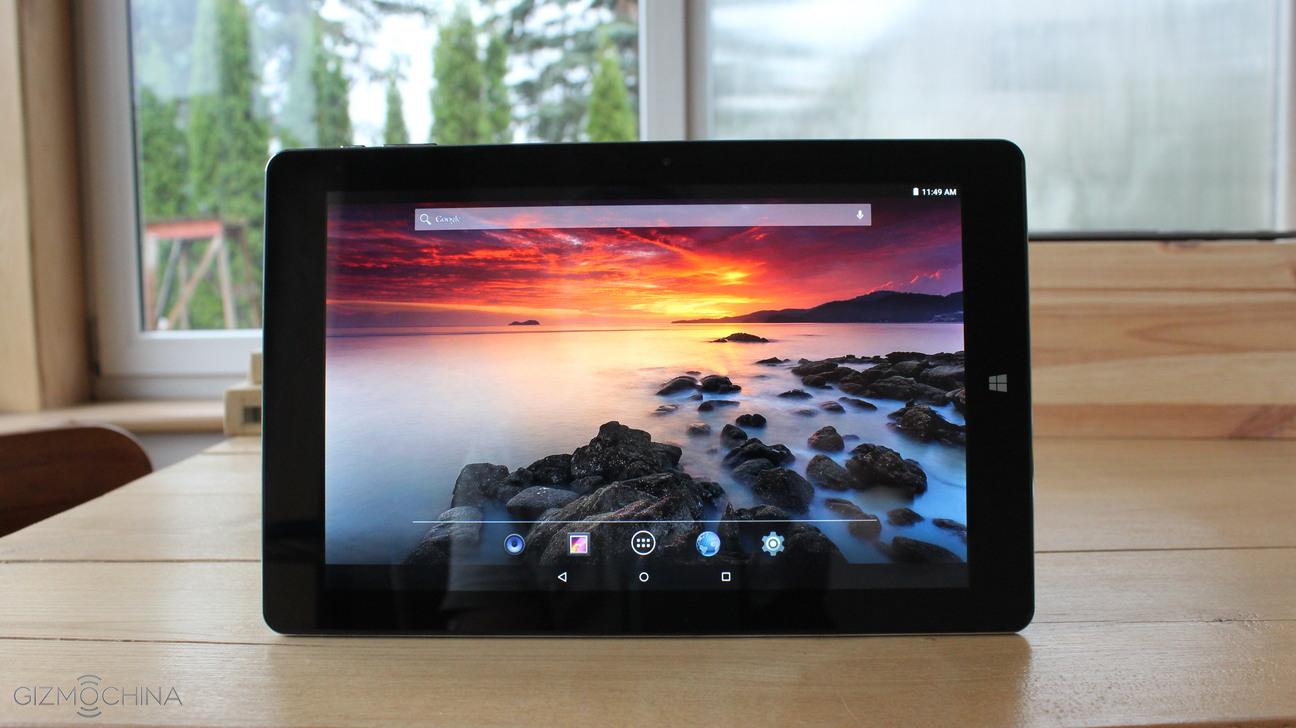 The main selling point of this tablet is that it runs both Android 5.1 and full version of Windows 10 out of the box. Also, the tablet can be attached to the keyboard to increase productivity.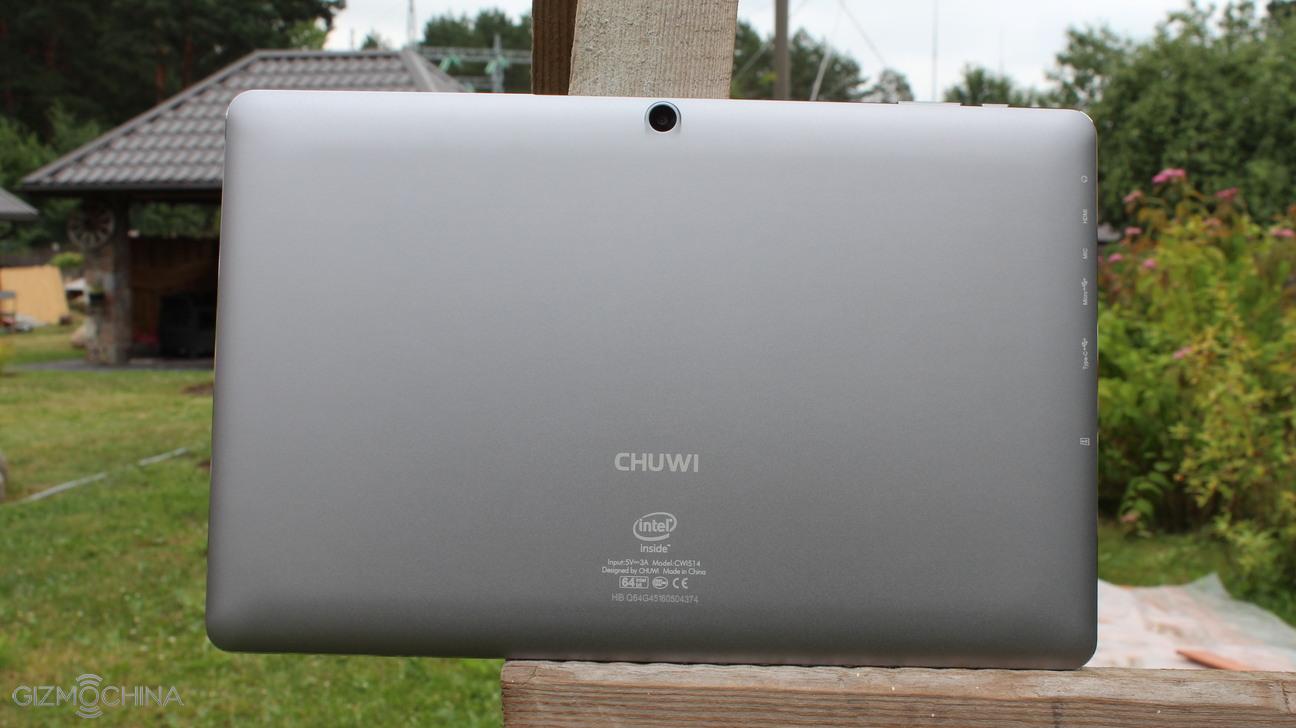 The HiBook sports an all-metal design, good build quality and it weighs 550g.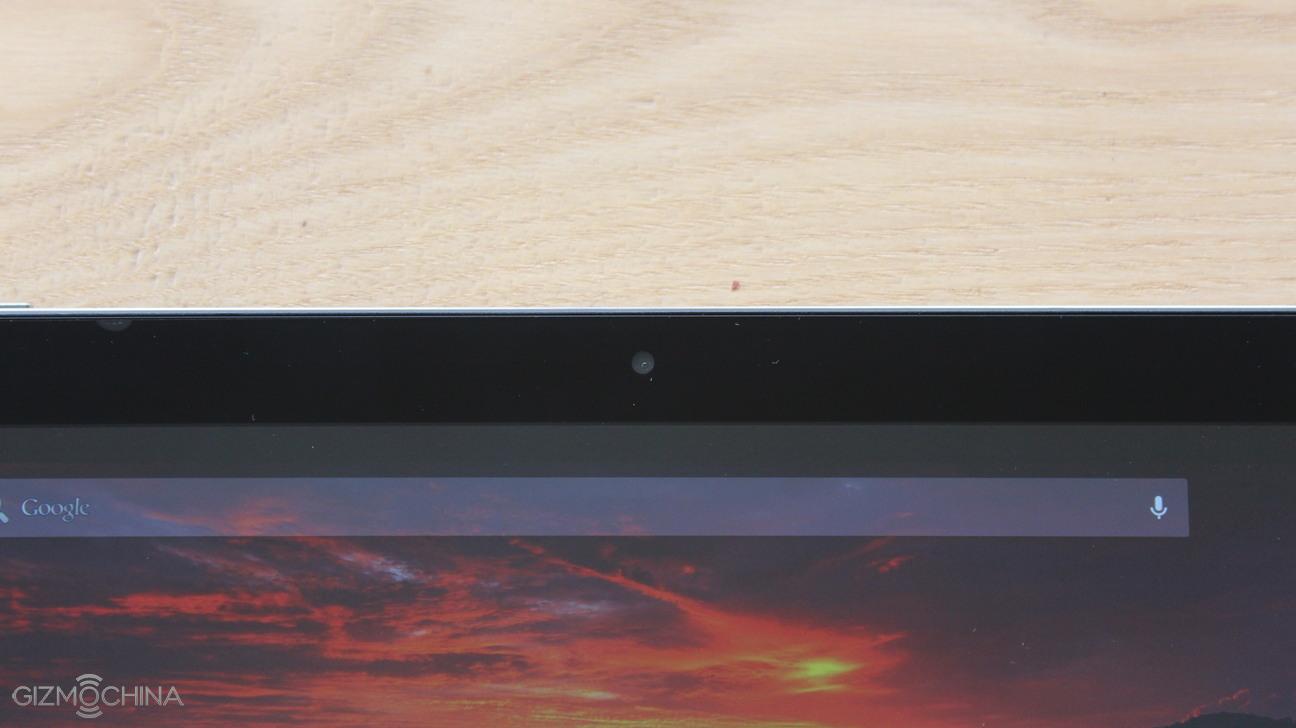 We have just 2MP selfie camera on the front, which is quite terrible as the images simply look bad.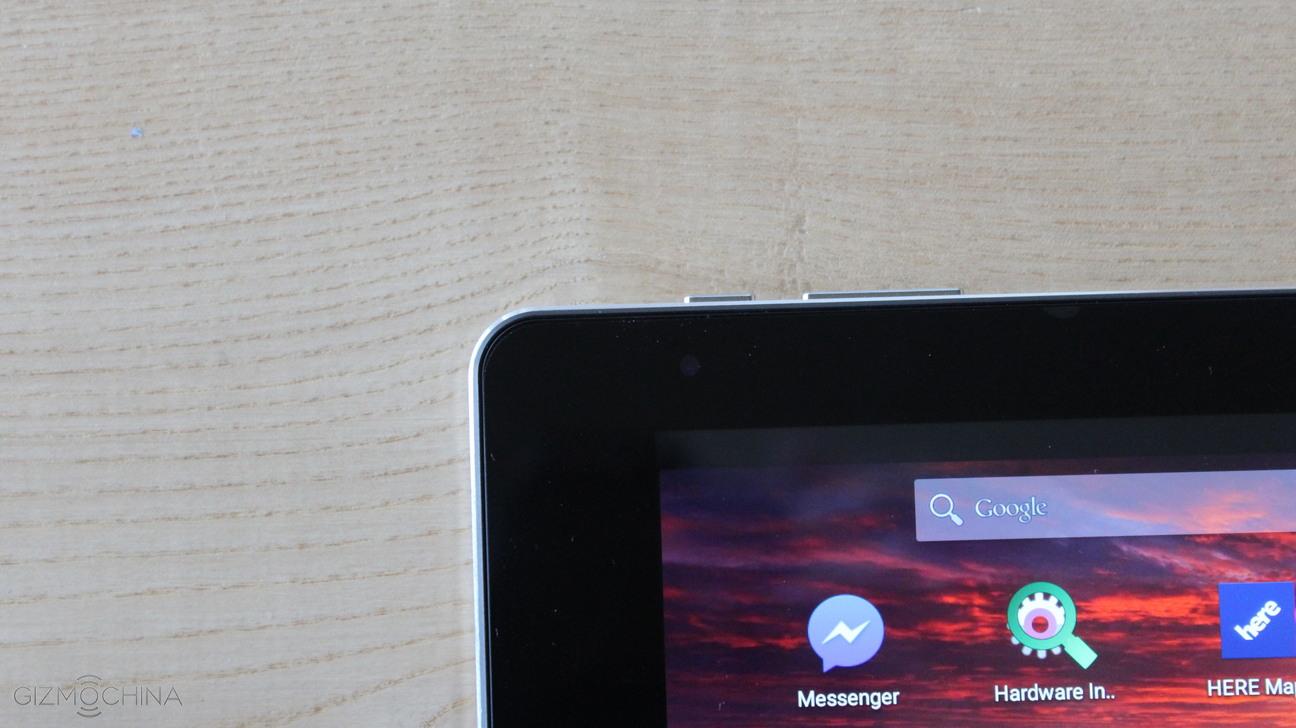 Also, we have the LED light, which starts flashing when the device is charging.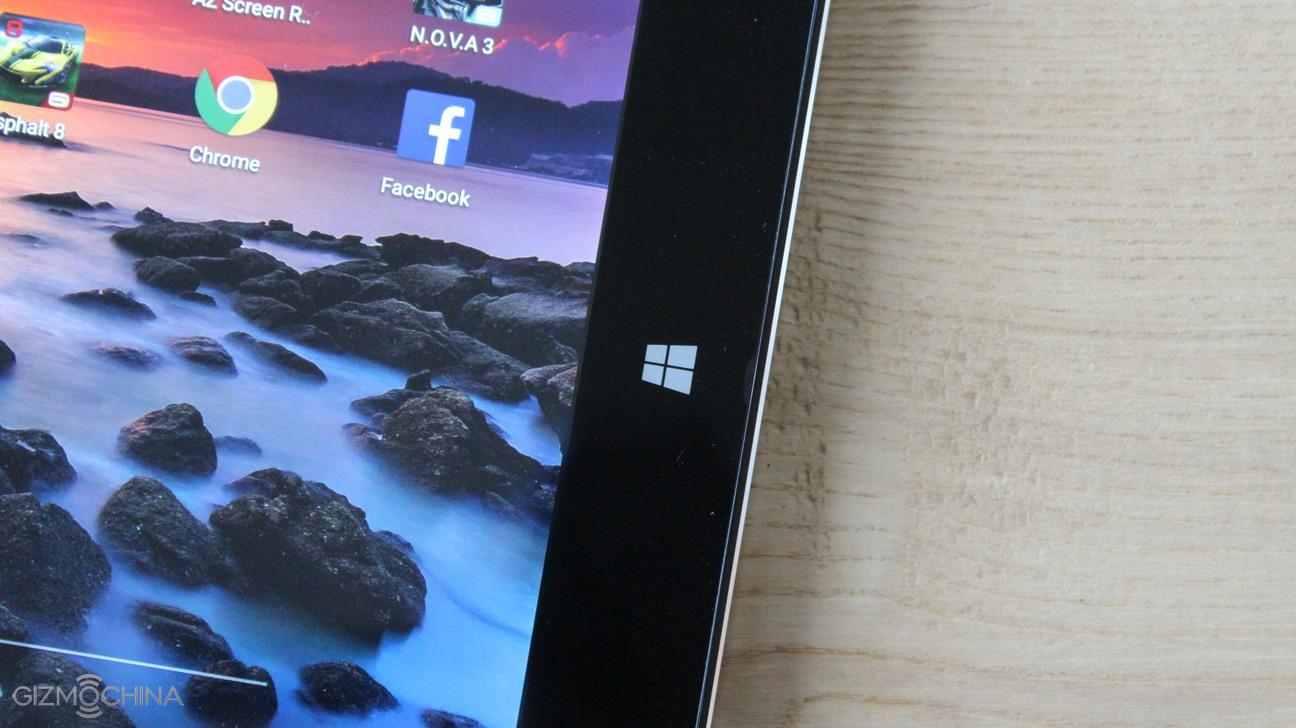 We have only a home button, which works just fine in both Android and Windows.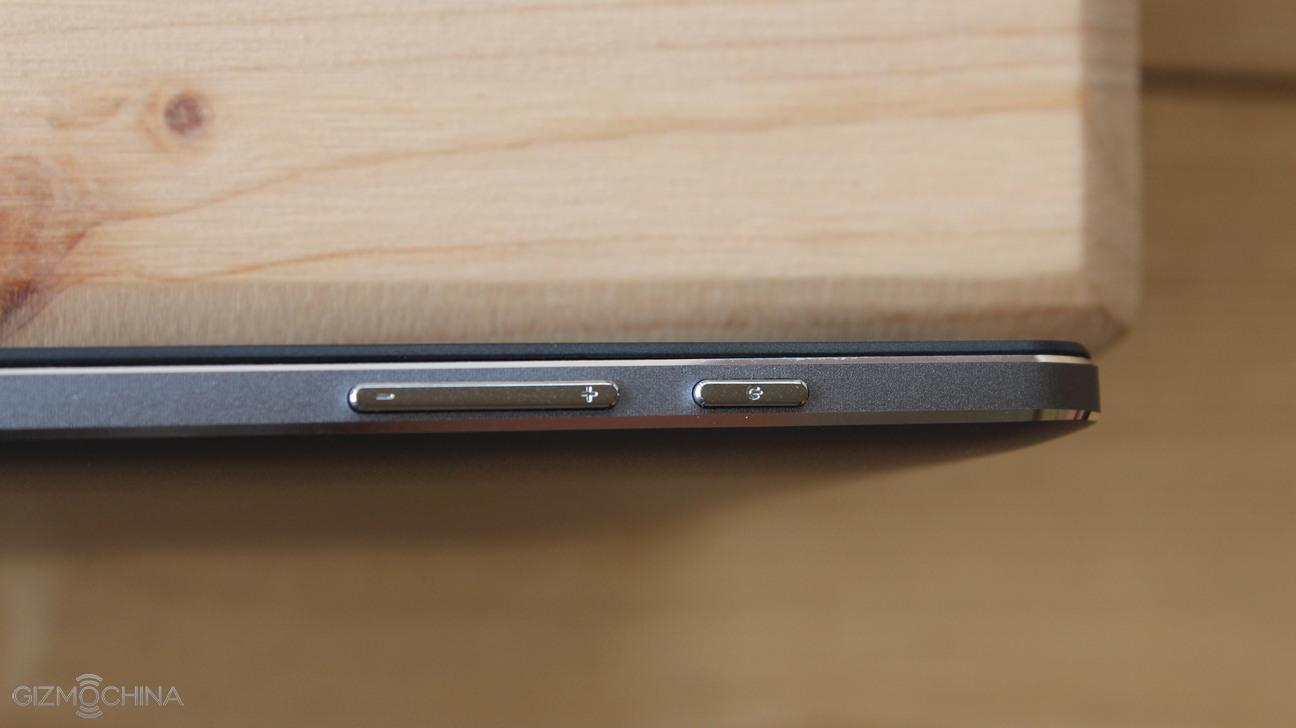 On the top, there are the usual buttons, which are made out of metal and have a good tactile feedback.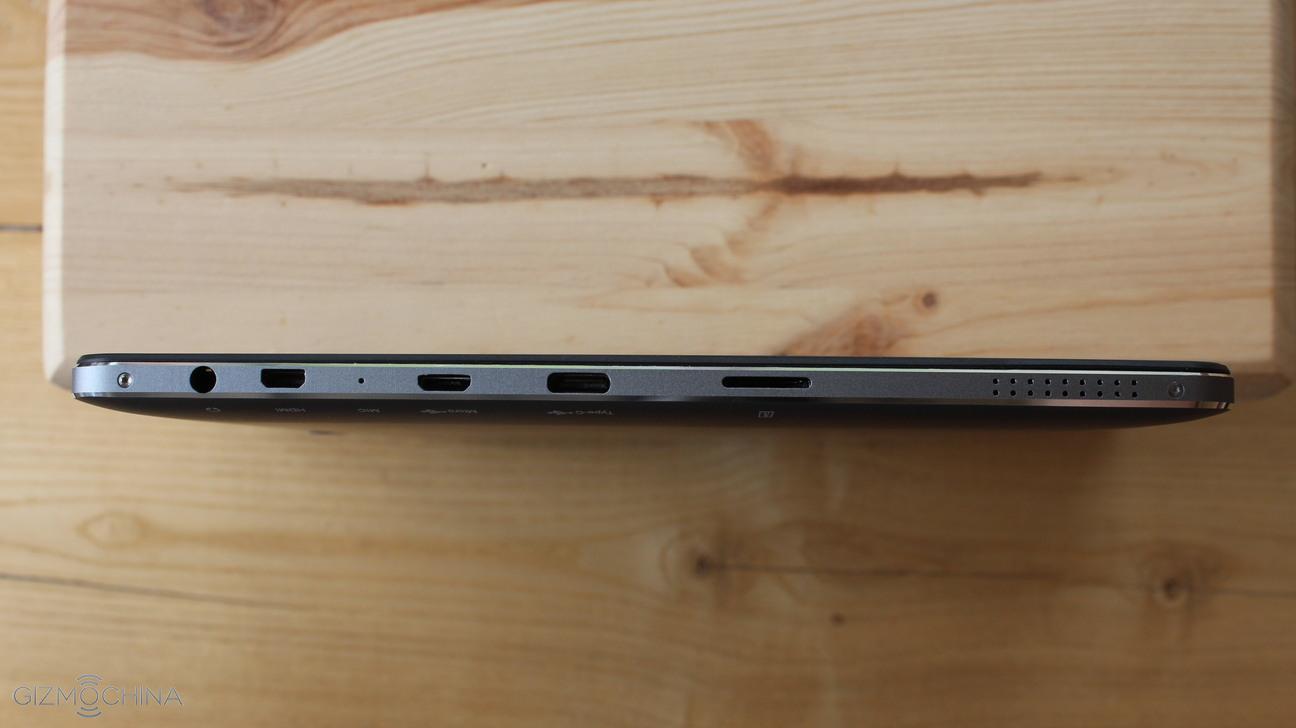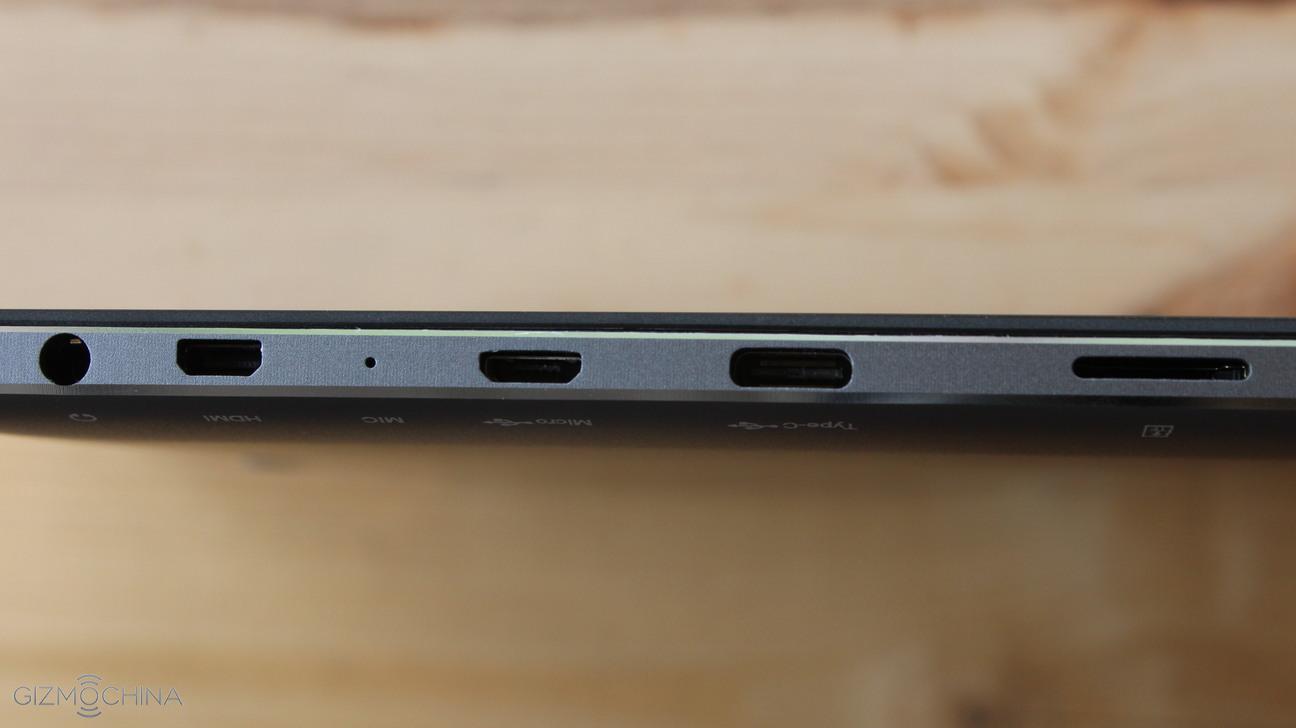 On the left side, we have a bunch of ports that include a headset jack, a micro HDMI, micro USB, USB C port and the microSD card slot.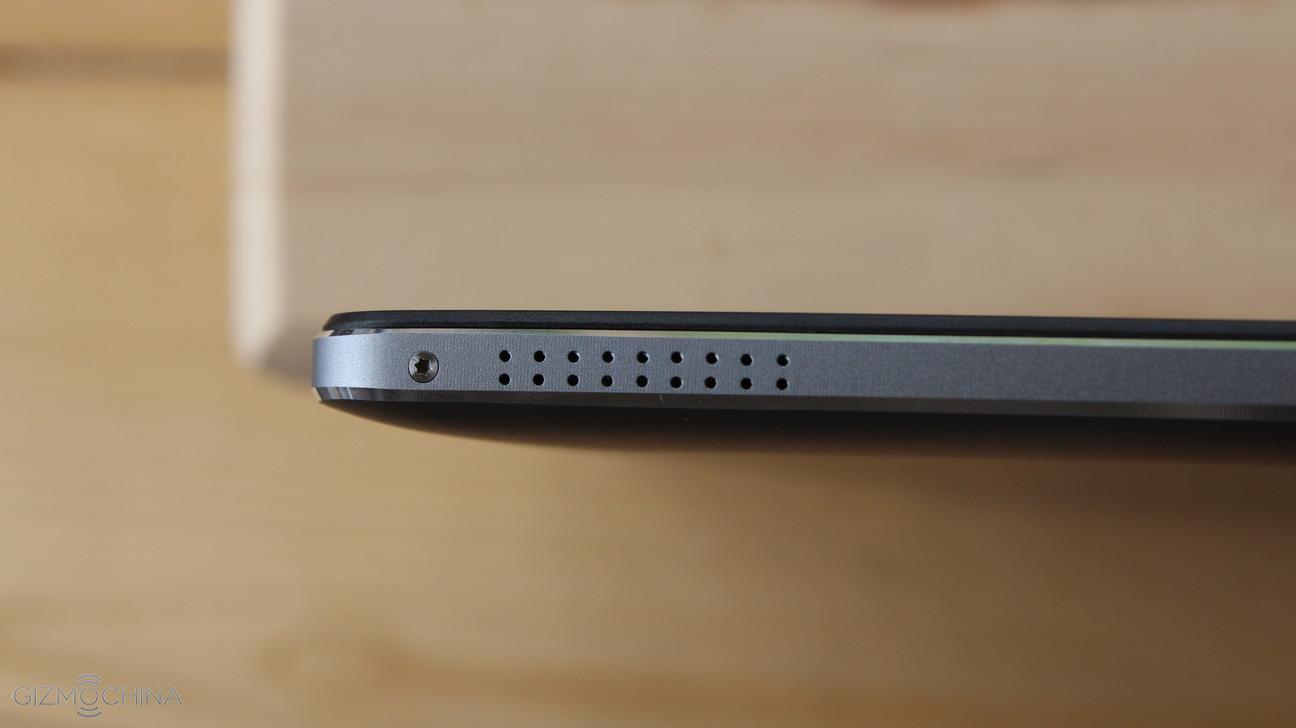 Also, we have stereo speakers on the left and right side of the tablet. The sound quality is kind of mediocre, however.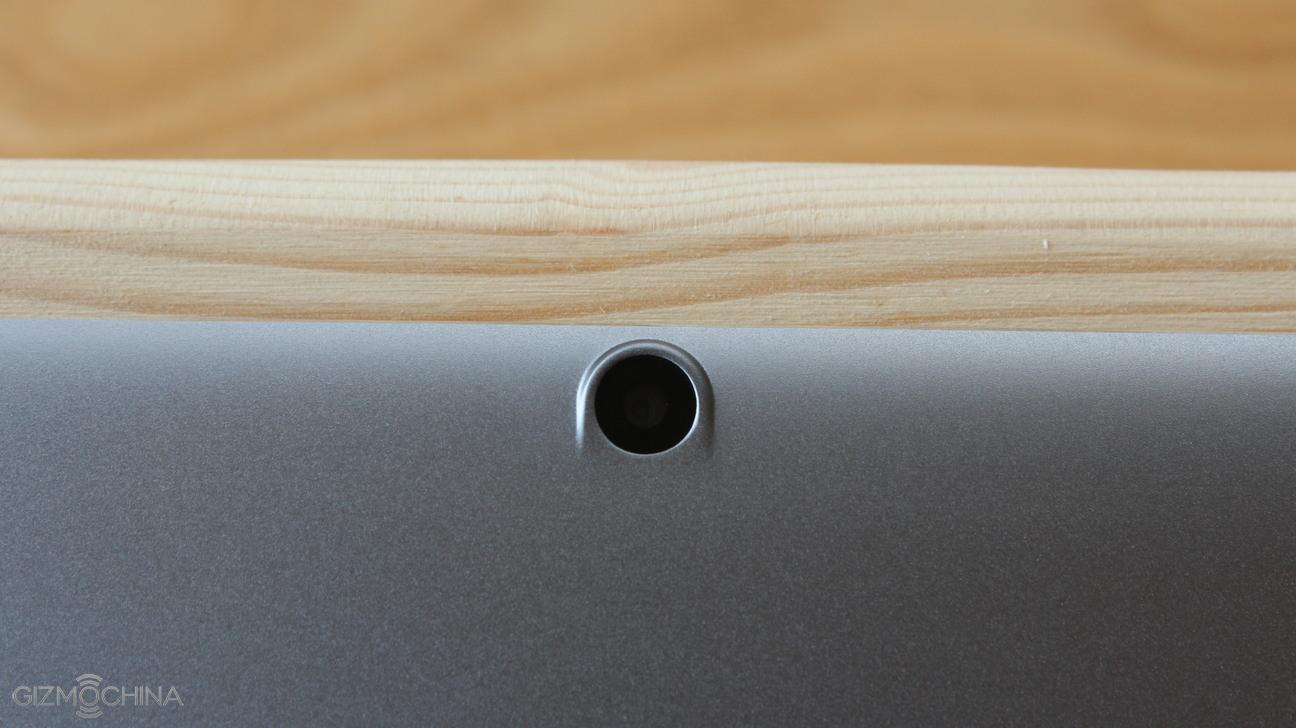 On the back side, there is a 5MP camera, which is pretty horrible as the front facing camera. Well, I hope you are not that guy who takes pictures with a tablet, anyway.
Overall, the tablet is well built and you simply can't ask more. However, display is very reflective and the cameras are poor.
Chuwi HiBook Review: KEYBOARD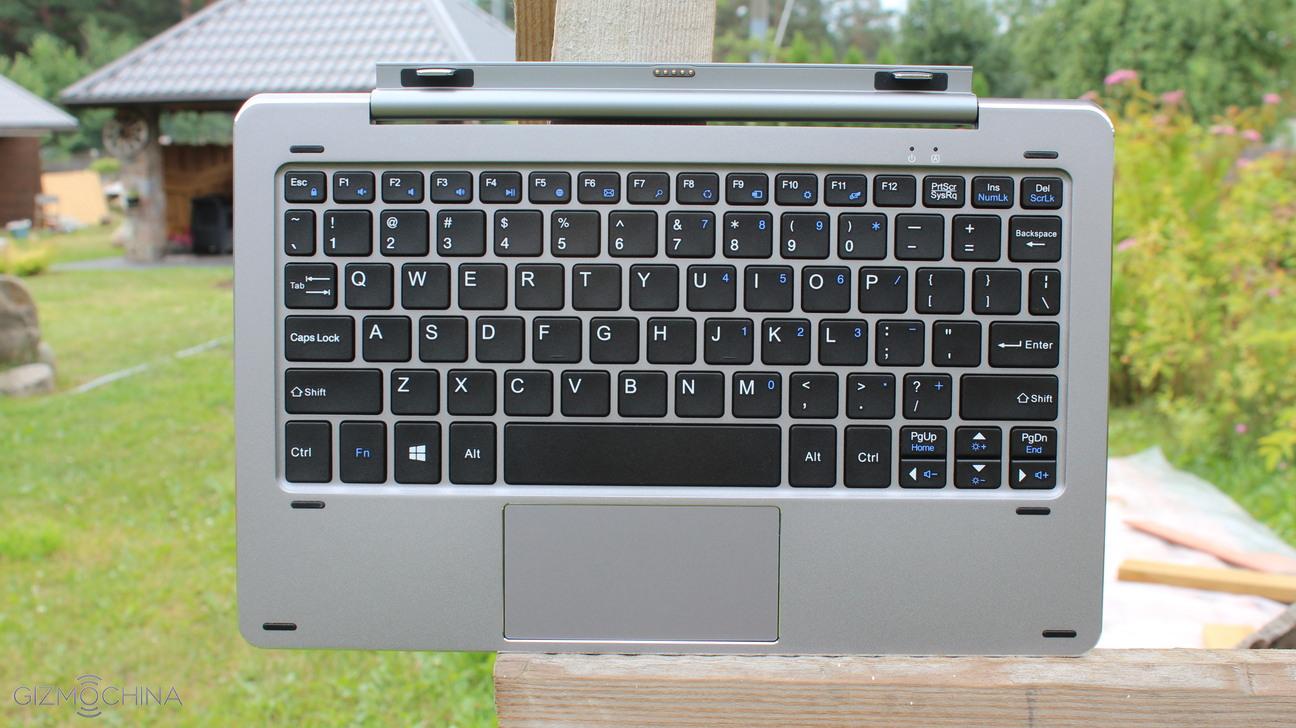 I am very impressed with the design and the overall quality of a keyboard. It uses metal casing on the top and plastic on the bottom, and it feels quite premium.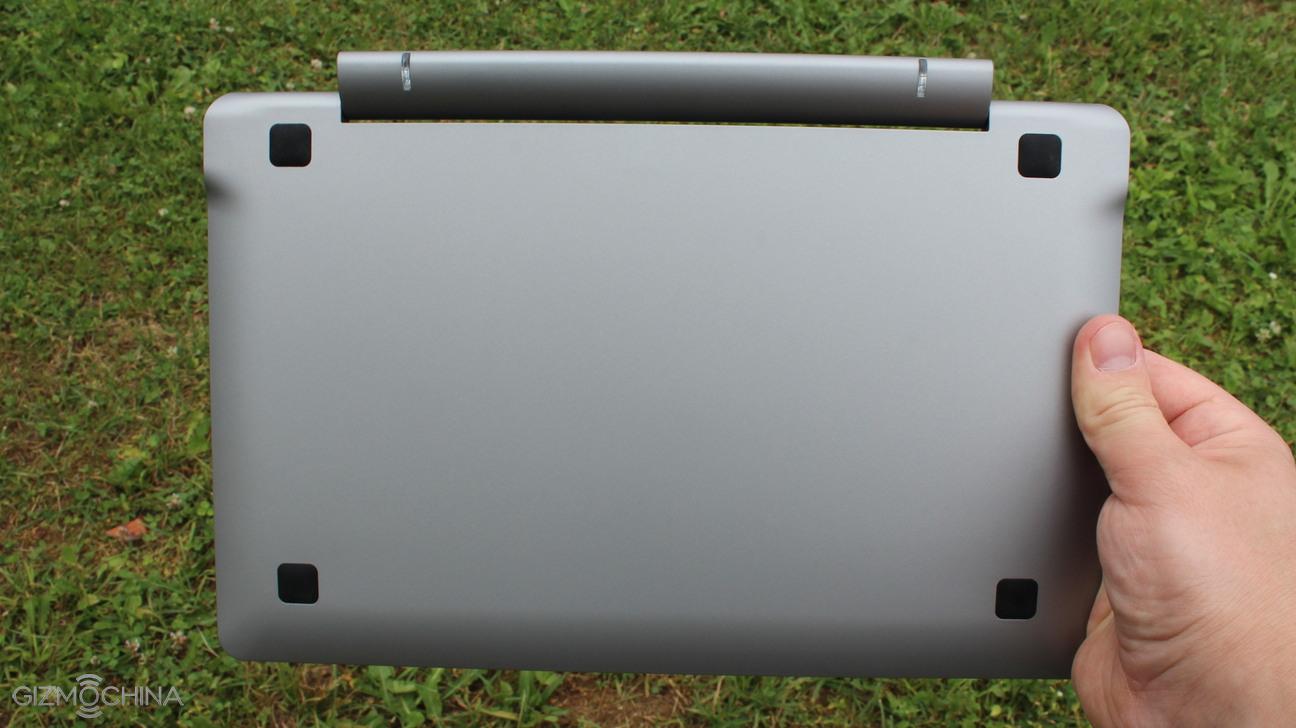 The buttons are easy to press and comfortable to type on. Also, they have a good travel and feedback. It took me just a few hours to get used to it to start typing normally.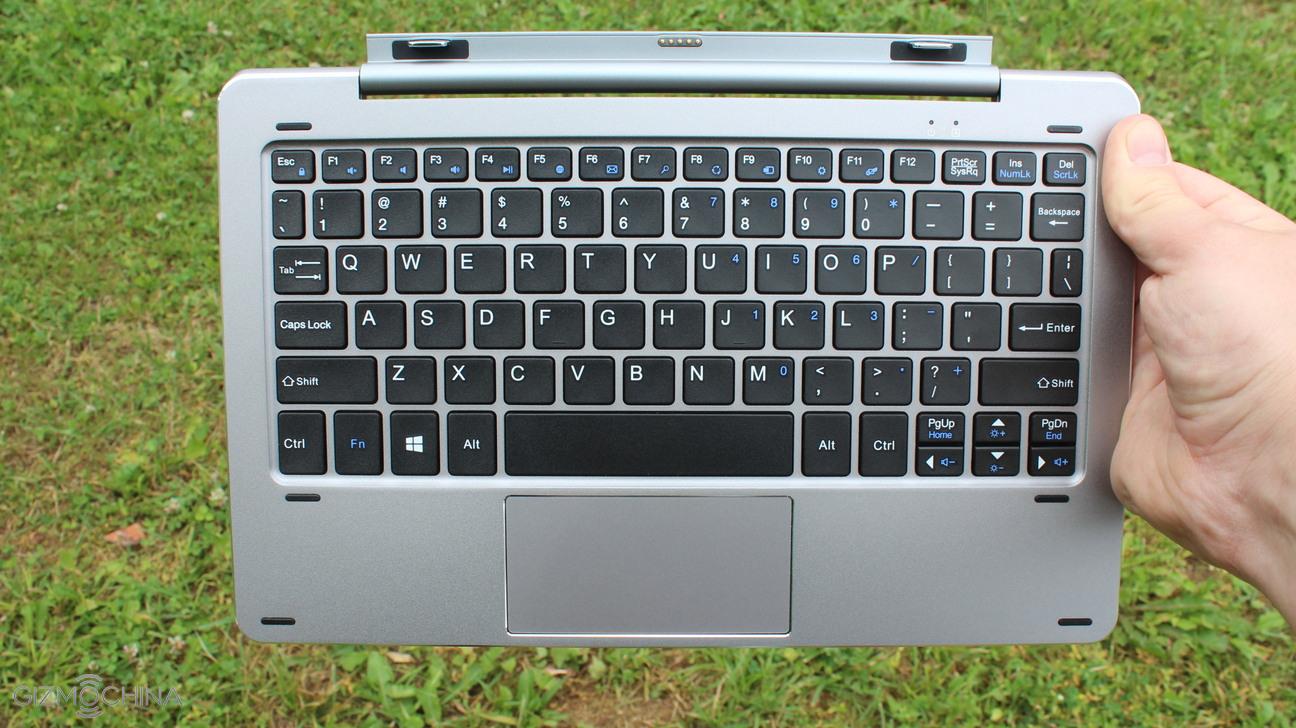 It has a trackpad, which is good but not great. It is fairly responsive but it does not recognize the input if you e.g. scroll the web page very fast.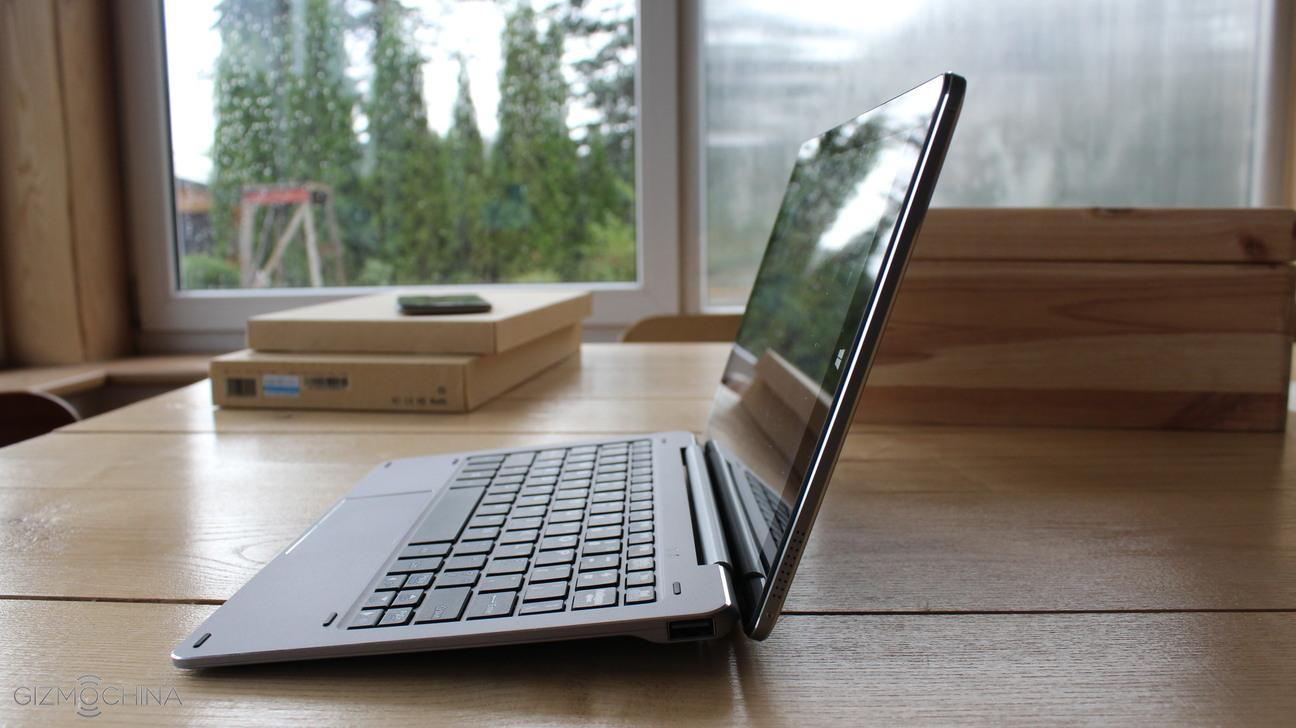 You have to know that the keyboard does not have an embedded battery and it uses the power of the attached tablet.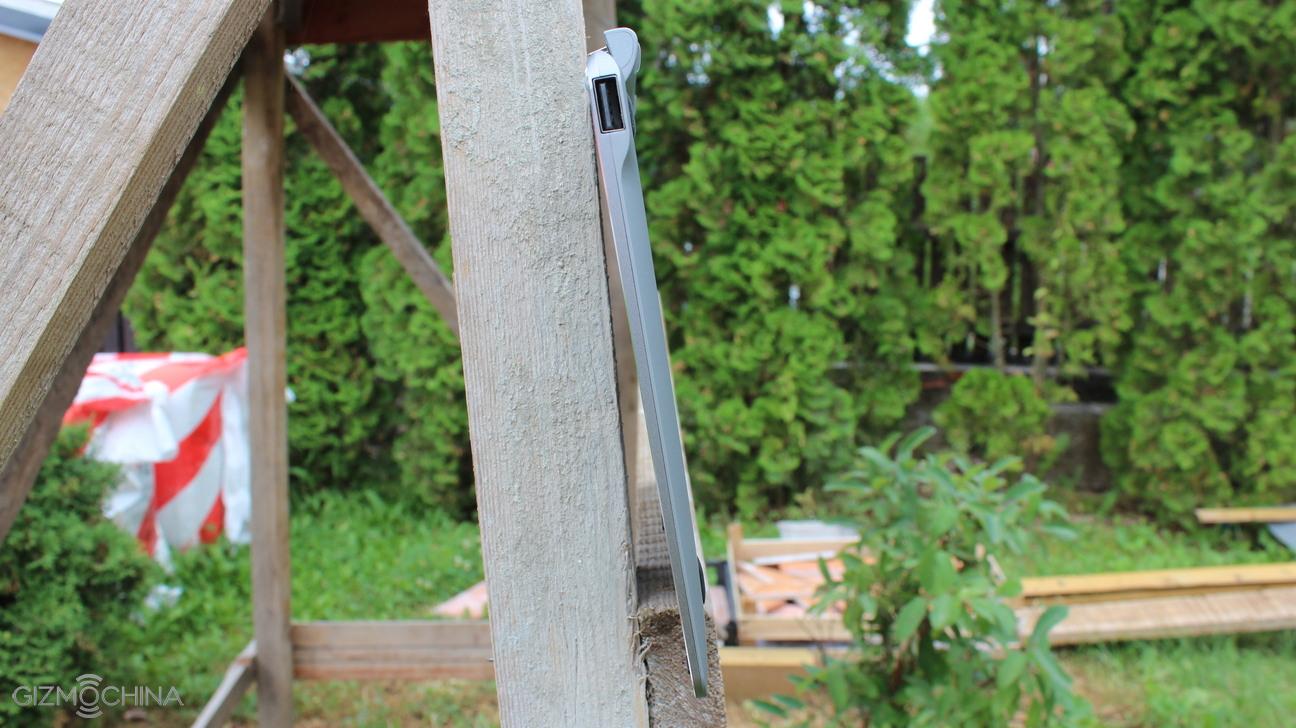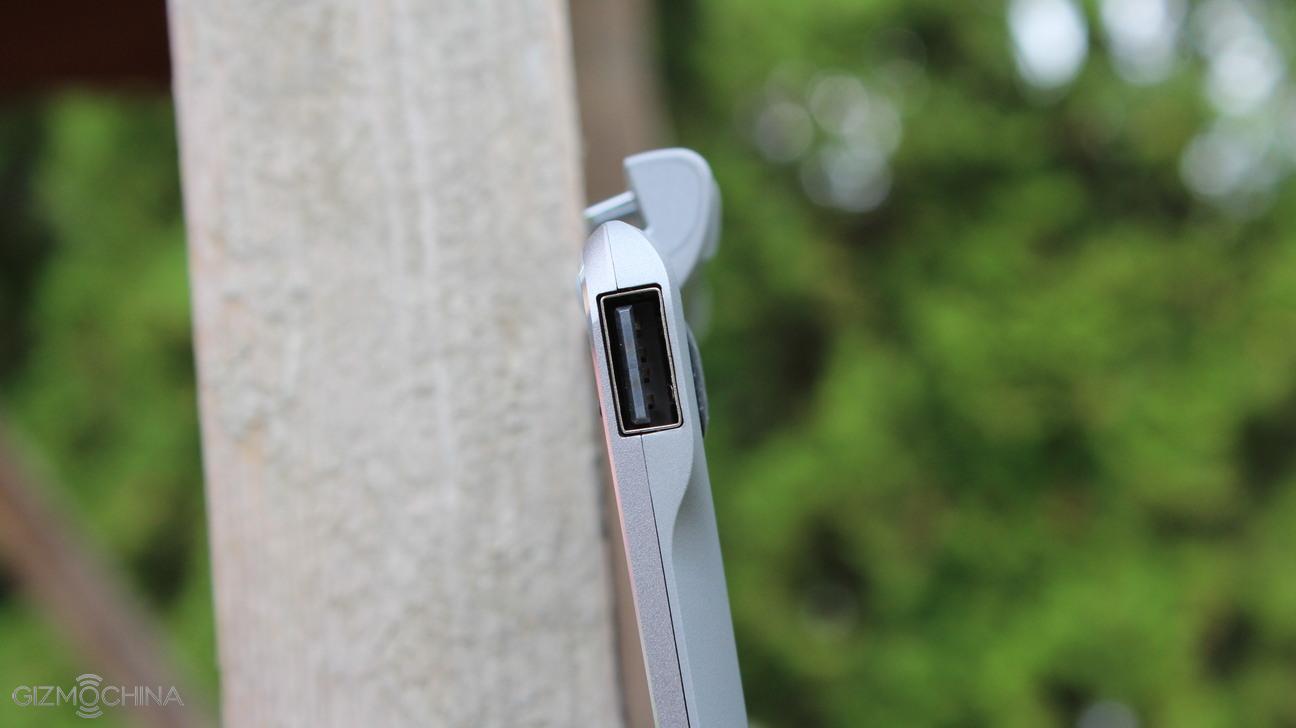 There are 2 USB 2.0 ports, which are great for connecting peripherals and USB sticks but keep in mind that they would not recognize devices like external disk drives.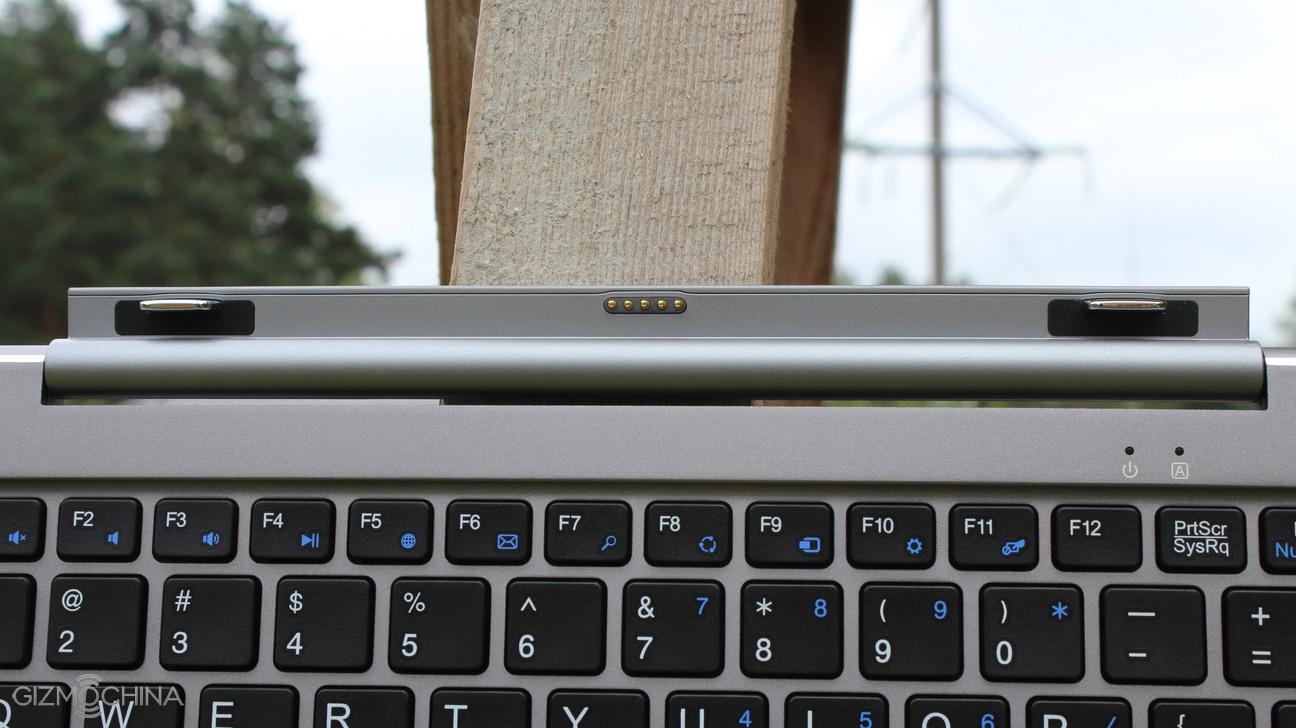 Attaching a tablet to the keyboard is very simple but removing the tablet requires a little bit of extra effort. I am absolutely okay with that as I prefer the tablet to stay firmly. The latching mechanism works fine and it holds the tablet in one position firmly. However, it could move a bit more gracefully. See a video review to see how the latching mechanism works.
Chuwi HiBook Review: BENCHMARKS
Chuwi HiBook Review: HARDWARE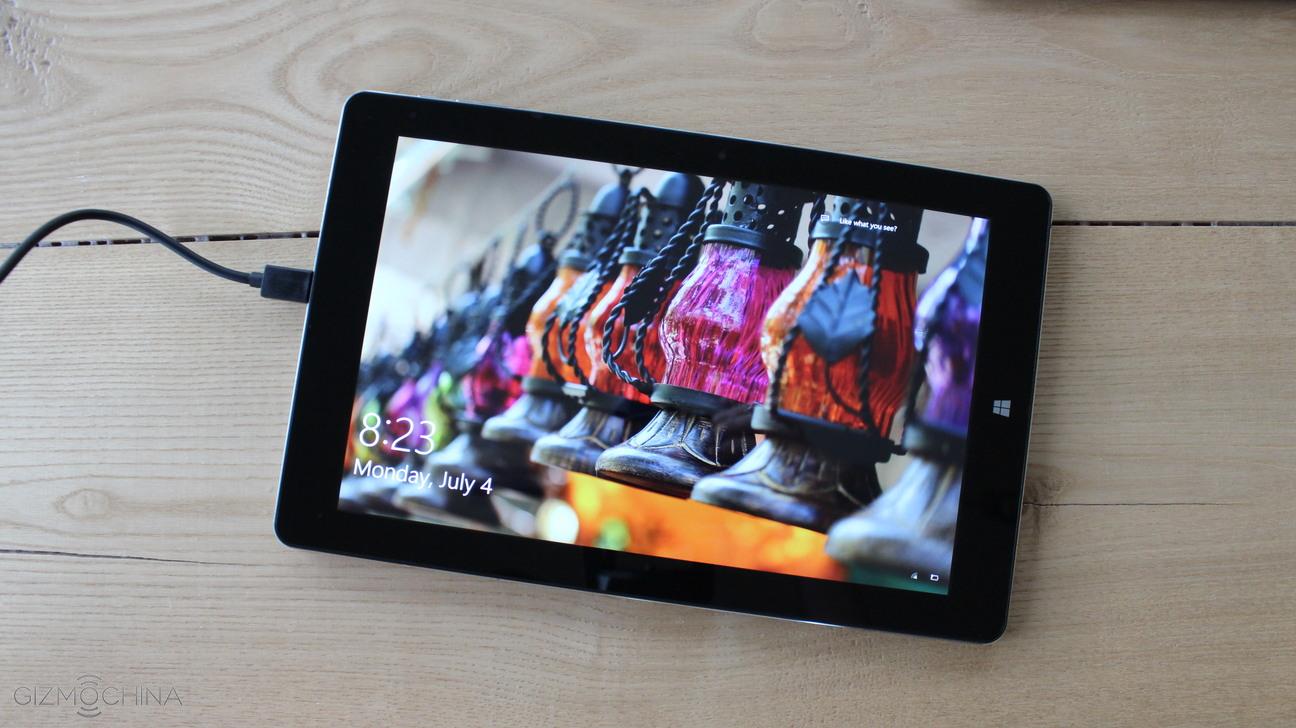 Chuwi HiBook packs some powerful internals for a sub-$200 tablet. It sports a quad-core 64-bit Intel Cherry Trail Z8300 CPU, clocked at 1.44GHz, 4GB of RAM and 64GB of expandable internal storage.
Naturally, the storage is divided between the two operating systems. Android has around 9GB and Windows has around 30GB of accessible storage.
Chuwi HiBook Review: USER INTERFACE: Android
You can easily switch between Android and Windows with just a few clicks. Switching from one OS to another takes roughly one minute, which is fair enough.
The HiBook runs on a pretty much barebones Android 5.1. A great thing is that there is no bloatware but it would have been nice to see some customization options.
Overall, the UI has been working fast and fluid during the review. I didn't have any app compatibility issues. Also, it works with the attached keyboard fine but keep in mind that swiping from one side to another and other gestures will not work as it would work on Windows.
Chuwi HiBook Review: WINDOWS
When it comes to the Windows, we have a fully activated full version of Windows 10 out of the box and I am pretty happy with the overall performance.
I didn't have any issues doing all the basic stuff with the tablet as I would do with any other laptop. I edited a few Word documents, downloaded and installed a few apps, played 4k video on Youtube and from the microSD card, and did other stuff without any issues.
I love the fact that the trackpad supports Windows 10 gestures. However, the trackpad is a bit small and it takes some time to get used to it, so you should expect some accidental touches.
Overall, I am happy with the Windows performance. Don't expect this tablet to be able to edit 4k video but it works fine for more basic stuff.
Chuwi HiBook Review: GAMING
I have to admit that I'm not a huge gamer when it comes to Windows platform but I love playing some games (mainly when I test new devices) on Android. A powerful hardware allows you to play games like Asphalt 8, Nova 3 and NBA2k16 on highest graphics without any issues and the graphics look good. Finally, the device gets quite warm but the heat does not impair a good gaming performance.
Chuwi HiBook Review: CONNECTIVITY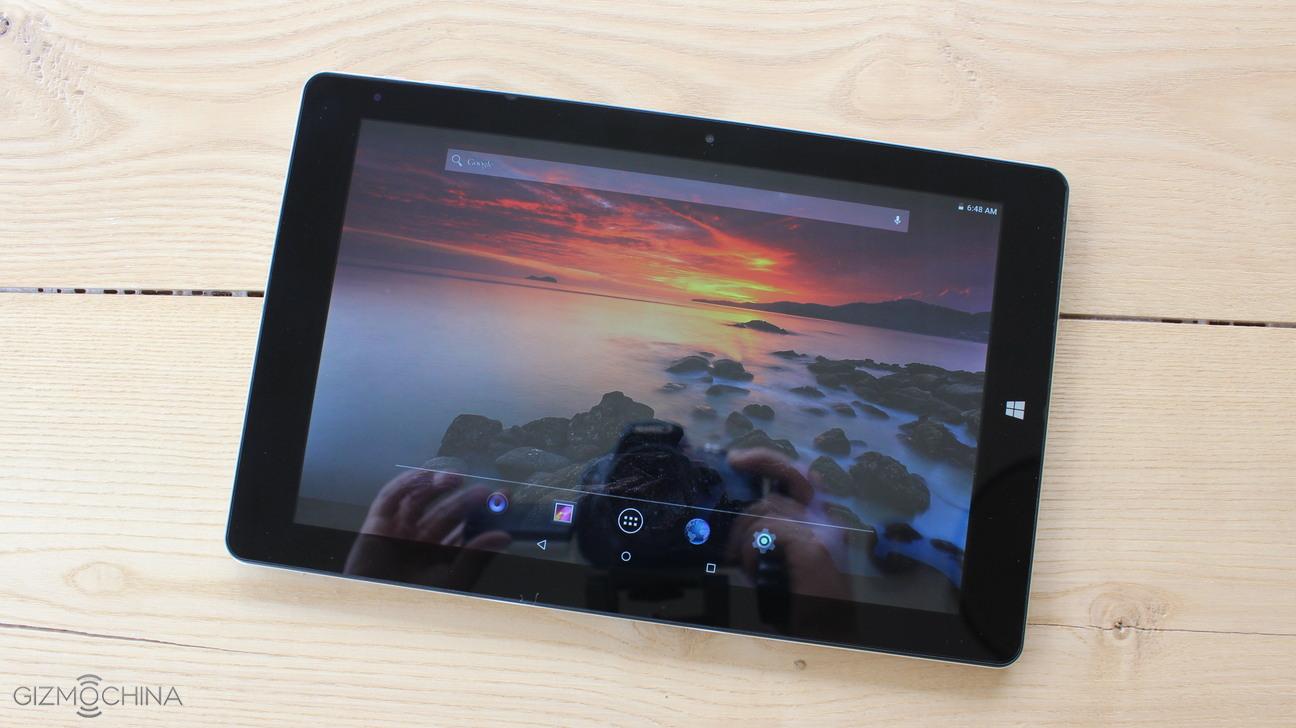 All the connectivity options work fine but the Wifi range could be slightly better. Well, I compared it with the iPad and the MacBook Pro, so it may not be a fair comparison after all.
Chuwi HiBook Review: BATTERY LIFE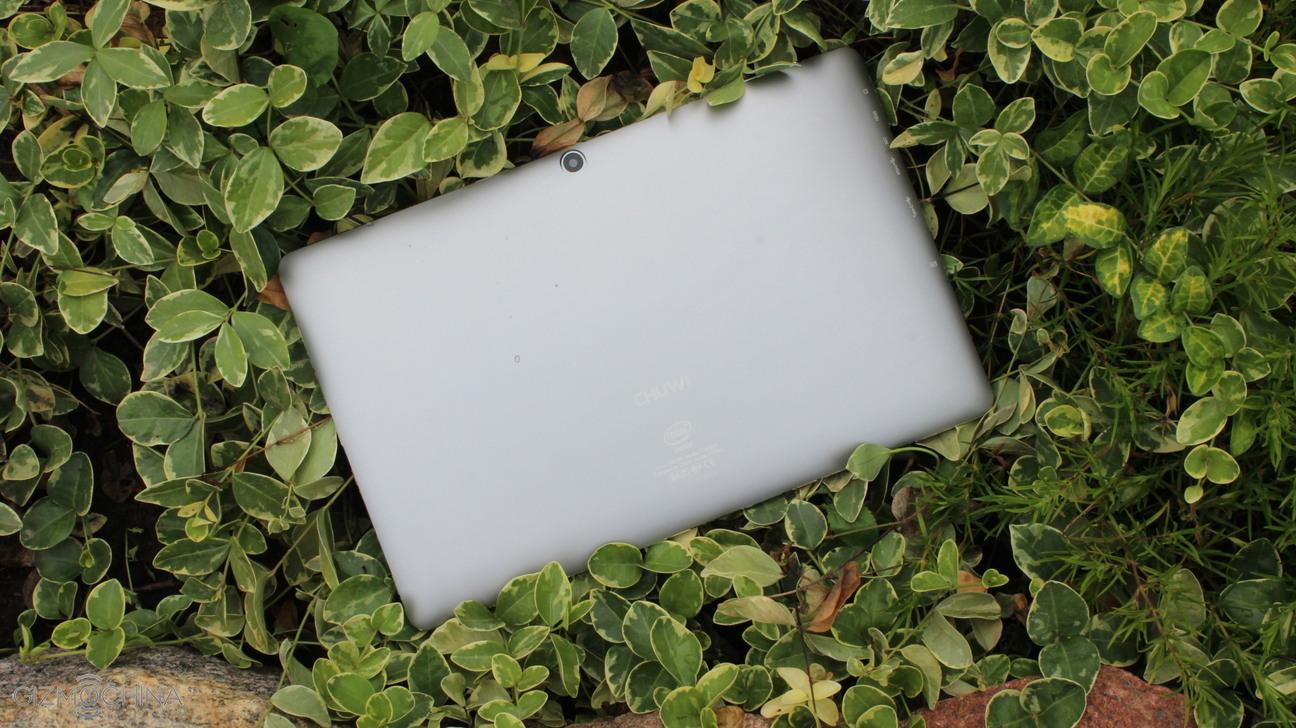 The tablet has a 6600mAh battery, which is said to give you around 8 hours of use (under ideal conditions). However, I could get just around 5 hours of usage, which is still a decent result. As always, the battery life results may vary significantly depending on the usage.
Chuwi HiBook Review: CONCLUSIONS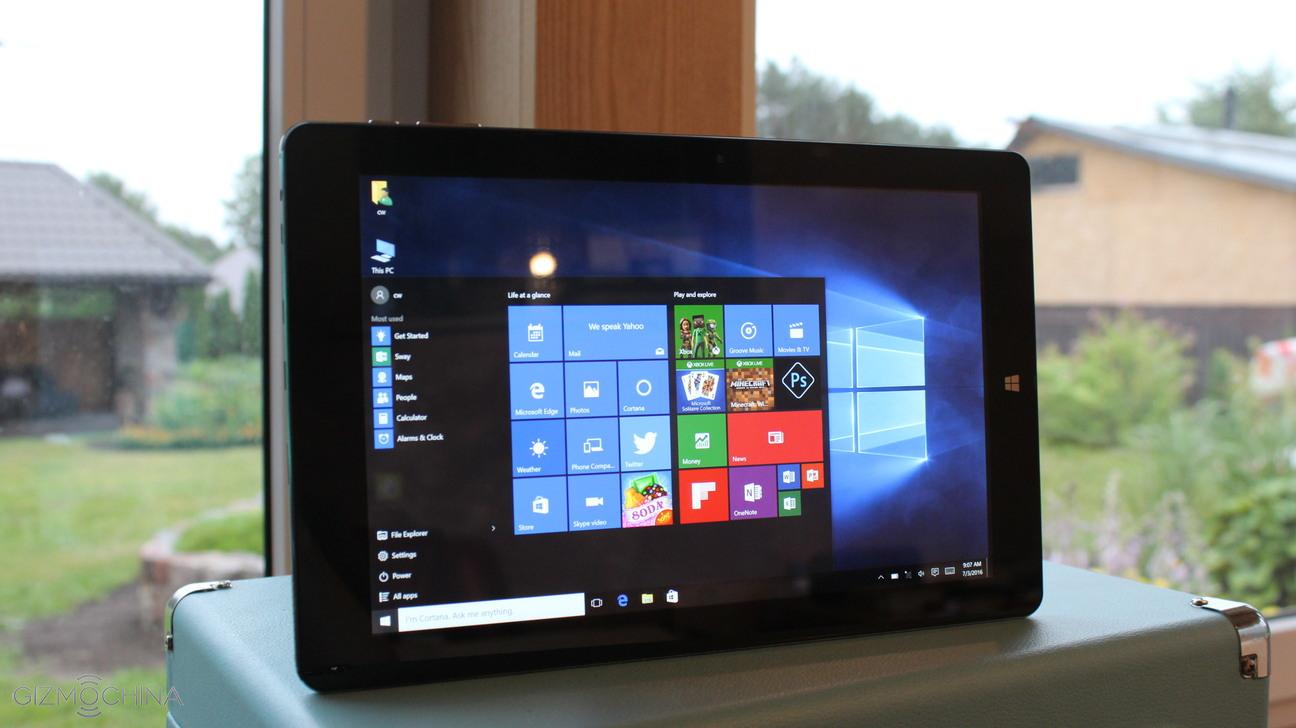 Chuvi HiBook is a hybrid tablet that runs both Android and Windows in one package and you can easily switch back and forth in less than a minute.
Also, I love the fact that the tablet is well-built, has some powerful internals and it performs great on both operating systems.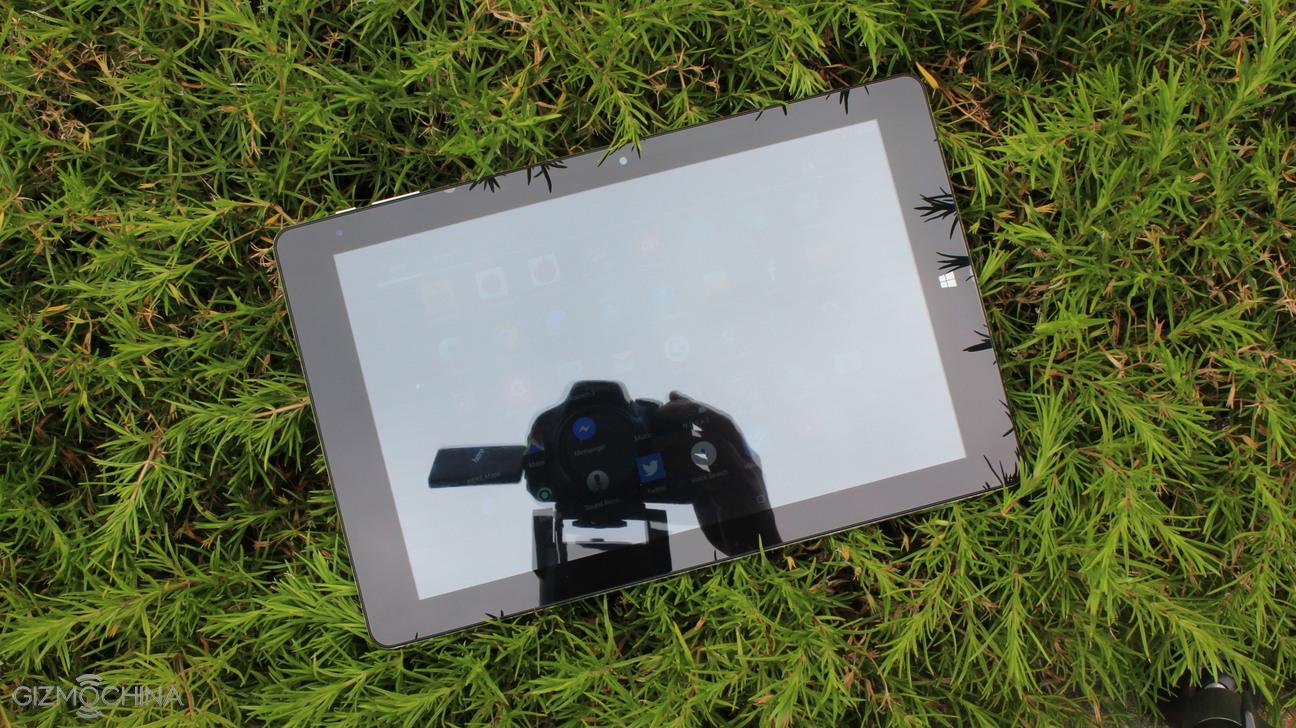 However, the display is glossy, it attracts fingerprints very easily and most importantly, it is very reflective unless you use it in dim environment. On the other hand, it is a good looking and sharp 1080p LCD panel overall.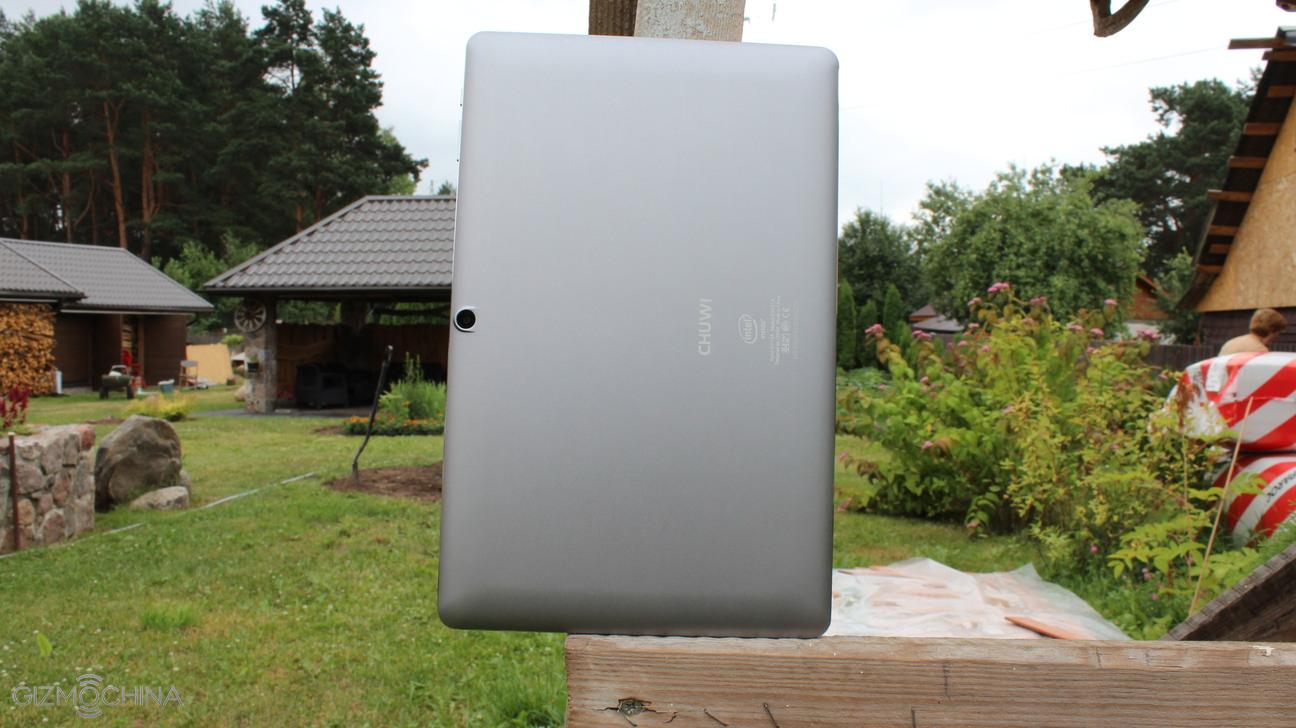 Also, the speakers are kind of mediocre and the cameras are terrible (as on the majority of budget tablets).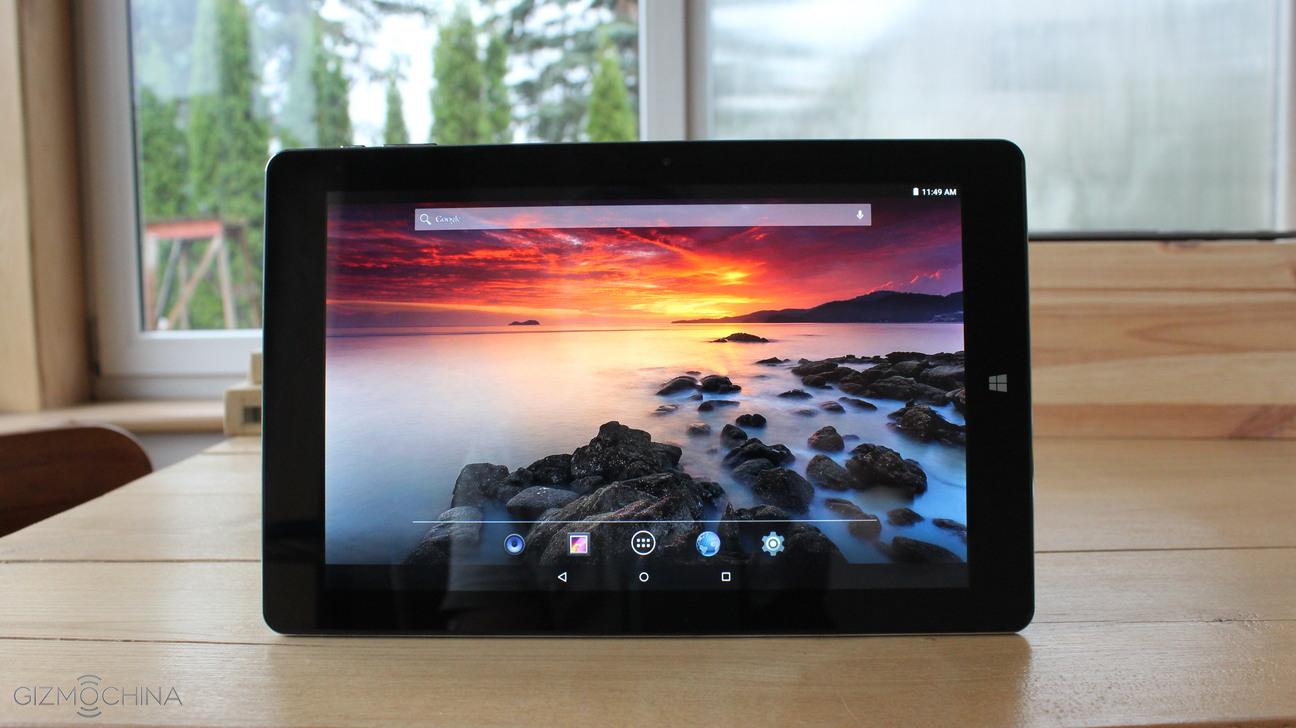 All in all, Chuwi HiBook is still a good hybrid tablet as it has more pros than cons. For the price of just over $200, it is a good buying option if you don't mind the above-mentioned shortcomings, which are quite common to most of the tablets in this price range, anyway.
For the price of just over $200, it is a good buying option if you don't mind a few shortcomings, which are quite common to most of the tablets in this price range, anyway.