Honor V10 vs Huawei Mate 10: Brothers In A Comparison
by Michele Ingelido Dec 5, 2017 6:30 pm2
Honor V10 and Huawei Mate 10 can be considered brothers. They are two phones released by the same company (the first has been launched by Huawei's sub-brand) and they are also very similar. The thing which makes them very interesting is the fact that they are Chinese flagship devices, and they are incredibly powerful. Which smartphone will have the best value for money? The older brother by Huawei or the younger one by Honor? Let's discover this together and let's evaluate every aspect of these two phones with a complete comparison.
Honor V10 vs Huawei Mate 10: Design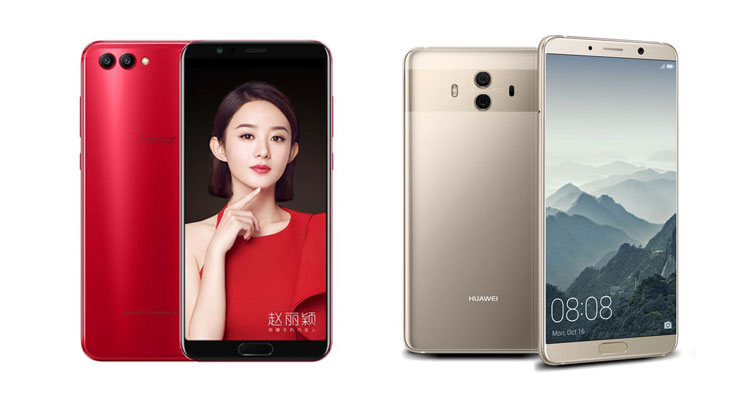 Huawei Honor V10 is a beautiful phone, like every flagship released under the Honor brand in the last few years. It is composed of a back cover made of glass and a profile made of aluminum and it is an incredibly thin device. Its dimensions are 157 x 75 x 7 mm, while its weight is 7 mm. It is compact and very good to hold thanks to its bezel-less design, but even though it has a borderless display, it sports a fingerprint reader on the front side, and it will be fantastic for many people.
We define Huawei Mate 10 an even better phone in terms of aesthetics and build quality. It has a glass back protected by Gorilla Glass and a metal frame, and here we got a bezel-less design too with a frontal Home key that has a fingerprint reader embedded. In addition, this handset is also splashproof and dust-resistant thanks to the IP53 certification.
Honor V10 vs Huawei Mate 10: Display
The display is one of the main differences between these two handsets. Honor V10 has a display with a size of 5.99 inches, the IPS LCD technology, and a Full HD+ resolution of 1080 x 2160 pixels. It is a display with 18:9 aspect ratio.
Huawei Mate 10 has one of the most professional displays, even though it is not the maximum innovation, as it is a classic panel with a 16:9 aspect ratio. Its size is 5.9 inches, it is an AMOLED display and it shows images with a Quad HD+ resolution of 1440 x 2560 pixels. It also supports HDR10 technology. This screen is excellent: it has an impressive detail, deep blacks and also very accurate colors. It is a perfect screen for multimedia use and it can be used outdoor comfortably thanks to its very high brightness. Huawei Mate 10 has a much better display than its opponent, there is no challenge and it wins the comparison.
Honor V10 vs Huawei Mate 10: Hardware and connectivity
Fortunately for people with a low budget for a real flagship, these devices have a very similar hardware side.
Under the hood, Honor V10 has an octa-core Kirin 970 SoC which can run at a max frequency of 2.4 GHz. Three configurations have been launched: one with 4 GB of RAM and 64 GB of internal storage, another with 6 GB of RAM and 128 GB ROM and a 6/64 GB version in the middle, expandable with a micro SD up to 256 GB. The micro SD card uses the secondary SIM slot, so if you expand the memory your device can not be used as a dual SIM phone. This device is incredibly fast and it can be considered one of the fastest phones out there. AnTuTu benchmark gave a score of over 165,000 points to this device. Talking about connectivity, the device is equipped with a USB Type-C port, it has Wi-Fi 802.11 a/b/g/n/ac and Bluetooth 4.2.
Huawei Mate 10 has exactly the same SoC: the octa-core Kirin 970 running at 2.4 GHz, paired with 4 GB of RAM and 64 GB of internal storage. Even though the hardware is the same the performances are slightly better because this phone has been optimized better. According to AnTuTu, the score of this handset on benchmarks is superior to 175,000 points. Indeed, performances are perfect, there is not any lag even with games or heavy apps opened. The connectivity side includes Wi-Fi 802.11 a/b/g/n/ac, Bluetooth 4.2, a USB Type-C port and even an LTE modem which can reach a speed of 1.2 Gbps.
Honor V10 vs Huawei Mate 10: Software
These phones have exactly the same software, so it is hard to establish a winner: they are identical. Both Honor V10 and Huawei Mate 10 have Android 8.0 Oreo installed out of the box, the latest version of the operating system by Google. Android has been customized with the user interface EMUI 8.0. It is one of the best user interfaces in the Android market, only Samsung Experience, MIUI and a few others are at the same level, according to us. It is full of additional features in each Huawei device, and in these two ones, there are some exclusive features as well. Kirin 970 has a Neural Processing Unit (NPU) that makes artificial intelligence and machine learning available in the software of these phones.
You can use AI for many interesting tasks, like adjusting the camera settings depending on the environment, translating texts, using vocal commands and much more. Thanks to EMUI you can also clone apps, enable the picture-in-picture mode, change themes and do many more advanced things. Even though the software is identical on each of these phones, we will still choose a winner: Huawei Mate 10. We prefer this device because we think it will be more supported than Honor V10 in terms of updates. Its predecessor Huawei Mate 9 will be the first Huawei device to receive Android Oreo, while at this moment we do not even know if Honor V9 will receive it.
Honor V10 vs Huawei Mate 10: Camera
There are important differences even in the cameras of these two phones, even though they look apparently the same.
Honor V10 has a dual camera with resolutions of 16 and 20 MP, the sensors' aperture is f/1.8. There is a LED flash, but it is not a dual flash and there is no OIS. Anyways, the photos shot with this handset should not be bad. The level of detail should be satisfying and we should be able to say the same about the quantity of light captured, thanks to the secondary monochromatic sensor. We will be able to tell you more when it will be possible to test this device, as now it is not even available in the global market.
On the other hand, Huawei Mate 10 has a dual camera with resolutions of 12 and 20 MP co-engineered with a giant of photography: Leica. The sensors have a f/1.6 aperture, they support 2x lossless zoom and the primary sensor is optically stabilized. There is also a dual LED and dual-tone flash. This device has one of the best cameras ever, it can shoot photos with great colors and an outstanding level of detail together with a low amount of noise, even in low light conditions. Huawei Mate 10 is a way better camera phone than its opponent.
Honor V10 vs Huawei Mate 10: Battery
Both these handsets have been equipped with a huge, above average battery, unlike most of the flagships launched in 2017.
The battery of Honor V10 has a capacity of 3750 mAh and it should make it last one day of stressed use. We still do not know how well this battery has been optimized as there is still no chance to test this device, but we expect a very good battery life in every scenario. The phone supports fast charging (4.5V / 5A) and it can reach 58 percent in just 30 minutes of charge.
Huawei Mate 10 has an even bigger battery: with its capacity of 4000 mAh, it can last until the end of the evening with every use. You can forget your charger at least for a day, and it has a very low energy consumption while it is in standby mode. We expected a better optimization, but it is still a great battery life: Huawei Mate 10 should win the comparison. It supports fast battery charging as well, with exactly the same technology as Honor V10 (4.5V / 5A).
Honor V10 vs Huawei Mate 10: Price
When it comes to prices, things totally change between these devices.
Honor V10 is going to be sold with a price tag of about 450 dollars in the 4/64 GB base variant (420 EUR), 450 dollars in the version with 6 GB of RAM and 64 GB of internal storage, and about 530 dollars in the most advanced version (6/128 GB). These are the prices in China, we are still waiting for the launch of the handset in the rest of the world.
Huawei Mate 10 has been launched with a listing price of 700 euros and it can already be bought with a street price of 729 dollars online. Honor V10 wins the price comparison as it is way more affordable, but Mate 10 has a great price if we compare it with the most famous flagships like iPhone X and Samsung Galaxy Note 8.
Honor V10 vs Huawei Mate 10: Winner
Huawei Mate 10 is the winner of the comparison. Apparently, it seems that there is no difference between these handsets, but it is not so. The display is way better on the Mate 10, as well as its camera, and it is also a splashproof phone, unlike its opponent. An aspect for which there is not so much difference is the hardware and software side. The most important difference in favor of Honor V10 is the price: it costs almost 300 euros less and you get a phone with almost the same flagship-level performances, released by the same company: this is great.
Honor V10: PRO and CONS
PRO
Lower price
Incredible hardware
Beautiful and sleek design
Good battery
Nice software with Android Oreo
CONS
Worse camera than its opponent
Average display
Huawei Mate 10
PRO
Great display
Powerful hardware
Good software side
Incredible camera
Great battery life
CONS