Smartphone Sales In China Decline For The First Time In The History!
by Michele Ingelido ago0
Since 2009, the smartphone market in China has always grown until 2016, according to the market research firm Canalys. In the recent years the growth has been much smaller, but the market at least was going up. But in 2017, for the first time, smartphone sales in China fell. In 2017 fewer devices have been sold in China, compared to 2016. To be accurate, in 2017, 459 million smartphones were shipped in China, which is 4% less than the number of units shipped in 2016. The most important decline was registered in Q4 2017 (from October to December), in which 14% less devices were sold compared to Q4 2016.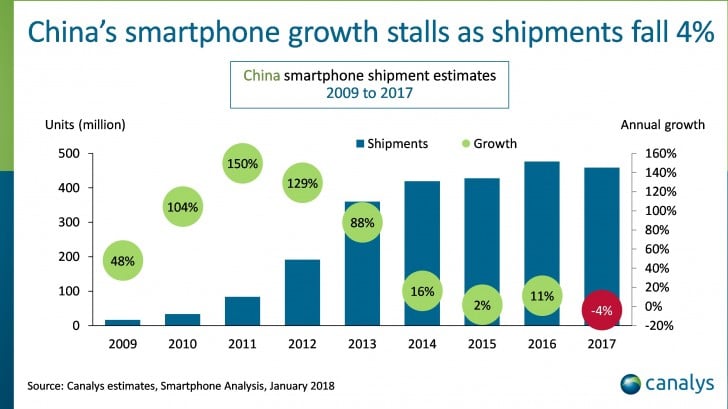 According to Canalys, Huawei is actually the best smartphones brand in China with 90 million devices shipped in 2017. Right after Huawei are Oppo and Vivo, owned by the same tech giant BBK. At the 4th place we can find Apple, then at the 5th place, there is the Chinese Apple (Xiaomi). In Q4 2017 , Huawei has sold more units than Oppo and Vivo: 24 million, compared to 19 million and 17 million of its opponents. The analysts think that Q4 2017 is the best quarter ever registered in China for Huawei, but it is the exact opposite for the Chinese smartphones market in general.
Talking about Huawei, the most successful devices were the Honor line-up, which represents more than half of the units shipped by Huawei in 2017. On the other hand, there are companies that are becoming weaker in the Chinese market, like Meizu, Gionee, Lenovo, and ZTE. Indeed, if we look at the success rate of their latest flagships, we can easily understand that it was a bad year for them. If this continues, it would mean Huawei would grow further while other brands decline in terms of sales, thereby increasing the gap between these companies. Further, the lead would help Huawei take on the top two players in the market and overtake them in the coming years. So, this trend is great for Huawei but bad for the Chinese smartphone market in general.
(Via)