CEO Reveals Smartisan R1 Will Be Priced Between ¥3000 (~$474) and ¥15,000 (~$2369)
by Habeeb Onawole ago0
Smartisan may have recently released a new smartphone but the Nut 3 is just a mid-range device. The Smartisan R1 is the phone you should look forward to if you are searching for a flagship phone.
The Smartisan R1 will be powered by a Snapdragon 845 processor and will be the manufacturer's first flagship in nearly two years. But how much will it cost?
Fortunately for us, we won't have to wait until May 15th to have an idea of the price. Smartisan's own CEO, Luo Yonghao took to Weibo to give us a price range for the upcoming device.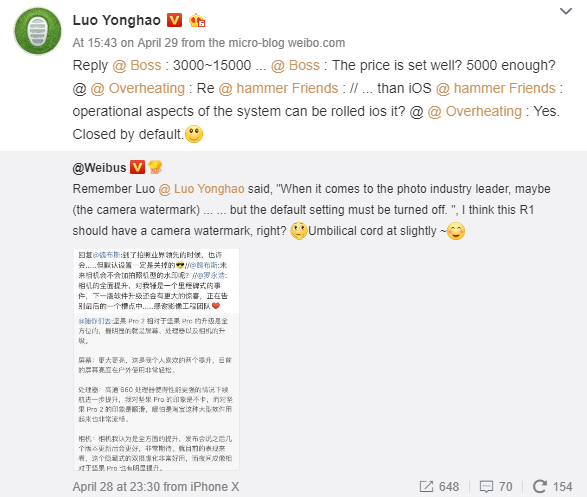 According to him, the Smartisan R1 will be priced between ¥3000 (~$474) and ¥15,000 (~$2369). $500 isn't too much to ask for a Snapdragon 845 phone but the only reason for a phone to sell for over $2000 is if it is a luxury device. The chances of a luxury Smartisan phone are slim, so we'll assume Mr. Yonghao is just messing with us.
He adds in his post that last year's Nut Pro 2 is still the best device in the ¥2000 (~$316) category so it doesn't make any sense pricing the more powerful R1 in the same category.
READ MORE: ECoinmerce Signs Deal To Sell Smartisan Phones in North America
The Smartisan R1 will come with a new Smartisan OS, have AI features that will boost efficiency, and also support wireless charging.