Huawei has been allowing users to unlock the bootloaders of its devices since several years. The Chinese manufacturer had even created a dedicated support page for bootloader unlocking. Hence, it was considered as a developer-friendly OEM. Installing TWRP, using custom ROMs and getting root access were all possible on Huawei devices as the company had provide an easy procedure for unlocking the bootloaders. However, at the beginning of this month, Huawei and sub-brand Honor had reportedly removed the aforementioned support page and later the company claimed that it would be providing unlock codes directly through email support system. The Chinese firm has today confirmed that its devices sold after May 24 will not be coming with unlockable bootloaders. It has also stated that the service will be stopped 60 days after today's announcement for the devices that were sold before May 24.
Shown below  is the screengrab of the official announcement. It is taken from the Huawei unlock page.   The above message states that the company has taken such a step to provide better user experience and to avoid problems caused by flashing of ROM.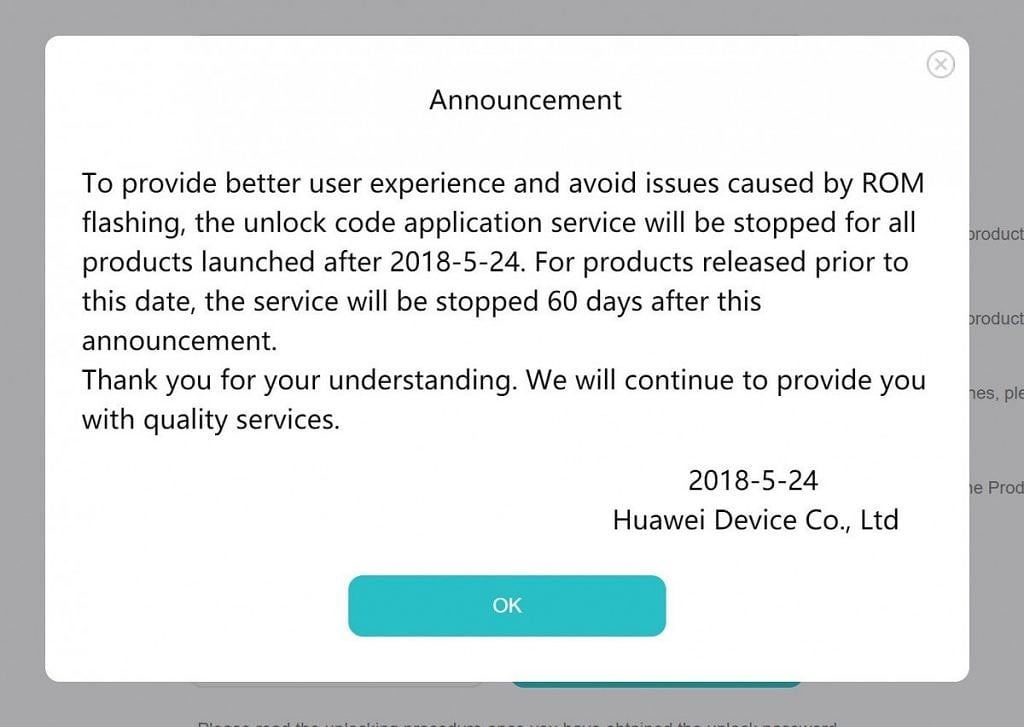 Developers will be no longer interested in Huawei devices as they stopped giving unlock codes. Many Huawei phone users are complaining on Twitter and Reddit that they will switch to other brands. Some have even claimed that they return newly purchased Honor 10 and Huawei P20 since the company has modified its policy.
Huawei is yet to release an official statement on the issue. Are you disappointed to know that Huawei devices will no longer allow its users to flash custom ROMs? Share us your views by posting your comments below.