Renders of Google's ChromeOS tablet leaks, has a fingerprint scanner
by Habeeb Onawole ago0
Google is expected to announce a new PixelBook at its October 9 event. Early rumors and leaks point at a detachable 2-in-1 design which means the PixelBook 2 will also double as a ChromeOS tablet just like the Microsoft Surface Book doubles as a Windows tablet. A new leak might be our first look at this new PixelBook or Google's first ChromeOS tablet.
The leak comes from About Chromebooks, a site that covers anything related to ChromeOS. Apparently, they found in a code commit that ChromeOS tablets will gain support for keyboard docks in the near future. The commit description even mentions the keyboard bases will have a dedicated Google Assistant button and a "Hamburger" or options button. The code commit also revealed some of the brands that would make these keyboards, one of them is Brydge, a manufacturer of premium keyboards for iPads.
Yesterday, Brydge accidentally posted two unreleased keyboards on their Shopify page which are for Google devices (read ChromeOS tablets). Renders of one of the keyboards named Wallaby is attached to a tablet said to be Google's ChromeOS tablet codenamed "Nocturne".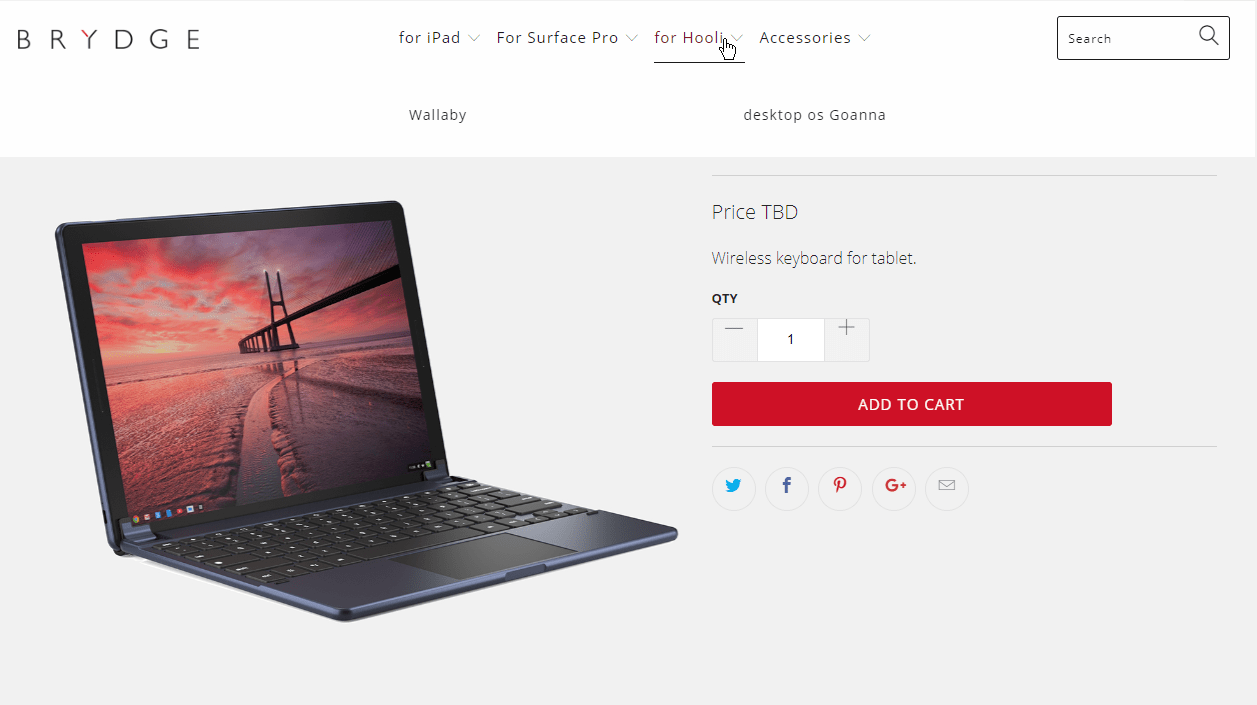 Wallaby has a design similar to the Bryde keyboard in this video below which allows the keyboard and tablet to be opened and closed like it's a laptop.
The tablet has a USB-C port on the left but Nocturne is expected to come with two USB-C ports. It also has dual front-facing speakers which are located on the right/bottom and left/top bezels.
Another render showing the keyboard and tablet from the top shows the tablet has a small indentation on the left. That indentation is rumored to be a fingerprint scanner. Nocturne is said to also have a fingerprint scanner and this gif from 9to5Google shows the fingerprint scanner is in a similar position.
The keyboard itself comes in blue but we can't say if there will be other colors at launch. There is a moderately sized trackpad and the keys do not look cramped. You can also spot the hamburger key (after the volume up button) and the Google Assistant key (between the function and alt keys).
The second keyboard is named Goanna and is much wider like a desktop keyboard. It doesn't have a trackpad but has a hamburger key and Google Assistant key like Wallaby. It comes in the same blue color.
READ MORE: Google Home Hub leaks, looks like a mashup of a tablet and the Google Home Max
We still have about three weeks before Google's event, so more details about the ChromeOS tablet and other keyboards should surface.