Xiaomi grabs sales worth $575 million (4 billion yuan) at 11.11 sale
by Simran Singh ago0
This year from the 11.11 sale event in China, Xiaomi has managed to rack up over $500 million of sales in a single day. These numbers have been constituted via the sales gathered at different e-retailers such as Alibaba, Aliexpress, Gearbest and their online store. As per the report, the Chinese electronics maker has made over 4 billion yuan sales ($575 million) in a single day. Many other companies have participated in the 11.11 sale event and generated huge sales.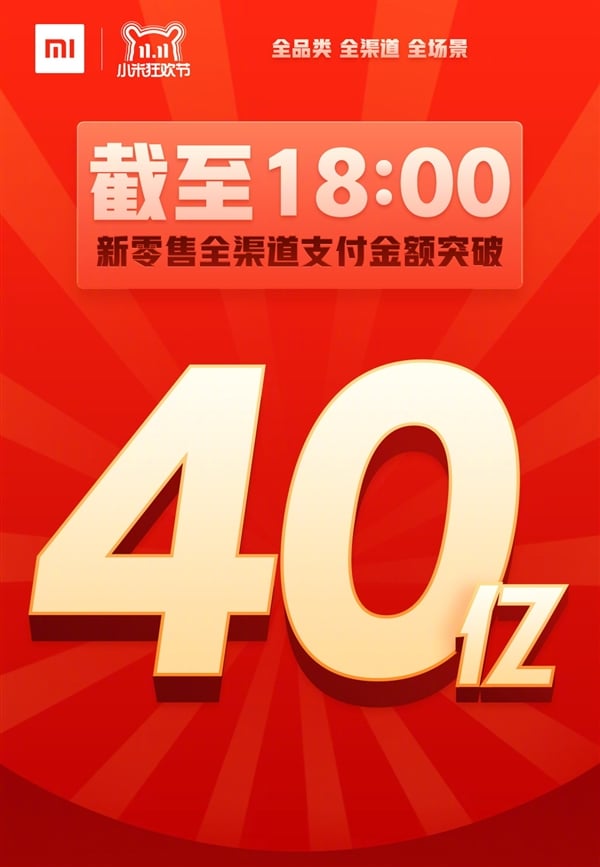 In the initial phase of sale, Xiaomi gathered sales worth 3 billion yuan ($431 million). Talking on an hourly basis, Xiaomi regsitered 500 million yuan sales in just 13 minutes and 37 seconds while it touched 1.5 billion yuan in just an hour. Xiaomi posted the poster citing 4 billion yuan ($575 million) sales at the end of the day.
Majorly, Xiaomi sold products such as mobile devices constituting Xiaomi Mi Mix 3, Mi 8, Mi 8 Pro and other budget-friendly devices. In the home products category, Xiaomi managed to get a good number of sales for Xiaomi Mijia air purifies, Mi Band 3 and all generation Vaccum cleaner, travelling suitcase and Xiaomi scooter.
As per another report, Alibaba has managed to garner sales worth $10 billion in just 1 hour. Major companies that benefitted from the sale event are Apple and Xiaomi. This year, Alibaba got huge orders from Los Angeles, Frankfurt, Tokyo and many other major cities around the world. Even, Alibaba has 180,000 brands listed for the shoppers to choose from during the 24-hour shopping spree.
"We can feel that merchants are fully embracing the internet and helping with consumption upgrade," Daniel Zhang, Alibaba CEO told reporters in Shanghai.
Overall, it is a hit for almost every Chinese brand. Many of them have registered record sales at this year's Singles' Day event on 11 November.
Well, did you ended up saving a few bucks from 11.11 sale event?
(Via)