Google Pixel 3 XL rocking a surprise Android Q appears on Geekbench
The latest Android distribution chart released by Google as at October 26 is yet to have the latest Android Pie onboard as the usage level is still below 0.1%. Interestingly, a new Google Pixel 3 XL listing on GeekBench shows the device rocking Android Q. Following Google's naming sequence, it is safe to assume that Android Q is Google's next-gen Android version which would be released next year.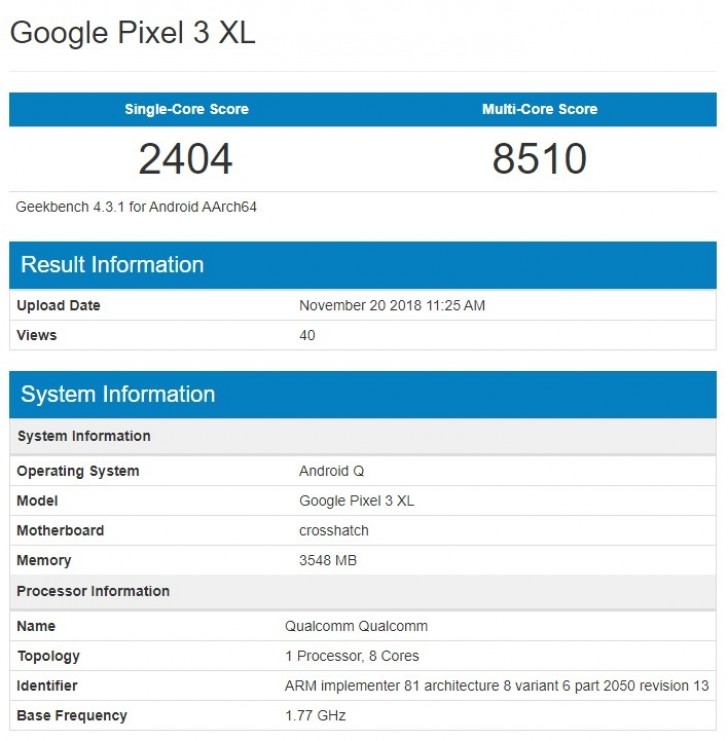 The GeekBech listing goes to show that an Alpha version of the Android version is already in development and we expect things to get pretty busy in the rumour mill in the coming months. However, there just a few details of the next Android version like it will be Project Treble compliant. Google also disclosed recently that devices which shipped with Android Pe would be on the faster upgrade platform. In addition, the AOSP source code is fixed so developers can prepare in advance for any future operating system updates.
Read Also: Alleged Google Pixel 3 Lite camera samples appear to reveal photography prowess
Further, the Geekbench listing also underscores the priority Google gives its models in pushing new Android updates. The Pixel 3 and Pixel 3XL were launched with the latest Android 9.0 Pie onboard whose actual rollout happening in October. The Pixel 3 models will also definitely be among the early birds to get updates to Android Q whenever it starts rolling out.
(source)