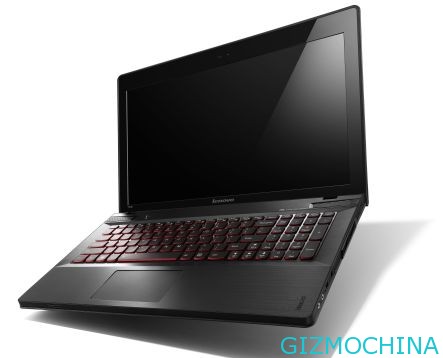 In the IFA 2012 event which recently held in Berlin, Lenovo unveiled the Lenovo Y400 and Y500 notebook, two new models to their lineup: the 14-inch IdeaPad Y400, and 15.6-inch IdeaPad Y500.

Both are equipped with Lenovo's UltraBay, a swappable drive bay typically found in Lenovo's ThinkPad line. The UltraBay will allow users to swap in a discrete graphics card, more storage space, or an additional cooling fan.
1. Graphics Card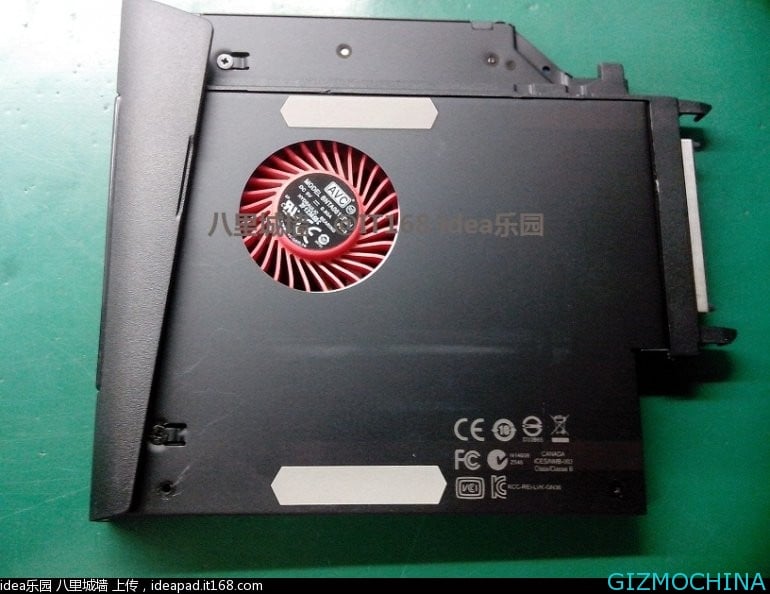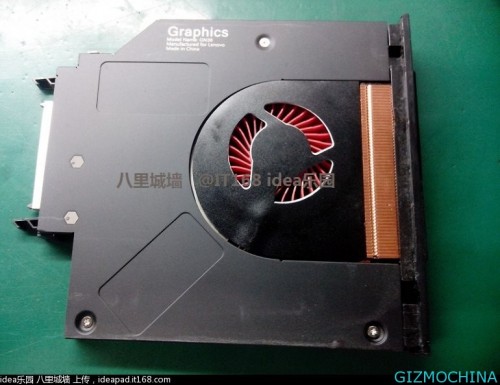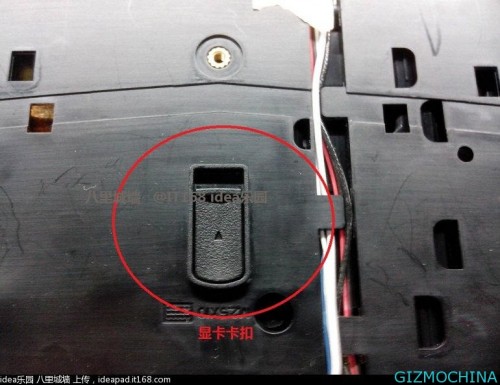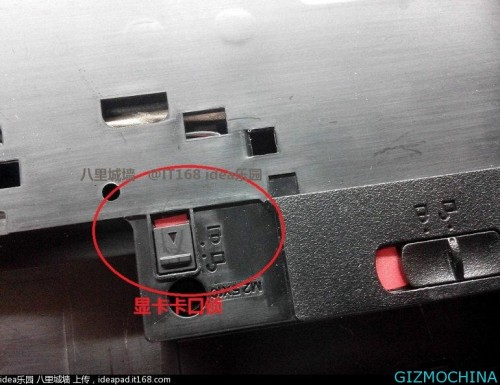 The most notable of these two models is the optical drive can change the design of the graphics card, we can see from Figure Y400/Y500 second card can be inserted in the drive bit way graphics are wrapped very forward, can not see the internal chip, but if the motherboard is equipped with GT650M graphics, the optical drive will be more performance style makes sense. From densely fan fins and exquisite workmanship, we can also see the impressive performance.
It is clear that the optical drive and motherboard interface is not a standard SATA port, It's a newly design, proprietary interface for SLI / CrossFire dual graphics card technology. Meanwhile, in order to enhance the stability of the module by the physical card port with the body are fixed together.
2. Cooling System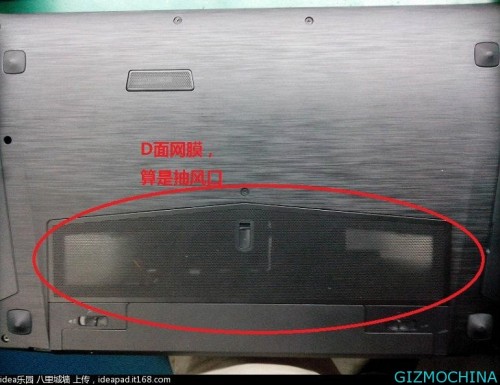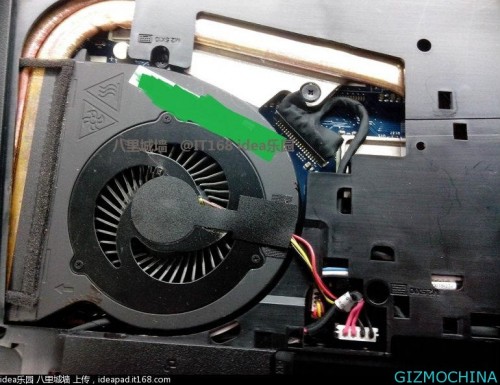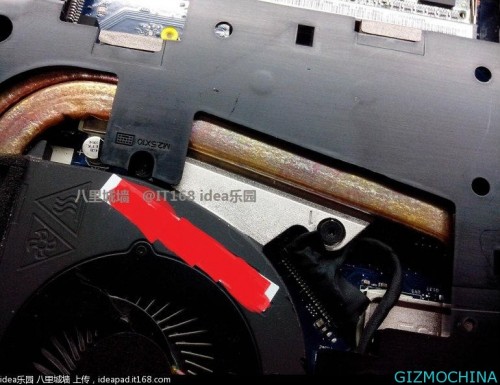 The game models, heat is the most critical factor affecting the experience and stability, and join them in such a small size notebook dual graphics design, will result in the accumulation of a large amount of heat, Lenovo uses a new thermal interface the underside has increased outlet, and using a thicker heat pipes.
3. Backlit Keyboard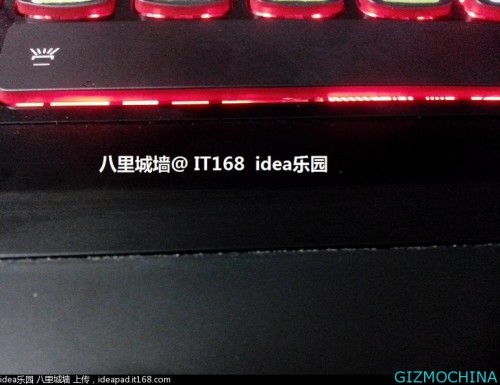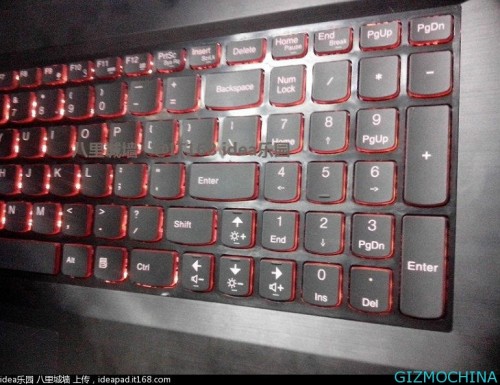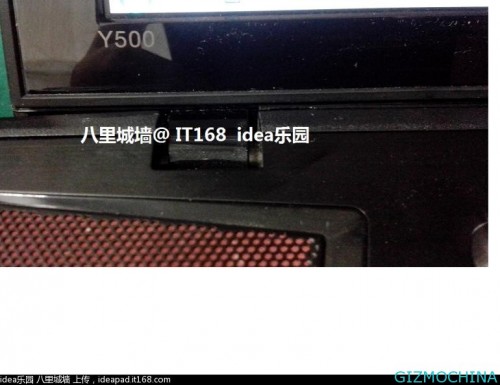 Look at this way should be across the board joined the backlit keyboard, the light is blood-red color design, is also distinct from the sturdy little orange and black design of the Y-series notebook
4. Battery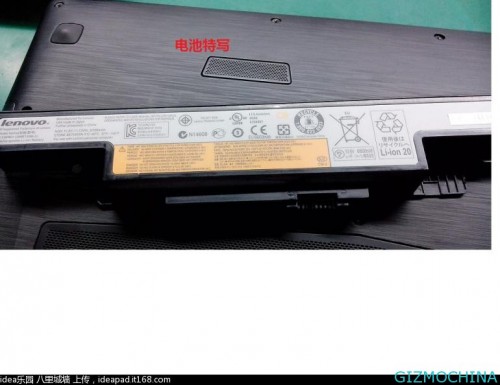 Unfortunately, the battery capacity is not too high, so have to bring the AC adapter while on the go.
Significance of analysis:
1. The introduction of dual graphics card will greatly promote the SLI / CrossFire multi-card interconnect technology in the popularity of the mobile platform, but also conducive to the emergence of future polymorphic notebook.
2. As a gaming notebook, Lenovo again leading the market, starting from the original small Y devaluation in the price of high-end graphics market strategy, design strategy to promote dual card, if these two products targeting high-end, become a powerful machine of small size are rare on the market, if the positioning is unchanged, then there is a generation of other manufacturers a competitive advantage.
3. For the display component, the performance of the dual Kepler architecture graphics SLI will brings the 1080p quality smooth running mainstream games, Full HD screen began to spread, to achieve a strong counterattack for the retina screen as same as Apple Macbook.
4. Ultrabay technology first originated from the ThinkPad, from laptop free to expand to become a reality, flat-panel and other equipment also can take significantly enhance display performance .