Upgrade version of ThL W3 smartphone, now with 1 GHz CPU and Android ICS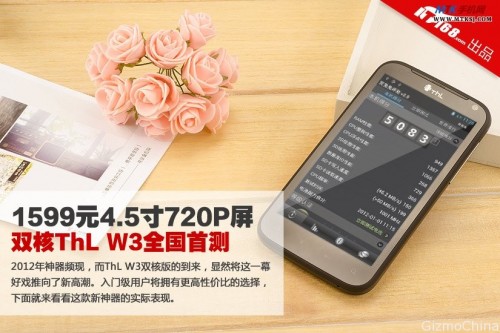 ThL W3 smartphone has a comprehensive listing of available for sale. In appearance, ThL W3 is simple straight full-touch design smartphone, the body style is still a the ThL phone simple fashion line, a new design concept and style, and good use of color matching.

The new ThL W3 smartphone has a new upgrade, using MTK6577 1 GHz Dual-Core processor, and upgrade the system to Android 4.04 Ice Cream Sandwich, at the same time the display is 4.5-inch IPS screen resolution of 1280 X 720 pixel.
The Back cover of this smartphone using non-slip material. And the user can easily open thisback cover to slip the simcard and memory card into it. On the top of back cover is a 8 megapixel camera with dual LED flash, Support the panoramic camera, 720P HD video camera functions is quite rich.
On the left side has non-slip material, effectively reducing the opportunity to dispose of the user. The USB port for data line interface located in the left side of the body, with labeled and silver materials. The data line interface will light up the screen light.
The ThL W3 dual-core version has large number of circular elements to make the body appear more rounded, with 4.5-inch screen display, the screen is large enough for browsing the web and watching a clips. Volume keys located in the right side of the body, moderate key way to ensure a comfortable operating feel.