Baidu Maps now available for Windows Phone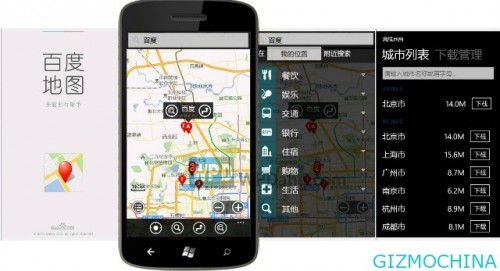 Baidu, as a one of Internet services company in China has Map Services for Chinesse user, comparing with Google Maps and Bing Maps, Baidu Maps is not too popular, especially outside of Chna. Slowly but sure, the Baidu Maps become growth to embracing the market, and now Baidu maps is available for Windows Phone device.

Baidu Maps has released a beta version for Windows Phone, and this version has different interface with baidu Maps for iOS and Android platform.
Detailed in a timely manner can be described as the biggest advantage of Baidu's map data, Baidu map contains the information is very comprehensive and relatively timely updates, to ensure that users can search for the exact location and details. In addition to the conventional map view, Baidu map also provides a satellite map layer, map information of real images make more intuitive, easy to understand.
The application can downloaded Baidu offline map data packets directly and other applications to provide offline data. Baidu provides accurate city level packets separate download, the user does not need to download the entire province or even the entire huge country maps to their devices.
On the map application, the user can search the current location near the business information and evaluation of content, can also click on the target location to view the routes and details. Lines generated, the user can select the program fixed to the desktop or shared to friends on a map See line program, you can click below the map arrow keys to view each step. When you exit the application, the exit confirmation box to see the operation of the use and traffic details, and indicate the connection.