Buy a new Lenovo PC and get refund for upgrade to Windows 8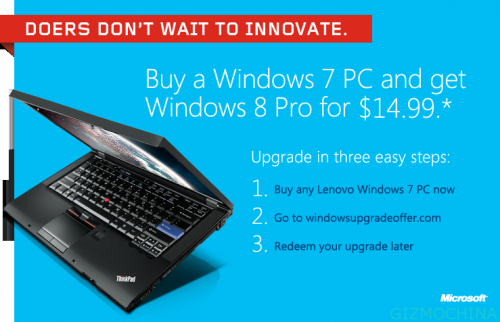 Earlier, Lenovo announced that they will not offers upgrade toWin8 for its Win7 users. But now that's a good news for Lenovo user.
They now offers discount for upgrade to Windows 8 for Lenovo buyer who bought Lenovo PC from August 31st 2012 untill December 1st, 2013.

So, If you've purchase of the new Lenovo PC with Windown 7 will be able to get upgrade to Windows 8 just for $ 14.99. Obviously, this policy is from the United States August 31 local time (Lenovo announced that it does not provide preferential service date to August 27).
According to the information their website, the user must use a Visa card to submit a $ 15 deposit. Promotions for IdeaPad Z, P, U, Y series notebooks and IdeaCentre A, B, K desktops. In addition, it also supports Lenovo N and G laptops and Lenovo desktops.