Ramos W30HD Quad-core tablet leaked on the net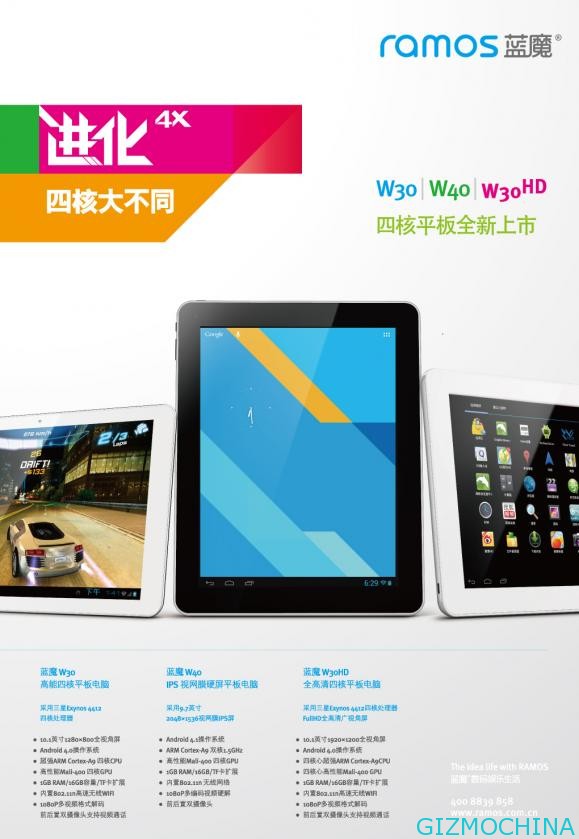 Ramos is the one of Chinese manufacturer which always built luxurious tablet and now they will be launch their new tablet on October 12, 2012 – October 15, 2012 at Hong Kong Electronics Fair.

Ramos W30HD is an upgrade version which packed with 1920 × 1200 full HD resolution display, and powered by quad-core chipset, this is become the first tablet from domestic manufacturer which has quad-core and high-definition screen display.
With 1920 × 1200 resolution is a very useful, it is not only beyond the number of full high-definition TV screen resolution, but also to meet the user point-to-point to enjoy the highest resolution (1080P) video. At the same time, that Ramos W30HD adopted 10.1-inch 1920 × 1200 resolution  as high as 224ppi, this tablet has been ranked in the domestic flat-panel computer screen sophistication.
The Ramos W30HD powered by Quad-core processor Samsung Exynos4412 whih bring powerful sufficient computing, based on A9 quad-core chipset from Samsung Orion 4412's performance is full advantage of the industry's mainstream quad-core high-frequency with Mali-400 GPU offers compatibility with 3D games.
The new quad-core Ramos tablet will be released on October 12 in Hong Kong Electronics Fair, let us wait and see.