Ramos W31 tablet device, powered by ATM7029 quad-core chipset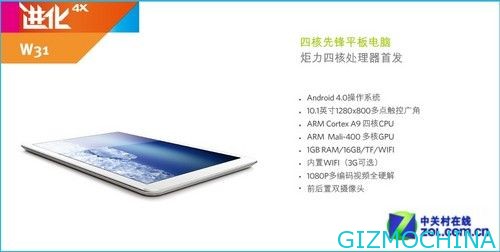 The domestic chip maker has been compete with the foreign chip manufacturer and all we know about our domestic manufacturer offers cheaper price but has good quality performance. The domestic electronic manufacturer always offers what the Chinese consumers expect.

After Huawei unveiled their quad-core smartphone device at Global Resources Hong Kong Electronic Fair 2012 few months ago, that time is became the new quad-core debut especially in Chinesse market.
And now we have another semiconductor company from demstic market Zhuhai Actions and now they produce quad-core chipset called Actions ATM7029, this processors is embedded in Ramos W31 tablet device.
Ramos W31quipped with a quad-core ATM7029, packs waith 10.1-inch 1280 x 800 resolution HD screen with front and rear camera, using the well-known Android 4.x operating system, while we all knaow about the quality of Ramos device, they always built good quality products for the market
The Actions ATM7029 quad-core based on ARM Cortex-A9 multicore and Mali-400 GPU core with 1080P full hardware decode module configuration rather attractive.