The mysterious Huawei smartphone is called Huawei Ascend Mate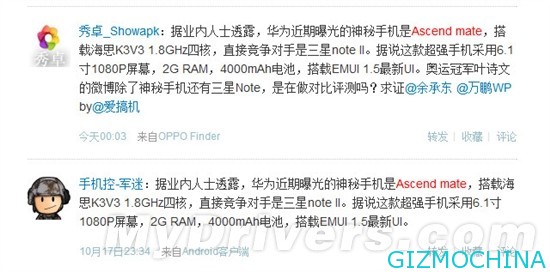 We have covered the new mysterious 6.1-inch smartphone from Huawei and now we have got the name for the phone, thats phone is Huawei Ascend Mate. After Sony preparing their 6-inch display size smartphone, is now Huawei is ready to starting the large screen debut in the market.

Huawei's mobile phone is said to be in the process of production. Ascend Mate is also will come with a touch screen measuring 6.1 inches. Besides having extra-large screen, this phone also has a full HD resolution as same as HTC J Butterfly and Oppo Find 5. To enhance your appearance, this phone has EMUI 1.5.
This phone will also come with a 1.8GHz quad-core processor. And, like other high end mobile phones, Ascend Mate has 2GB of RAM to handle the process.
It will be quite interesting to see the development of Android phones on the market. Especially in the survey results, the screen size is a major consideration for consumers to buy a mobile phone. However, the question, whether the mobile phone with 6.1-inch screen to be the primary choice?