HiSense brings Ultra HD TV at CES 2013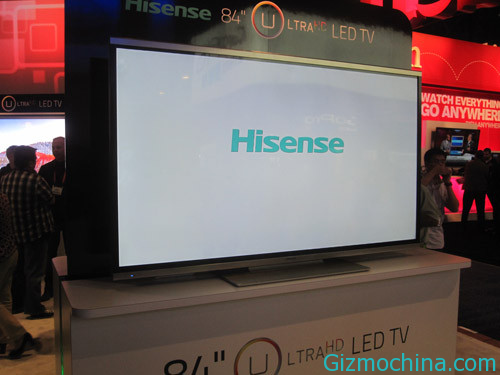 HiSense as the one of Chinese based manufacturers has been shown their products at CES 2013, while we've ever covered the news about their first Quad-core smartphone devices, is now there is UltraHD television lineup.

HiSense UltraHD TV is packs With a resolution of 3.840 x 2160 pixels, UHD TV lineup XT900 will be available in several sizes such as 65-inch, 84-inch and 101-inch. The latter claimed to be the largest UHD TVs sold in the market (when the sale officially).
HiSense still upholds its elegant design while they did not using the thinnest bezel in their products but the display is very good. But what a pity when a demo is only displayed photo content alone is not a video content, once asked absence of a problem apparently caught in 4K video content. There is no information on whether this product could playing 1080p content.
Hisense promising dynamic contrast ratio to 10.000.000:1 and Precise Local Dimming for a bright display.
Other features thats embed in XT900 series HiSense TV are WiFi and Smart TV features, 120Hz panel, USB camera for Skype, control gestures and facial recognition.
TV Remote cntrol also comes with a mic for voice commands. Unfortunately there is no release date and pricing information of HiSense UltraHD TV lineup.