ZTE Nubia Z5 smartphone finally arrive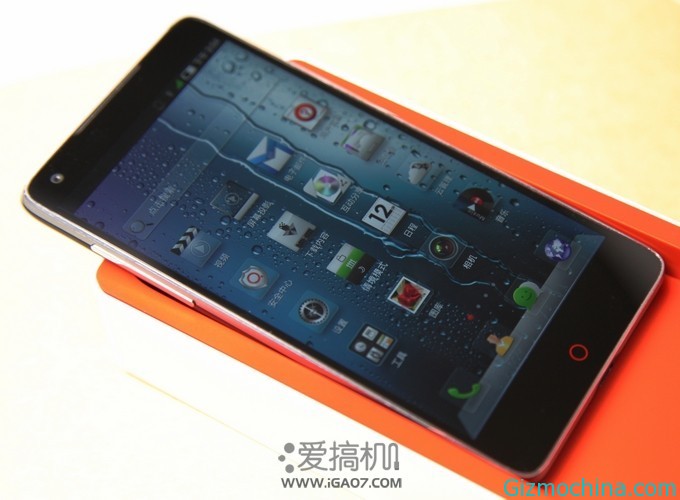 After we've waiting for a half a month, ZTE Nubia Z5 finally arrive on the market and we have a couple of picture about the new flagship smartphone from ZTE.

We have a picture from ZTE Nubia Z5 test machine, packaging and product appearance may have some access and the official version. Through the ZTE Nubia Z5 evaluation prototype packaging is very delicate, the overall use of a large carton packaging, while there is white plastic packaging inside the box, is somewhat similar to the shape of the lunch boxes, it's packs with headphones, USB cable and charger is another on a transparent inside the box.
The ZTE Nubia Z5 smartphone is powered by Qualcomm Snap Dragon APQ8064 Quad-core processor, running at 1.5GHz clock speed, sports with 2GB of RAM and 32 GB of ROM, packs with 13 megapixel camera, 5 inch 1080P screen. The special thing on this phone is the software is embeded with motion gesture control, this is very nice and intuitive aspect.
Specs of Nubia Z5 smartphone:
CPU SnapdragonAPQ8064 quad-core 1.5GHz CPU
RAM 2GB / ROM 32GB
Screen 5 inch Sharp of CGS technologies 1080P screen, 443PPI
Camera 13 megapixels of F/2.2 blue glass composite IR filter, sapphire lens
Operating system Android 4.1.2
Type of SIM card Micro-SIM card
Weight     126g (aluminum version)
Battery 2300mAh (not removable)
Features Support MHL (HDMI), wifi Display, NFC, scene label, number somatosensory function
Network standard GSM / CDMA / WCDMA / EVDO / LTE full Netcom
Selling price 3456 yuan (aluminum) 7890 yuan (titanium version)
Here are the detail picture of ZTE Nubia Z5 Android smartphone :